---
Life in the 17th century for hill farmers in the Scottish Borders was harsh and unpredictable, being always dependent on the health of their beasts and the price they brought at market.
Their flocks, constantly exposed to the vagaries of the weather were their lifeblood. Such thoughts were far from the mind of Tom Hardie, a bachelor and tenant farmer from Tollishill in the parish of Lauder in Berwickshire, as he drove his hirsels south to the market at Morpeth where trading was brisk and prices were better than anticipated. Tom Hardie was a happy man as he later trudged home with a heavy purse.
It was his habit after such trips to visit a local tavern and drink some ale, smoke some tobacco and discuss the day's events with his cronies. He had hardly settled in his customary seat when he heard a voice that he later declared, "fell upon his ears like the music of sweet sounds."
Turning around in curiosity he saw a young girl of not more than 18 years, a friend of the landlady come to help her make a new gown.
Tollishill's braes
Tom was smitten and thought to himself that there was no more beautiful women in the Scottish Borders and that her cheeks bloomed bonnier than the heather on Tollishill's braes.
Tom was a tall strong man of 50 and despite the difference in ages went a-courting the girl he espied so that they eventually married and set up home. His new wife became known locally as Midside Maggie.
For the first couple of years providence was kind to them and their farm prospered, but a few weeks after their second Christmas together, vicious blizzards roared across the steeply sloping Lammermoor Hills.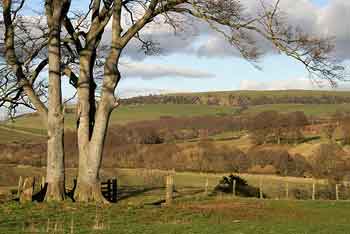 Tom's sheep died as snowdrifts piled high on the moorlands. He had gone from success to near bankruptcy in the week it took for the storm to blow out.
However, he survived and started to rebuild his flock and just as it looked as though he might make up his losses, winter returned with ferocity unknown for decades. His sheep were again entombed in the deep snow, dying before he could find them and dig them out.
It seemed as though the elements were conspiring to ruin the Hardie family, for the spring brought a deadly parasite that infected the grass and heather flourishing on the windswept hills. The couple watched in despair as their flock died slowly and painfully.
Tom, with no financial backup faced ruin and eviction, however unknown to him Maggie had decided to plead with their landlord in the forlorn hope that he might have some sympathy for their desperate situation.
Earl of Lauderdale
Dressed in her finest she set off for Lauder and knowing the laird, John Maitland, Earl of Lauderdale, had a fearsome reputation she approached his home, Thirlestane Castle, with trepidation. Undoubtedly Maggie was trembling as she knocked timidly at the door of the great hall and it took more than a little persuasion before the haughty footman would even allow her into the laird's company.
He stood by the fire and with more than a glint in his eye, surveyed her appreciatively. "Well what want ye bonnie lass."
Maggie explained their predicament arguing her husband had always been a good tenant but could no longer pay his rent. John Maitland remonstrated, "hear me guid wife were I to listen to such stories I would have ever farmer's wife on my estates whimpering and whinging 'till I was left tae shake ma purse wi' naethin' in it!"
However when he offered a reprieve it seemed tha Maggie's beauty had softened his heart but of course there was a condition. "Ye tauld me o' yir hirsels buried in the drifts an' the snaw had covered the May primroses on Lauder Braes.
"Now it is Martinmas an' in June ye bring me a large snowball, not only shall ye be quit o' yer back rent but ye shall sit free in Tollishill until Martinmas next."
She hurried back to the farm bursting to tell her husband of the meeting. Tom listened in disbelief before kissing her gently and pointing out that there was no hope of finding a snowball in June.
---
More Scottish Borders stories
---
When winter returned, the Hardies were kept busy tending their flock and the snowball was put to the back of their minds.
Maggie however was sure a snowball could be found in June. One day, again saying nothing to her husband she set of across the moors to explore a narrow ravine close by a hillock, a secluded place where a deep jagged cleft in the damp windswept protected dark, icy recesses from sunlight.
She gathered snow, pressing it tightly she rolled it towards the cleft and pushed it into the crevice as far as possible, blocked the entrance with bracken and prayed that enough would survive to save them.
Thirlstane Castle
On the third day of June a scribbled not arrived from Thirlestane Castle. It said simply, "June has come."
Maggie with her doubting husband set off for the ravine to find the snowball as hard and as cold as the day she had left it. Wrapping it in a blanket they raced off towards the castle before it could melt.
"Ha!" snorted Lauderdale as the couple were ushered into his presence. "It's bonnie Midside Maggie and her guidman. Well whit dae ye bring me, the rents o' Tollishill or their equivalent?"
"I bring ye snaw in June retorted Maggie and displayed her dripping prize to the astonished earl. True to his word the debt was cancelled plus all the rent that would be owed by the following Martinmas.
Read part two of Maggie's story.