The Queen's Gallery, Palace of Holyroodhouse stands at the foot of Edinburgh's Royal Mile, opposite the Scottish Parliament building. Built on the former site of the Holyrood Free Church and the Duchess of Gordon's School, it provides exhibition space for the Royal Collection. It was opened by the Queen in 2002.
---
Royal Collection Trust – Queen's Gallery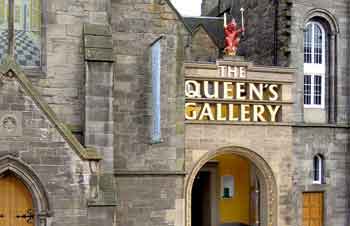 The Royal Collection Trust, a registered charity, says, "The monumental entrance doors of oak have gilded bronze hinges by Jill Watson. Continuing the heraldic theme, the main hinges are decorated with the Scottish lion and unicorn. The beasts are set against the adjacent urban scene of Edinburgh's Royal Mile and the rural scene of Arthur's Seat and Salisbury Crags…"
Biggest art collection
The Royal Collection is one of the biggest art collections in the world and has in excess of one million objects which are regularly on display in both former and current royal houses across the United Kingdom.