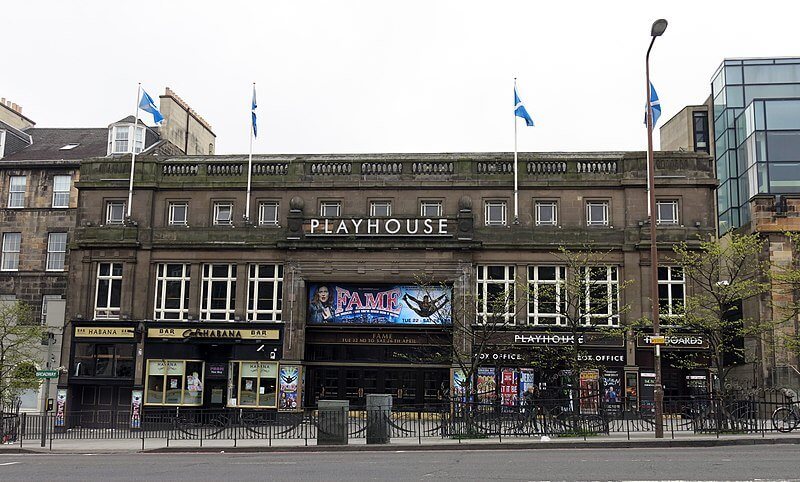 A brief history of Edinburgh Playhouse Theatre
Edinburgh's Playhouse Theatre is currently the UK's largest all seated theatre.
Originally opened in 1929 as a 3,000 cinema it is today one of the city's most popular venues hosting a wide variety of artists and musicians.
---
The Edinburgh Playhouse Theatre is located, close to the city centre in Greenside Place, at the top of Leith Walk, an area that abounds with restaurants and bars, ideal for those who enjoy a pre-theatre dinner and drink.
The theatre, designed by John Fairweather, was built on the site of the Tabernacle furniture store, one of the city's best-known landmarks. It was awarded Category B listed status by Historic Environment Scotland in 1974 and upgraded to Category A in 2008.
Like some other Edinburgh buildings, the Playhouse has its own resident ghost, Albert, a grey coated man who puts in an appearance, not on stage but high up on level six.
Scottish Cinemas and Theatres Project
Thanks to the Scottish Cinemas and Theatres Project details of its fascinating early history are available at the click of a mouse.
It is the best surviving example of what the Project describes as a 'super cinema' that is one designed to maximise the number of seats and, "creating an expensive and pleasant experience for the patron."
Scottish Theatre Organ Preservation Society
For all the organ aficionados, the cinema's original organ complete with 72 stop tabs controlling stops, tonal percussions, traps (atonal percussions), couplers, and tremulants is now housed at the Scottish Theatre Organ Preservation Society (STOPS), Scotland's longest-running Theatre Organ Society, based in Greenlaw in the Scottish Borders.
Scotland's Picture Palace
For all those interested in the history of the Edinburgh Playhouse Theatre, they should take comfort in the words of the Scottish Cinemas and Theatres Project which said, "Perhaps most importantly, the 'feel' of the building, its character, is completely intact. 
"This was built to be a unique luxurious building worthy of Edinburgh; it was and remains Scotland's Picture Palace."
Find out what's on at the Edinburgh Playhouse Theatre