The Scottish Borders, also known simply as the Borders, is a region located in the southeastern part of Scotland
With easy access from Edinburgh, It offers visitors a chance to explore a lesser-known but historically significant part of Scotland.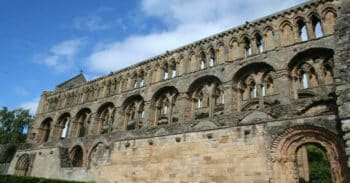 Jedburgh Abbey
There are several counties in the region. They include Berwickshire, Peeblesshire, Roxburghshire, and Selkirkshire. The administrative centre is Newtown St Boswells.
Its charming towns, picturesque countryside, and deep-rooted history make it a rewarding place to visit.
Overview of the Scottish Borders
This page gives an overview of the region, including its travel highlights, geography, towns, villages, and historical significance
Towns and Villages:
Melrose: Home to the stunning Melrose Abbey, a magnificent ruined monastery dating back to the 12th century.
Jedburgh: Known for its historic abbey and connections to Mary, Queen of Scots.
Kelso: Famous for its well-preserved Georgian architecture and Kelso Abbey.
Peebles: A small town located on the River Tweed, offering scenic walks and outdoor activities.
Selkirk: Although not the birthplace of Sir Walter Scott, that was Edinburgh, this renowned Scottish author, and poet has a number of connections with the town.
Selkirk is the location of Sir Walter Scott's Courtroom where the great man once practised law. Today this visitor attraction is open to the public.
Hawick: Known for its textile heritage and traditional woollen mills.
Duns: This small town is home to the Jim Clark Motorsport Museum. The museum pays tribute to the legendary Scottish Formula One racing driver, Jim Clark.
What to See and Do in the Scottish Borders
Abbeys: Explore the historic abbeys of Melrose, Jedburgh, and Kelso, showcasing exquisite architecture and rich histories.
Scottish Borders Textile Trail: Learn about the region's textile heritage by visiting mills and galleries dedicated to weaving and textiles.
Hike the Eildon Hills for panoramic views of the Borders landscape.
Enjoy fishing, canoeing, or simply relaxing along the scenic River Tweed.
Visit Abbotsford House the former home of Sir Walter Scott, which is now a museum dedicated to his life and work.
Scottish Borders History
The Scottish Borders has a long and eventful history, marked by numerous battles and conflicts between Scotland and England.
The region's strategic border location led to its constant involvement in historical events.
Border Reivers: The Borders were infamous for the "Border Reivers," raiders and thieves who conducted raids and skirmishes across the Anglo-Scottish border from the 13th to 17th centuries.
Wars of Independence: During the Wars of Independence between Scotland and England in the 13th and 14th centuries, the region saw significant military activity.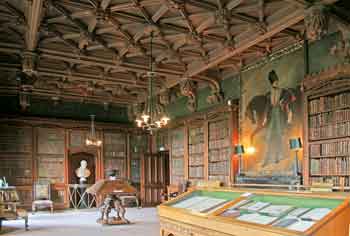 Abbeys and Monasteries: The Borders were once home to several powerful abbeys and monasteries, including Melrose Abbey, which played a vital role in the region's religious and cultural life.
Literary Connections: The Scottish Borders served as an inspiration for many literary works, most notably those James Hogg, of Sir Walter Scott, who popularised the region's romantic landscapes and history.
Events and Festivals
Common Ridings: A series of annual festivals held in several Borders towns during the summer months. These events celebrate the region's cultural heritage, with horseback riding, parades, and festivities.
Borders Book Festival: An annual literary festival held in Melrose, attracting renowned authors, poets, and speakers from around the world.
Outdoor Activities:
Walking and Hiking: The Borders offer a plethora of walking and hiking trails, including the Southern Upland Way, which stretches across the region.
Cycling: The area has various cycling routes, both on-road and off-road, suitable for cyclists of all levels.
Golf: The Borders is home to some excellent golf courses with picturesque settings.
Fishing: The River Tweed is famous for salmon and trout fishing, attracting anglers from all over the world.
Mountain Biking: Glentress Forest near Peebles is a popular mountain biking destination, with trails suitable for different abilities.
National Trust for Scotland (NTS) gardens in the Scottish Borders
Located in Melrose, Priorwood Garden is managed by the National Trust for Scotland. Harmony Garden, also in Melrose, is another NTS property.
For more NTS properties within easy travelling distance see this feature article on Truly Edinburgh.
Castles and Historic Sites
Hermitage Castle: This remote and well-preserved castle has a dark history and is associated with Mary, Queen of Scots.
Traquair House: One of the oldest inhabited houses in Scotland, dating back to the 12th century, with beautiful gardens and a maze.
Thirlestane Castle: A grand castle near Lauder, offering guided tours and hosting various events throughout the year.
Nature Reserves and Wildlife
Tweed Valley Forest Park: A vast woodland area offering various outdoor activities and opportunities for wildlife spotting.
St. Abb's Head National Nature Reserve: A coastal reserve known for its seabird colonies and stunning cliffs.
Borders Abbeys Way: A long-distance walking trail that connects the four main abbeys in the region (Melrose, Dryburgh, Kelso, and Jedburgh), providing a historical and scenic route.
Travel from Edinburgh to the Scottish Borders
Getting to the Scottish Borders from Edinburgh is relatively straightforward, and you have several transportation options available:
1. Train: The most convenient and popular way to travel from Edinburgh to the Scottish Borders is by train. There are regular train services from Edinburgh Waverley station to several towns in the Borders, including Galashiels, Tweedbank, and others.
The journey takes approximately one hour, depending on your destination. Train tickets can be purchased at the station or online in advance.
2. Bus: There are also bus services that connect Edinburgh with various towns in the Scottish Borders.
Several bus companies operate these routes, providing a more economical option compared to the train. The journey duration can vary depending on your destination and the route taken.
3. Car: If you prefer driving, you can rent a car in Edinburgh and take the A68 or A7 southward, which will lead you into the heart of the Scottish Borders.
The journey by car typically takes around 1 to 1.5 hours, depending on your exact location in the Borders.
4. Tour: Some tour companies offer day trips from Edinburgh to the Scottish Borders, providing guided visits to key attractions and historical sites.
This option is suitable for those who prefer a guided experience and don't want to worry about transportation logistics.
Whichever mode of transportation you choose, travelling to the Scottish Borders from Edinburgh is relatively quick and straightforward, making it an excellent choice for a day trip or a longer exploration of the region.
More information about the Scottish Borders from Truly Edinburgh
The links in the tables below will take you to a series of authoritative feature articles on Truly Edinburgh which look at some of its fascinating history.
People associated with the Scottish Borders