AN INDEX OF OVER 40 FEATURE LENGTH ARTICLES ON EDINBURGH ATTRACTIONS
Visiting Edinburgh is one of life's great pleasures. Its city centre is compact, if a little hilly in some places, but definitely small enough to be explored on foot. There are beautiful open spaces, historic castles and palaces, with orderly New Town streets and higgledy-piggledy Old Town closes and wynds just waiting to be explored.
---
Things to do in Edinburgh, Scotland
---
For a millennium, Edinburgh, originally 'Din Eidyn' and its Old Town developed around the castle and spread east to west along the Royal Mile.
Located on this historic thoroughfare, in essence, a series of streets – Castlehill, Lawnmarket, High Street, Canongate and the Abbey Strand – are some of the top things to do in Edinburgh city centre.
In 1723, writer Daniel Defoe described the Royal Mile as "the largest, longest and finest street for Buildings and Number of Inhabitants, not only in Britain but in the World…"
However, with the Old Town becoming increasingly cramped and insanitary, many people would definitely not have recognised Defoe's extravagant description.
For those who could afford it, the nobility and merchant classes, the John Adam and James Craig inspired Georgian New Town, where building began in the 1760s, offered open space and fresh clean air.
UNESCO World Heritage Site
The Old and New Towns of Edinburgh were inscribed (together) by UNESCO as a World Heritage Site in 1995 and in 2004, it was inscribed as the world's first UNESCO City of Literature.
When to visit Edinburgh
There are events, festivals and much more besides happening in Scotland's capital city all year round. But should you want to avoid the busiest times, the quietest months are February to April and September to November.
Where to stay in Edinburgh
The city is packed with hotels, guesthouses and bed and breakfasts but they do tend to be very busy during the summer festival months, particularly those in the city centre.
To avoid some of the crowds, particularly in August, why not stay in one of Edinburgh's 'neighbourhoods'. With independent high streets full of small cafes and cosy restaurants, there're easily accessible by bus, tram or on foot.
West End – with great cafes and coffee shops, cocktail bars, designer shopping and some of the city's grandest Georgian New Town streets, the West End Village is just a few minutes' walk from the buzz of Princes Street.
Stockbridge is another popular village. Located on the northern part of the New Town, just over a mile from Waverley railway station, it has its own distinct identity, with a definite bohemian vibe.
Stockbridge is a lovely place to stay or just spend a few hours exploring. There's a weekly market, lots of delis, tea and coffee houses, intimate restaurants, cafes, pubs and a surprising number of charity shops which are great fun to rummage through. It's also close to the Royal Botanic Gardens and the peaceful, pretty Dean Village.
Leith, the port of Edinburgh, is a historic neighbourhood, where English and French soldiers once came to do battle. It was incorporated into the city of Edinburgh in 1920.
Today the scenic Shore area, considered one of the world's coolest areas, is home to an eclectic range of restaurants which range from Michelin-star eateries to speciality vegan and seafood restaurants.
Wine cafes, taprooms and cocktail bars all add to the Shore's unique atmosphere. But that's all just the tip of the iceberg. There's so much more to explore.
A youthful vibe in an ancient city
Along with the many thousands of visitors from countries across the world, another of the reasons that Auld Reekie has such a distinctive ambience is the large student population who not only contribute to the local economy, add a youthful vitality to proceedings.
The students are spread across a number of leading educational institutions including the University of Edinburgh, founded in 1583 and the sixth oldest university in the English-speaking world.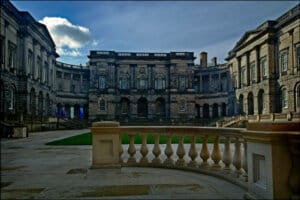 Theatre Scene
The city has a flourishing theatre scene including the Playhouse Theatre, Traverse Theatre, Royal Lyceum Theatre, King's Theatre, Festival Theatre and the Usher Hall. Add to this the myriad of small theatres, music venues and other creative spaces and you have a world-leading cultural experience.
Edinburgh attractions
While there are some fascinating places to explore in many parts of the city, the most popular Edinburgh attractions are clustered in the Old and New Towns.
They include the iconic Castle, Camera Obscura, Gladstone's Land, St Giles' Cathedral, John Knox's House, Canongate Kirk, the Georgian House, and the Palace of Holyroodhouse, home to the royal family when visiting the capital.
Just click on one of the links in the table above for more information on individual attractions.
Edinburgh whisky tourism
The new Holyrood Distillery, the Johnnie Walker Princess Street, which tells the story of an iconic brand of whisky, along with the Scotch Whisky Experience, are among the growing number of whisky related visitor attractions in Edinburgh.
---