Today Leith, the Port of Edinburgh is home to the Royal Yacht Britannia
---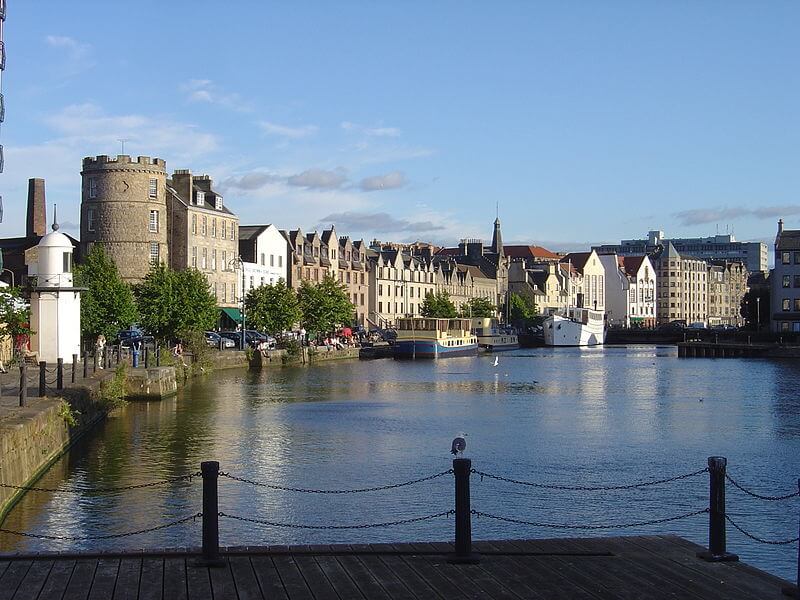 The Shore, Leith
Although Leith, the Port of Edinburgh, is now an integral part of the Scottish capital, many Leithers still strive to retain their independent spirit, fully aware of their significant place in history.
While some of the less salubrious parts of town, several made famous in the cult movie 'Trainspotting' still remain, there's change in the air, and a fresh vibrant feeling now pervades the area.
Royal Yacht Britannia berthed in Leith
The berthing of the decommissioned Royal Yacht Britannia in Leith, although built in Glasgow, is a real indication of the faith in the area.
The Britannia, which has its own special place in history, has become one of Scotland's best loved tourist attractions and provides a reminder of the importance that the Port of Edinburgh has played in the history of Scotland.
The Port of Leith is of course still a working port, the largest deepwater port in Scotland and as well as cargo handling, cruise liners and naval vessels are an increasingly common site.
Throughout the years there are a number of notable dates in Leith's history worthy of mention: Sir Andrew Wood one of Scotland's best known sailors, originally a merchant from Leith, became an instant Scottish hero in 1483 when as commander of two ships he defeated a larger English force in the Firth of Forth.
The Great Michael warship
He subsequently captained the Great Michael, built close to Leith at Newhaven, twice the size of Henry VIII's ill-fated Mary Rose, and at the time the biggest warship in Europe.
Another significant date in the Leith timeline was the founding of St Mary's Church in the 15th century. It was later renamed South Leith Parish Church, and it still flourishing today.
Trinity House originally built in 1555 was the headquarters of the Incorporation of Masters and Mariners of Leith, which was founded in 1380 to provide relief to the poor, sick or aged sailors. The present structure, now a Historic Environment Scotland property, is a "maritime treasure trove with a fascinating range of exhibits." Below the building are the 16th century rooms that once served as a school for aspiring sailors.
Mary Queen of Scots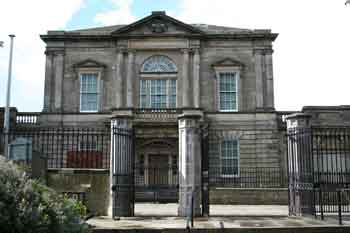 In 1547, Henry VIII, furious at the Scot's decision not to allow the marriage of his son to the young Mary Queen of Scots sent his army under the command of Edward Seymour the Earl of Hertford, to 'persuade' them to change their minds. Seymour's soldiers destroyed much of Leith before marching on Edinburgh to kill and burn there.
Safely ensconced behind the thick and protective walls of Stirling Castle, while English troops continued their destruction, was Mary of Guise, wife of the recently dead James V and mother to the infant Mary.
Mary who came from one of France's most noble families urgently appealed to the French king Henry II for help. Henry was desperate not to let Scotland fall to the English but in return for his help he demanded that Mary should marry his son.
Eventually an agreement was reached that Mary should leave for France and wed Francis the young Dauphin when she was old enough. It was 13 years before she returned to her native country.
In June 1548 a French army arrived in Leith and reinforced by 5,000 Scottish troops work began to strengthen the town's defences.
The English who had moved out of Leith were also busy building their own major defences at Haddington to the east of Edinburgh. Reflecting the growing French influence in Scotland Mary of Guise had in 1554 replaced the increasingly ineffectual Hamilton as Regent of Scotland.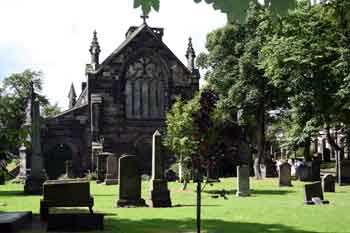 By the end of 1559 Scotland was facing enormous change. The Scottish Reformation, driven by John Knox, was sweeping away the now despised Catholic religion and not unsurprisingly a French Catholic army in Leith was no longer welcome.
The following year a Protestant army of Scottish Reformation Lords was joined by English troops sent north by Elizabeth I, and the Siege of Leith began. It was a unique situation with Scottish and English soldiers fighting side by side to defeat a common enemy.
As Mary of Guise's health deteriorated, she left Leith for the safety of Edinburgh Castle. Over the following months of bloody struggle, the French fought hard, but the arrival of the English navy to blockade the port made sure that food and munitions were not reaching the beleaguered troops.
Day after day the siege went on, the French losses mounted and with little food left there was an imminent threat of starvation. A 19th century discovery of a disused well full of horse heads is thought to be a direct result of the Siege of Leith and the desperate shortage of food.
The death of Mary of Guise
The death of Mary of Guise brought the bloody Siege of Leith to an end. After negotiations the formal Treaty of Edinburgh was signed on 6 July 1560.
With her mother and also her young husband dead, and now unwelcome in France, Mary Queen of Scots returned to Scotland. She landed at Leith on a foggy day in August 1561 with a heavy heart, but ready to take up her royal duties as Queen of Scotland.
History records the many difficulties Mary had over the following years but in her leisure moments she took to Leith Links to play golf. It was on the same Leith Links that the world's first rules of golf were written nearly two centuries later.
Defences were again being strengthened after the Scots squandered a golden opportunity to drive Oliver Cromwell out of the country as the English Civil War (1642 – 1651) spilled across the border. However Cromwell's unexpected victory at the Battle of Dunbar ensured that an English army once again overran the Scottish capital.
The Port of Leith quickly became established as the headquarters of Cromwell's roundhead army in Scotland which stayed until 1659.
Few Scots openly opposed Cromwell's Protectorate, most simply lived with it. It was a welcome time of relative peace and stability in Leith and throughout Scotland.
At the end of the 17th century Scotland, according to prominent historian Hugh Trevor Roper was, a byword for irredeemable poverty social backwardness and political faction…"
Desperate for change much of Scotland believed that a new trading colony to be established on far off Darien (Panama) was the answer to all their troubles.
Darien expedition
On the 4th of July 1698, thousands of people lined the docks and other vantage points to wave as the first four ships of the Darien expedition left the Port of Leith for their voyage to the other side of the world.
The hopes and expectations that accompanied the expedition were subsequently dashed when the venture ended in spectacular failure.
During the latter half of the 18th century Leith continued to expand and port facilities were improved as two new dry docks were built to accommodate ever-increasing traffic, plans for the first of Leith's wet docks were to follow within the next 25 years.
The citizens of Leith had over the centuries been used to uninvited visitors but the appearance in 1779 in the Forth Estuary of a small French squadron, carrying American colours must have caused some alarm to those who saw it.
John Paul Jones
The small flotilla was commanded by John Paul Jones, born in Scotland but subsequently one of America's great heroes of the American Revolution.
Much to the relief of local ship owners, Jones's ambition to seize them from their moorings in Leith Harbour and then demand a ransom for their return was ruined when a violent gale came to the port's rescue and his ships were pushed away leaving Leith safe.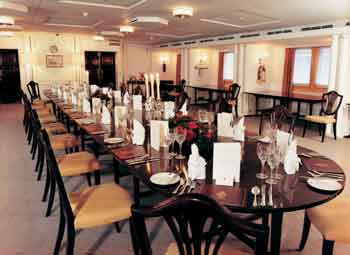 Following their lucky escape new fortifications were added in the town and manned by the Royal Artillery. Parts of these old fortifications remain today.
Leith, an independent burgh with its own town council since 1833 found itself being slowly swallowed by an ever growing Edinburgh, before finally in 1920 becoming part of Scotland's capital city. It was a union unpopular with many Leithers.
In 1880, parts of the old and depressing face of Leith were changing as the Leith Improvement Scheme was introduced. Huge swathes of dereliction and unsanitary slum houses were swept away, allowing a better standard of living for many residents.
US Navy Base Hospital no 3
During World War I, Leith, like many other British ports, was busy with military traffic. In 1918, as the wounded were brought home, Leith Poor House which had been turned into a British military hospital, was transferred to the American navy and became US Navy Base Hospital no 3.
Its American staff was recruited from the California Hospital in Los Angeles who after a journey of over 5000 miles arrived in Leith in August 1918. Leith must have seemed like a different world, but they worked hard to improve conditions in the hospital. They brought with them new equipment, new beds, they installed new heating and lighting systems and greatly increased sanitary conditions for the patients.
British battlefield casualties
Although it was an American run hospital there was only a small percentage of American patients admitted. The vast majority of injured were British battlefield casualties. It was closed at the end of the war in November 1918.
After World War II Leith docks declined rapidly and the town drifted, becoming synonymous with crime and dereliction.
It seems that limited progress was made in the years after the war to improve peoples' lives; the social housing tower blocks built to replace the worst of the slums soon became less than desirable places to live.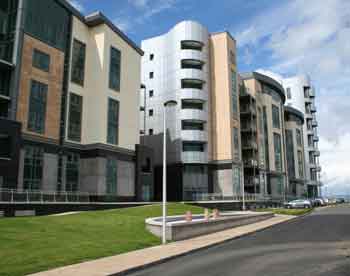 The government census of 1971 makes interesting yet depressing reading, it gives an insight into the less than ideal living conditions in the town.
It revealed that out of 16,998 occupied houses in Leith 6157 had no bath, 852 had no internal toilet and 3158 had no piped hot water supply.
Today Leith, despite its best efforts, is still an amalgam of old and new. Although its contemporary, trendy and very expensive apartments, bistros and other tourist attractions have replaced much of the post war dereliction, there is still work to be done.
---