Founded in 2009, Jupiter Artland is a pioneering sculpture park and gallery which lies around 10 miles from Edinburgh.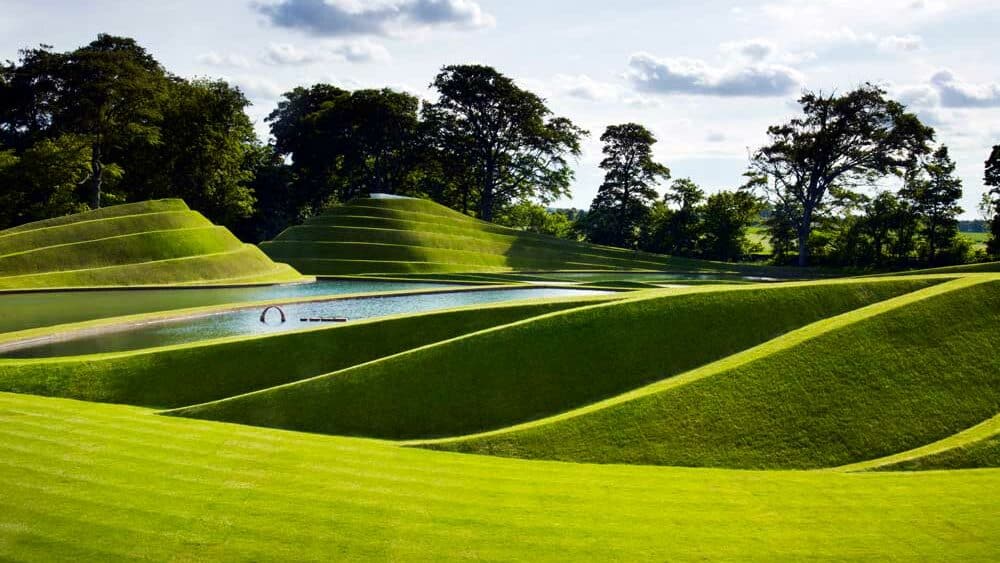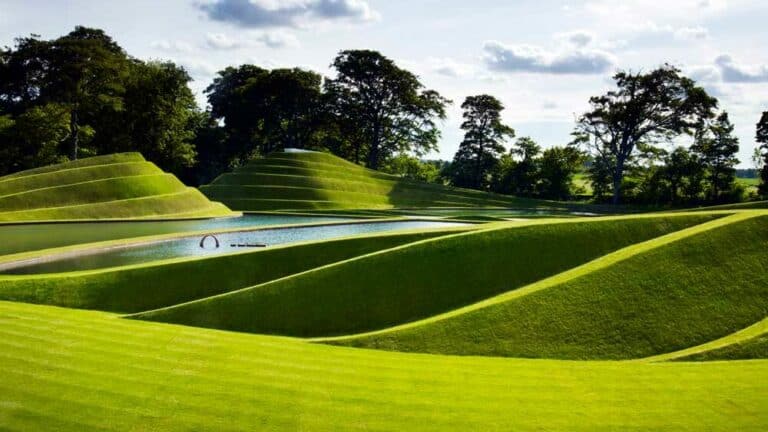 Cells of Life by Charles Jenks © Jupiter Artland
What is Jupiter Artland?
What is Jupiter Artland? That is often the first question that people ask about this beautiful place.
This remarkable creation is the work of art collectors, Robert and Nicky Wilson.
It's a thought-provoking venue that's not always easy to define. It will mean different things to different people.
It has been variously described as a garden, a gallery or a museum. It's definitely all these things and more.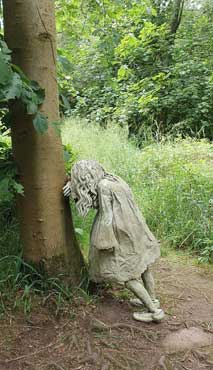 Nicky and Robert say that beyond the traditional descriptions, "Jupiter seeks to be a more vital institution, one on which education and outreach are at the heart."
One commentator said, that Jupiter Artland is an "experiment in human relations and human imagination: a workshop for the spirit, the body and the mind."
Set in 100 acres of verdant landscape, meadows and woodland, the park doesn't have the physical restrictions of traditional galleries so there is room to breathe and feel the wind on your face.
Determined to protect and nurture the landscape, the Wilsons work closely with the Royal Botanic Garden Edinburgh (RBGE).
Family-friendly
Designed to be family-friendly, the inquisitive chatter and laughter from children, perhaps future lovers of art, is pleasing and not distracting.
The kids, of all ages, are always fascinated with the small group of four-legged friends – sheep, miniature donkeys chickens and alpacas too.
The sculpture garden is filled with the work of world-leading contemporary artists.
There are more than 30 permanent sculptures in the Collection. There is also a rolling programme of exhibitions and temporary projects.
Among the Jupiter Artland Collection are:
Cells of Life by Charles Jenks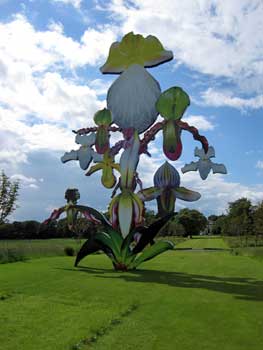 Visitors are welcomed to the most unusual of Edinburgh attractions by the sight of the undulating landscape of Charles Jenks Cells of Life . Imagine the work mowing this.
Love Bomb by Marc Quinn
Marc Quinn's Love Bomb, a 12 metre tall multicoloured orchid was described by Nicky Wilson as, "impossibly perfect."
Suck by Anish Kapoor
Stopping at its wooded setting to consider Anish Kapoor's Suck might well make the hairs on the back of your neck stand up.
Described as a "seemingly endless curved metal chute intruding into the earth like a subterranean flume…designed to evoke the association with being swallowed up."
The thought of being pulled into the abyss is more than a little scary, terrifying said one visitor.
This extraordinary piece of art is surrounded by a cage.
Gateway By Joana Vasconcelos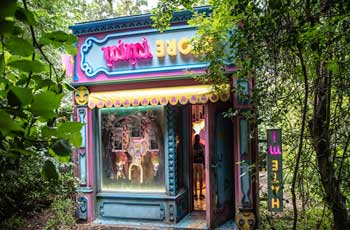 Set to the front of the house is Gateway, a striking piece of colourful artwork by Portuguese artist Joana Vasconcelos. But Gateway is no mere inanimate object, it's a fully functioning swimming pool. Good luck with that on a chilly Edinburgh day.
The artist, a champion of Portuguese arts and crafts, also has a selection of works on display in one of Jupiter's galleries.
Other artists who contributed to the Collection are Christian Boltanski, Rachel MacLean, Andy Goldsworthy and Antony Gormley.
Stay at The Artists House
Visitors, the well-heeled ones, to Jupiter can stay a little longer.
Decorated with a thoughtfully curated selection of artworks, the Artist's House, which sits within the grounds is not your average self-catering cottage.
Unsurprisingly given the interior decorations, a substantial deposit against damage is required.
From the surrounding meadows, guests can see the three Forth Bridges, particularly at night when they are illuminated.
Bonnington House
Bonnington House which sits at the centre of the sculpture park is primarily a family home but also has a range of facilities for the sculpture park including the beautiful ballroom which caters for private and corporate events.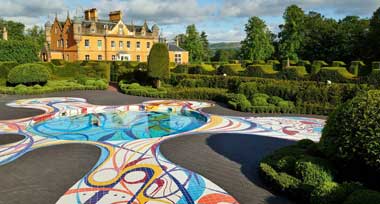 The House is older than once thought. Early documentation point to 17th century occupation by Sir James Foulis of Colinton a judge and parliamentary commissioner caught in the maelstrom of Jacobean politics.
For historical sleuths, an entry in Scotland's parliamentary register dated 12 July 1661 will be of interest.
It says, "In the year 1650 [Lord Colinton] had his manor House of Bonningtoun and whole tenant houses, barns and onsets belonging to, destroyed and burnt, estimated by the said gentleman to £6,000 Scots…"
Documents also show that in 1858 what architects have called "Jacobean remodelling" was influenced by the design of Linlithgow Palace, the Birthplace of Mary Queen of Scots.
It's another reminder of the real sense of history that the building exudes.
Jupiter Arts Learning foundation
Jupiter Artland offers free "learning visits" to a range of groups including schools, colleges and community groups. Their ambitious mission, their pledge is to "reach every child in Scotland."
The website says much more about this.
An on-site café and shop add to the visitor experience.
Jupiter Rising
Jupiter Rising is the in-house artist-led festival, for art, music and performance. Normally held in August. Visit the official Jupiter Rising website for more information
Jupiter Artland Visitor information.
For all aspects of the programme and events, visit the Jupiter Artland official website for more visitor information.