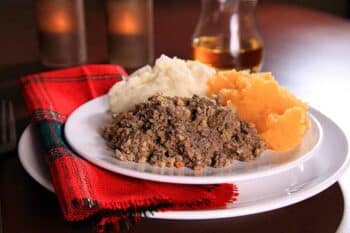 Before we look at the list of some of the best places to eat haggis in Edinburgh, let's look at what haggis is and a little bit about the history of haggis.
Haggis: it's much nicer than it sounds
For those unfamiliar with haggis, it is a dish made up of sheep's heart, liver, and lungs combined with oatmeal, onions, and spices.
The mixture is traditionally encased in a sheep's stomach, although nowadays, artificial casings are often used instead. and then boiled or steamed until cooked through.
It might sound a bit intimidating, but it is much more delicious than it sounds. it's a culinary experience that you won't want to miss and
Origins of haggis
Researching the origins of this classic dish was at the least inconclusive.
I had to smile when I noticed dozens of entries claiming that haggis was English only to be refuted by irate Scots who claimed it as their own.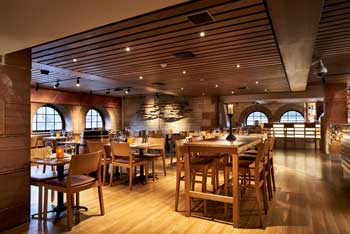 Also, one respected website explained that some believe that haggis is in fact a small furry animal that runs freely in the Scottish Highlands. Really!
Visit Scotland was a little more logical in their approach to tracing its origins.
They acknowledge comparisons with a Greek or Roman sausage like dish and discuss the possibility that the word haggis may have come from the French "hacher" to chop or mangle.
Others say that haggis found its way to Scotland on Viking longboats and there are similarities to the Swedish word hagga or Icelandic hoggva, both meaning to chop.
In Scotland it's believed to have originated from a tradition of using every part of the animal after a hunt, making haggis a way to utilise the offal and extend the food supply.
Whatever the truth, haggis, over time, became a beloved and celebrated dish associated with Scottish cuisine and culture.
Making haggis can be a competitive process, there is even a world championship haggis making competition and recipes are jealously guarded.
Haggis and Burns Night
Haggis has long been associated with the celebration of Burns Night, an annual event held on January 25th to commemorate the life and works of Scotland's national poet, Robert Burns.
First verse: Address to a Haggis
During Burns Night suppers, haggis is traditionally served accompanied by neeps (turnips) and tatties (potatoes), and the dish is often addressed with a recitation of Burns' poem Address to a Haggis.
Today, haggis remains a popular dish in Scotland and can be found in various forms, such as served with mashed potatoes and a whisky sauce or incorporated into other dishes. It is a symbol of Scottish culinary heritage and is enjoyed by locals and visitors alike.
Haggis alternatives for vegetarians and vegans
If you're a vegetarian or vegan, you don't have to miss out on the haggis experience. There are plenty of vegetarian and vegan haggis alternatives available, including lentil and vegetable haggis, which are just as delicious as the traditional version.
Many restaurants and pubs in Edinburgh offer vegetarian and vegan haggis dishes, so you can still enjoy the taste of haggis without compromising your dietary beliefs.
Pairing haggis with whisky
One of the best ways to enjoy haggis is to pair it with a glass of Scotch whisky. The smoky and peaty flavours of the whisky complement the rich and savoury flavours of the haggis, creating a truly unforgettable dining experience.
Given the distinctive flavour and texture of haggis, many chefs are now finding new innovative ways of using it.
Here are some suggestions to look out for:
haggis burger
haggis shepherds pie
chicken stuffed with haggis
mini haggis parcels
cheese and haggis toastie
haggis bon bons
pork and haggis sausage rolls
scallops, bacon and haggis
Served as part of a traditional Scottish fried breakfast.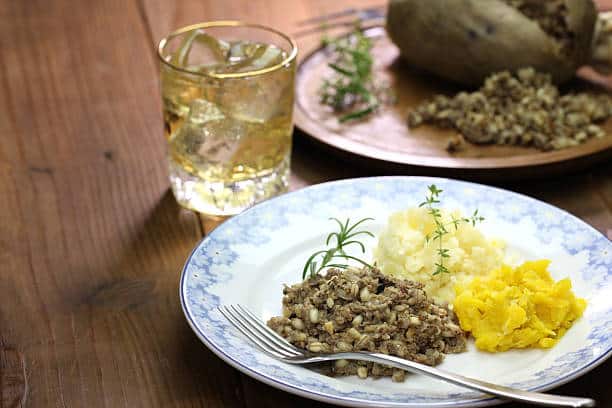 The best places to eat haggis in Edinburgh?
Of course, there are dozens of bars and restaurants in Edinburgh that serve haggis dishes that range from traditional recipes to ones with a modern twist.
So, whether you're a seasoned haggis lover or a curious foodie, let's look at some of the best places to eat haggis in Edinburgh.
Whiski Rooms: Prepared with care and expertise, the Whiski Rooms' haggis captures the authentic essence of this traditional dish, accompanied by classic neeps and tatties.
The Witchery by the Castle: The Witchery offers a menu that celebrates the finest Scottish cuisine, with haggis taking centre stage.
Deacon Brodie's Tavern: Located on the historic Royal Mile, this traditional pub offers a warm and inviting atmosphere, complemented by their delightful haggis creations.
The Scotch Whisky Experience: Located near Edinburgh Castle, this attraction also has a restaurant called Amber Restaurant & Whisky Bar. It serves traditional Scottish dishes, including haggis, and offers an extensive selection of whiskies to complement your meal.
The Sheep Heid Inn: Situated in Duddingston village, just outside the city centre, the Sheep Heid Inn is one of the oldest pubs in Scotland. They are known for their haggis and other traditional Scottish fare, as well as their cosy atmosphere.
Howies: With multiple locations in Edinburgh, Howies is a restaurant that prides itself on using local, seasonal ingredients. They often have haggis on their menu and offer a modern twist on traditional Scottish cuisine.
Stac Polly: This restaurant has two branches in Edinburgh, one on Dublin Street and another on St. Mary's Street. They serve a range of Scottish dishes, including haggis, and focus on using locally sourced ingredients. The Dublin Street venues also has a popular and secret gin garden
The Doric: Located in the heart of Edinburgh's Old Town, The Doric is a traditional Scottish pub and restaurant. They serve classic Scottish dishes, including haggis, and provide a cosy atmosphere with a touch of historical charm.
The Ensign Ewart: Situated near Edinburgh Castle, The Ensign Ewart is a historic Edinburgh whisky bar that offers a selection of traditional Scottish food, including haggis. It's a great place to relax and enjoy a meal after exploring the castle and the Royal Mile.
The Edinburgh Larder: Located in the Old Town, The Edinburgh Larder focuses on using locally sourced, seasonal ingredients. They serve haggis as part of their Scottish-inspired menu, providing a modern twist on traditional dishes.
Arcade Haggis and Whisky House: This quirky establishment, located in the Old Town, is one of the oldest bars in the city. As the name suggests, the Arcade serves haggis, with lots of options alongside an impressive range of Scotch whisky and a little surprisingly Fair Trade tea. It's a unique spot to enjoy a meal while experiencing the unconventional ambience.
Scran & Scallie: This popular Stockbridge gastropub offers, from their seasonal menu, delicious haggis, neeps & tatties. It's one of the most popular places to eat haggis in Edinburgh.
The Tower Restaurant: Perched atop the National Museum of Scotland, this elegant establishment offers breathtaking views alongside its delectable haggis creations.
The Abbotsford Bar and Restaurant: Nestled in the vibrant West End, this beloved venue features haggis dishes crafted with a passion for Scotland's culinary heritage.
The Haggis Box: Located within the Scottish Storytelling Centre on the Royal Mile, the Haggis Box serves the traditional haggis, neeps and tatties in a welcoming cafe environment. Also on the menu are vegan and vegetarian haggis.
While these establishments are known for serving haggis it's always a good idea to check their menus or contact them directly for the most up-to-date information.
Buying haggis in Edinburgh to cook at home
If you would like to buy haggis in Edinburgh to cook at home, there are many family butchers, independent retailers and supermarkets that stock the product.
Enjoy your culinary journey, and enjoy eating haggis in Edinburgh.
Whisky in Edinburgh