In St Andrews the golf's great but this historic town has much more to offer visitors.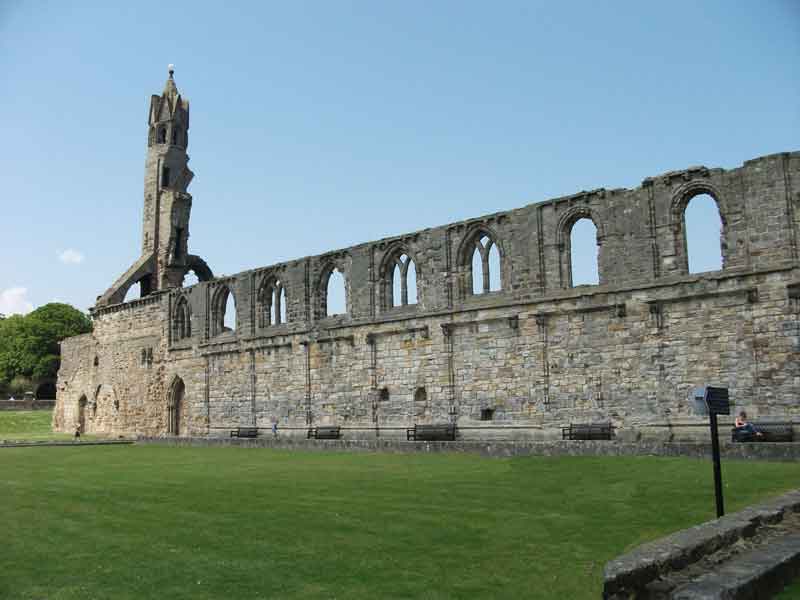 A day trip from Edinburgh to St Andrews is the perfect way to escape the hurly-burly of the capital's busy streets and discover that this Fife town offers much more than golf.
The best way of getting the 53 miles or so from Edinburgh to St Andrews is by car or bus.
If you prefer travelling by train unfortunately because St Andrews does not have a railway station you have to go to nearby Leuchars and take a local bus or taxi the short distance to your destination.
During the spring and summer months, in particular, the town's rather serious face is cast off and replaced with a smile thanks in the main to the many multinational university students who add colour and vibrancy to a town in which the medieval past still sustains a strong and relevant presence.
Things to do in St Andrews
While the Old Course is by far the best-known of the town's golf courses, today's visitors have several courses to choose from. This official St Andrews Links website has more information.
For other things to do in St Andrews this Visit Scotland webpage has some suggestions. Other than the cathedral and the castle, walking on the West Sands, where they filmed 'Chariots of Fire,' was my favourite.
You will find the Visit Scotland information centre at:
70 Market Street,
St Andrews,
KY16 9NU
Tel:44 (1334) 47202
A little bit of the history of St Andrews
If like me you like to know more about the history of a place you are visiting, then please read on. The Truly Edinburgh feature pages listed below have more information about some of the historic sites
Related pages
"Grand place, St Andrews," said Thomas Carlyle that most satirical of Scottish essayists. "You have there the essence of all antiquity of Scotland in a good and clean condition" In the years since Carlyle penned his critique many who have walked its cobbled streets may well have disagreed with his sentiment, for St Andrews has a dark and chaotic past.
History of golf in St Andrews
Of course, it's impossible to discuss St Andrews without mentioning golf. The chatter in many of the bars and cafes is quite likely to be about par fours, double bogies or birdies and eagles if it's been a good day on the links.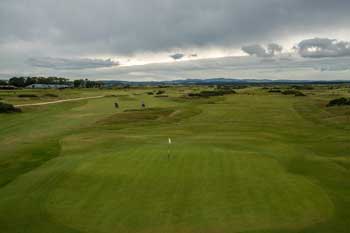 Golf in Scotland has been a popular pastime since the Middle Ages although James II of Scotland felt the need to ban it in 1457 because it interfered with young men practising archery.
St Andrews has been the "home of golf" since the mid-16th century, the first surviving written reference of the game is contained in Archbishop Hamilton's charter of 1552 which gave the citizens of St Andrews the right to use the links for, "golff, futbal, schuteing and all gamis."
St Andrew, Patron Saint of Scotland
Although he never came to Scotland, the town bears the name of Scotland's patron saint (also patron saint of Russia and Greece). Born in Palestine sometime between 5 C.E. and 10 C.E. Andrew, the first disciple and the first apostle is said to have travelled widely, to parts of Europe and Asia, spreading the Christian gospel. Tradition suggests that Andrew was crucified, by the Romans in Patras in southern Greece, on a diagonal cross.
When was St Andrews Cathedral built?
St Andrews Cathedral, still a focal point in the modern town which grew up around it, developed from around 1160, and sits on a headland overlooking the cold waters of the North Sea. It was built in recognition of the status of the bishop and the shrine of St Andrew.
St Andrews University
The University of St Andrews, the oldest in Scotland, one of the great pillars of this east coast town, was founded by Bishop Henry Wardlaw in 1413. Its original constitution was modelled on that of Orleans and other French universities.
Of British universities, only Oxford and Cambridge are older. Initially, it was not a university in the modern sense, science and history, for example, weren't on offer, it was more of a seminary for training priests.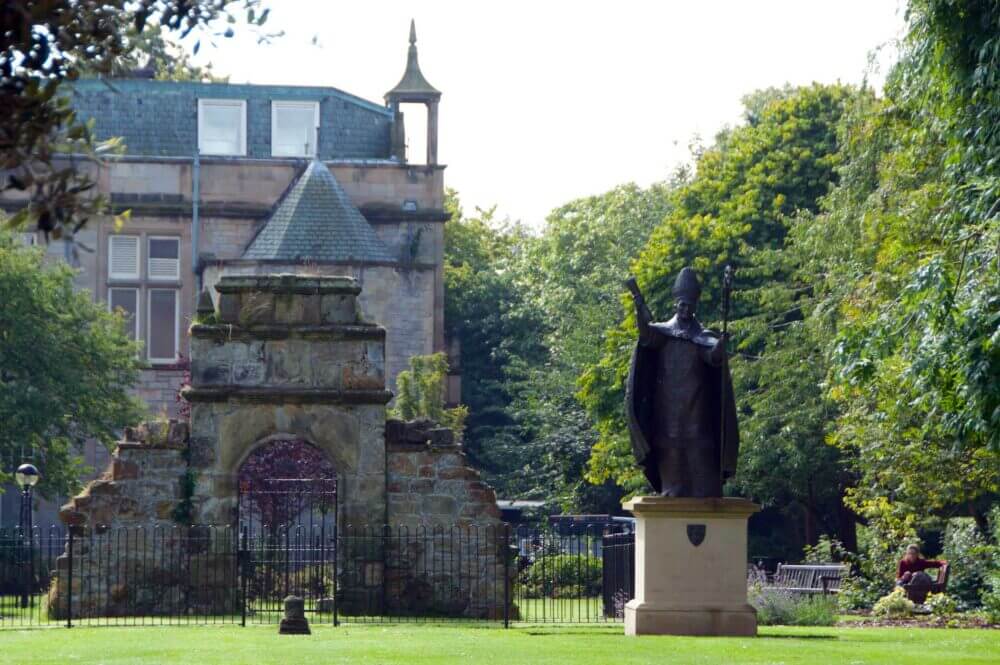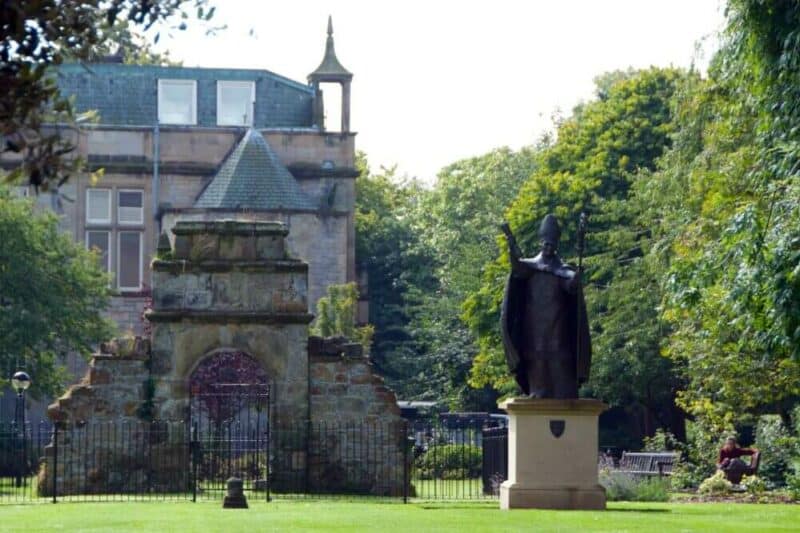 Bishop Wardlaw, founder of the University of St Andrews
image © Jo Woolf
Surviving Faculty of Arts archives from 1413 to 1588 allow a fascinating glimpse into student life at the university. Douglas Young, who looked at the relationship between students, who were often only 13 or 14 years old, and Regent (teaching master) noted that "nocturnal perambulations" were forbidden as was the wearing of fashionable clothes and certainly the carrying of dirks or other weapons was frowned upon.
The Glorious Revolution
The Glorious Revolution of 1688-89 brought great change as Dutch Protestant William III (of Orange) and his wife Mary, took the throne forcing the incumbent Catholic king, James VII (James II of England) to flee to France. James's departure marked the birth and rise of the Jacobite movement (supporters of James) and its role to restore the Stuart monarchy.
Understandably universities in Scotland were not immune to Jacobite influence but while Edinburgh and Glasgow universities escaped relatively unscathed, St Andrews, in the ebb and flow of political and religious change, did not.
Looking into its Grave
St Andrews University faced continuing "difficulties" into the 18th century. It was 1727 when Daniel Defoe, celebrated author and former English spy, dismissed St Andrews as, "looking into its grave."
In 1746, in a desperate attempt to re-establish the troubled seat of learning with the Hanoverian authorities it appointed the Duke of Cumberland, the notorious "Butcher" and victor over Jacobite forces at Culloden, as its chancellor.
In the modern era, the university was again subject to change. During the period 1826-1830, authorities made radical alterations to its constitution. these alterations were that were subsequently embodied in the Universities (Scotland) Act of 1858.
Although many changes have been made since then they were the foundations of today's university.
St Andrews Castle
Like the nearby cathedral, St Andrews Castle, home to its bishops and archbishops has played a pivotal role in Scottish history. Although, thanks to the Wars of Independence, almost nothing remains of the first castle built by Bishop Roger around 1200.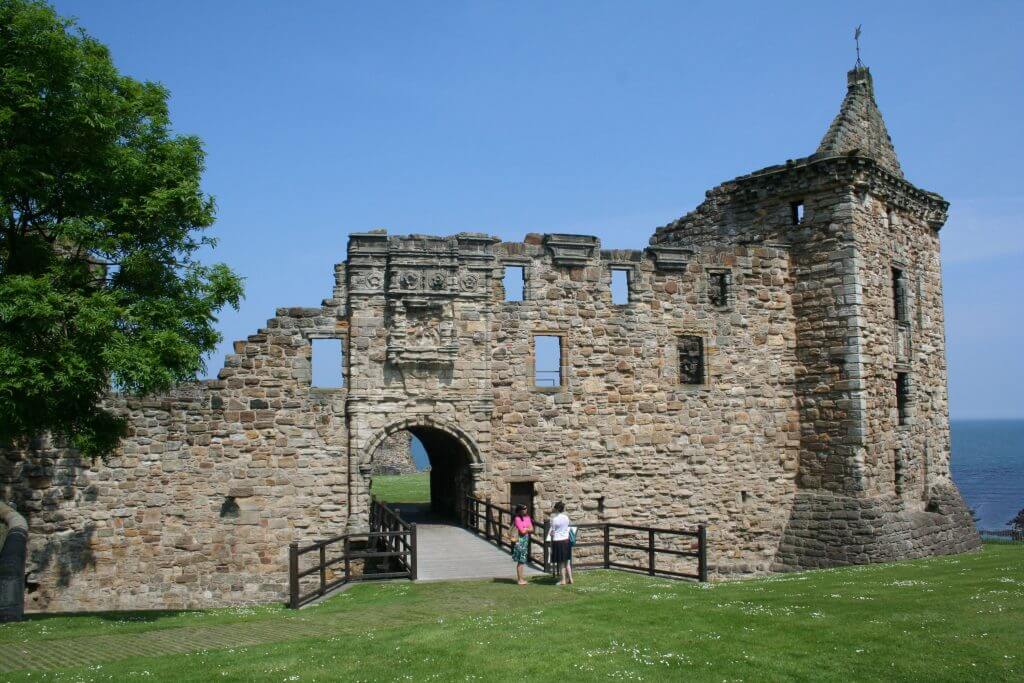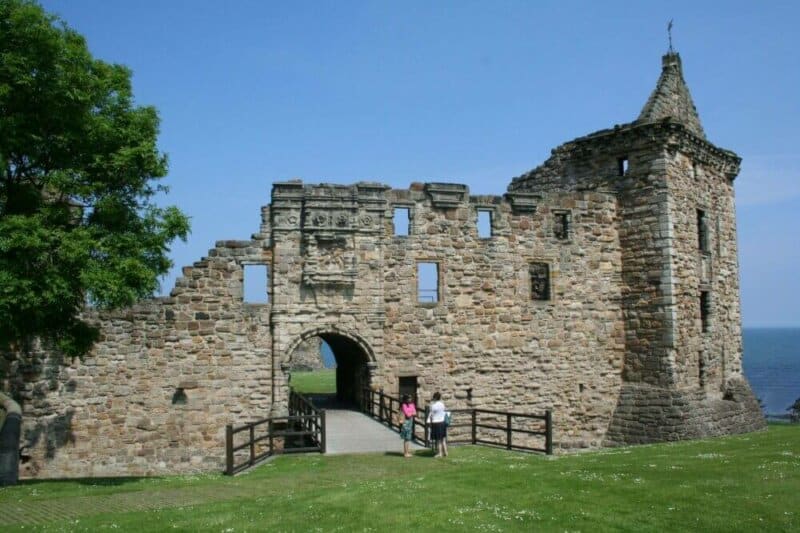 It was Bishop Trail who started the rebuilding process around 1385 and it's mostly his work that visitors today stop to explore.
John Knox
No history of St Andrews is complete without mention of John Knox, a towering figure in Scotland's tumultuous struggle for religious change.
In a growing and increasingly hostile anti-Catholic atmosphere Knox became a leading figure in the Scottish Reformation.
He originally trained as a Catholic priest, and was educated at the University of St Andrews. It may have been his friend George Wishart who persuaded him to convert.
Whatever his motivation, he was determined to eradicate any association with "Popish" worship. By 1560, as the Reformation gathered pace.
Protestant mobs stripped Catholic chapels and grand cathedrals of their finery and many were reduced to rubble. Such was the fate of the magnificent St Andrews Cathedral.
St Andrews remains a place of pilgrimage. Its visitors, their appetite for exploration sharpened by the anticipation of discovery, come to better understand its leading role on the historical stage
With such a goal in mind, they might be forgiven for asking, as did AR Hope Moncrieff, "what shades of grim romance haunt these crumbling walls, what memories of Knox or Beaton what dreams of the old Stuart days?"
why take a day trip from Edinburgh to St Andrews?
St Andrews is a lovely, very walkable seaside town, one with enormous charm and a fascinating history, which is why I like it so much.
One Google review that sums it all up said "One of the prettiest places you could wish to visit and so much history."
I would not disagree with that.