Constantine II (Causantin mac Aeda) c. 874-952 was King of Alba (Scotland). He succeeded his cousin Donald II and reigned 900-943.
---
It was during his reign that mormaers (provincial rulers) are first mentioned.
The decision to create these regional 'earls' was part of an attempt, said Professor Dauvit Broun of Glasgow University, "to create social order, as was his agreement with Bishop Cellach, made at Scone, to reform the church."
He may also have been responsible for establishing St Andrews as the chief bishopric of Scotland.
His reforms have prompted a number of scholars to argue that Constantine II laid the foundations for Scotland's political and religious structure for the next five hundred years.
Dunkeld plundered
In 903, the Norsemen plundered Dunkeld but the following year Constantine met and defeated them in battle at an unknown location in Strathearn in what is now modern Perthshire.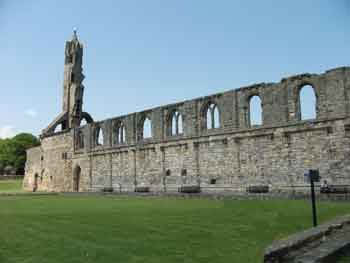 Following his victory, there were no more recorded Viking invasions for over 50 years.
First King of England
With the rise of the Anglo-Saxon kings of Wessex Constantine at first made peace with Athelstan, subsequently recognised as the first king of England.
However, in 937 Constantine Joined forces with his son-in-law Olaf, King of Dublin and Owen I, the King of Strathclyde and confronted Athelstan at the Battle of Brunanburh, sometimes described as the greatest ever battle on British soil.
Abbot at St Andrews
Constantine's crushing defeat weakened his position and he later relinquished the kingship to his cousin Malcolm I, son of Donald II. He retired to St Andrews where he may have become abbot of the resident Culdee community.
He died in 952 and was probably buried at St Andrews.
---
The British Royal Family – more information
If your interest in British royalty goes beyond Scotland's earliest kings and queens, see the official British Monarchy website for lots of additional information.
FIND OUT MORE ABOUT SOME OF THE PEOPLE AND PLACES ASSOCIATED WITH THE KINGS AND QUEENS OF SCOTLAND
---