Donald II (Donmall mac Custantin) the son of Constantine I was King of Alba (Scotland) from 889-900. His reign marked a pivotal point in Scotland's history but like his predecessors, information about his life is scarce.
---
It was during his tenure that Alba, the Gaelic term for Scotland was first recorded. Professor Dauvit Broun of Glasgow University suggests that Alba, "was probably Pictland in a new guise (minus the area in the north under Norse rule)."
Broun also makes the point that the title 'King of Scotland' replaced the earlier 'king of Picts' or 'King of Picts and Scots' and the people became known as "inhabitants of Scotland."
Sigurd the Mighty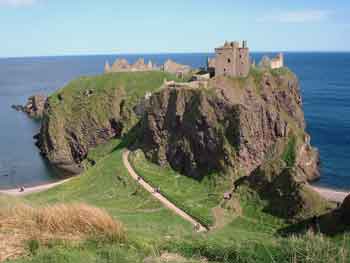 The timing of Donald's accession was unfortunate to say the least as it coincided with the rise to power of the Orkney based Viking, Sigurd the Mighty.
Donald defeated the Norsemen in battle on a group of unidentified islands but was later killed at Dunnottar, in what is now Kincardinshire. He is thought to be buried on the Island of Iona.
Succeeded by Constantine II
After his death in 900, Donald was succeeded by his cousin Constantine II.
The British Royal Family – more information
If your interest in British royalty goes beyond Scotland's earliest kings and queens, see the official British Monarchy website for lots of additional information.
---
FIND OUT MORE ABOUT SOME OF THE PEOPLE AND PLACES ASSOCIATED WITH THE KINGS AND QUEENS OF SCOTLAND