Constantine I (Causanantin mac Cineda), the son of Kenneth I, became the king of Scots and Picts after the death of his uncle, Donald I in 863.
---
Confusingly Constantine I was not the first king of the Picts to hold that name. Historian Michael Lynch Scotland a New History says, "Constantine (862-877), king of Picts rather than king of Scots still enjoys the chroniclers' title of Constantine I.
There are unsubstantiated suggestions that his mother may have been part of the Pictish matriline, (possibly the daughter of Uurad the king of Picts from 839 to 842). Like his uncle and father before him Constantine I spent much of his reign under pressure from the Vikings.
Wasted Pictland
The 10th century Pictish Chronicle Cronica de Origine Antiquorum Pictorum records that in 866 Olaf the Norwegian king of Dublin, "wasted Pictland" and returning in 870 he, took Dumbarton and with it, " a very great spoil of people."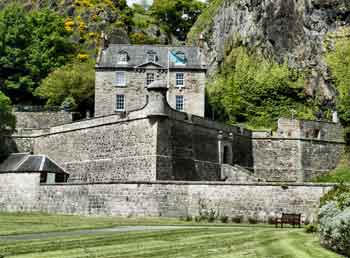 Dauvit Broun, Professor of Scottish History at Glasgow University, writing in the Oxford Dictionary of National Biography, suggests that Olaf's victory at Dumbarton may have, "allowed Constantine to gain the upper hand there…"
in 872, he arranged for the assassination of Arthgal, king of Dumbarton."
Death of Constantine I
Dauvit Broun also records that Constantine was killed by the Danes at the battle known as inber dub fáta, 'long dark river-mouth (unidentified).
However, others have Inverdovat (modern Newport on Tay) as the place of his death.
Annals of Ulster
The Annals of Ulster records the date of Constantine's death as 876, other sources say it was 877. According to the medieval Chronicle of the Picts and Scots (1251) and other sources he was buried on the Island of Iona.
He was succeeded by his brother Aed.
Note
Like his father and uncle before him, information about Constantine's life is scarce.
Documents, some written many years after the events concerned, are often contradictory and it's therefore difficult to be sure of accuracy.
Dates in particular are a source of fierce debate between today's scholars and consequently readers will often notice a disparity in the detail produced by different writers.
However, for these short articles, I have used secondary sources, in the main, they are established historical scholars and other relevant academics. Where I have done so, their work has been correctly credited.
---
The British Royal Family – more information
If your interest in British royalty goes beyond Scotland's earliest kings and queens, see the official British Monarchy website for lots of additional information.
FIND OUT MORE ABOUT SOME OF THE PEOPLE AND PLACES ASSOCIATED WITH THE KINGS AND QUEENS OF SCOTLAND
---