King Constantine III (Causantín mac Cuilén) was king of Alba between 995 and 997.
Sometimes called 'Constantine the Bald' by later chroniclers, including John of Fordun, he reigned for only 18 months following the murder of his predecessor Kenneth II.
The Annals of Tigernach
There are conflicting reports about the manner and place of death in 997.
The Annals of Tigernach say he was killed in battle at Rathinveramond (rath inber Amon – the fort at the mouth of the River Almond) probably near Scone in modern Perthshire.
The man behind his death was probably his royal successor, Kenneth III.
No descendants of Constantine III are documented making him the last of the line of (Áed mac Cináeda) to rule.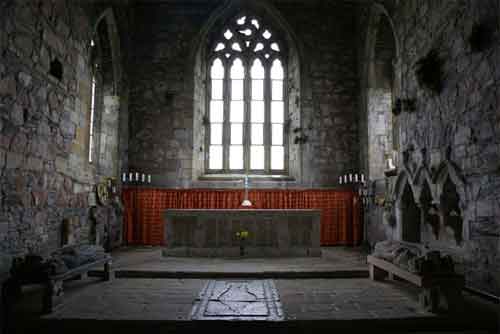 Is Constantine III buried on Iona?
Some later (debatable) sources cite his place of burial as the Island of Iona.
Note: Kingdom of Alba
"Generally the 'Kingdom of Alba' refers to what would become Scotland between 900 (the death of Constantin II) and 1286 (Alexander III's death); immediately before the Scottish Wars of Independence.
In that period the geographical spread of the kingdom expanded to include the Lothians, Strathclyde and Moray." This brief explanation is taken from Education Scotland.
---
The British Royal Family – more information
If your interest in British royalty goes beyond Scotland's earliest kings and queens, see the official British Monarchy website for lots of additional information.
FIND OUT MORE ABOUT SOME OF THE PEOPLE AND PLACES ASSOCIATED WITH THE KINGS AND QUEENS OF SCOTLAND