Lulach, (Lulach mac Gilla Comgáin) king of Scots between 1057 and 1058 was the son of Gille Comgáin mac Maíl Brigte, King of Moray and Gruoch the daughter of Boite mac Cinaeda. Following the death of Gruoch's husband, she married Macbeth who took Lulach as his stepson.
Death of Macbeth
Lulach took the throne following Macbeth's death on 15 August 1057, at the Battle of Lumphanan, a site about 25 miles from modern Aberdeen.
Although our knowledge is limited much of what we do know about Lulach comes from a number of Scottish and Irish chronicles.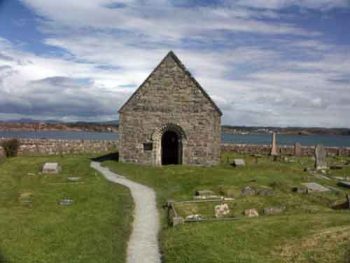 Chronicles of the Scots and Picts
The Chronicles of the Scots and Picts dated 1177 records that, "Lulach fatuus "(stupid) reigned 4 months and was killed, "in Esseg [Essie] in Strathbolgin [near Aberdeen] and was buried in Iona."
However, the place of burial is much debated among current scholars.
The Annals of Ulster
The Annals of Ulster also record a short entry (1058) about Lulach. It says that "Lulach son of Gilla Comgain, over-king of Scotland was killed in battle by Mael Coluim son of Donnchad." (Malcolm III aka Malcolm Canmore).
John of Fordun
Later chroniclers like John of Fordun, usually recognised as unreliable, also offers some snippets on Lulach's short reign.
Lulach was succeeded by Malcolm III, the eldest son of Duncan I.
---
The British Royal Family – more information
If your interest in British royalty goes beyond Scotland's earliest kings and queens, see the official British Monarchy website for lots of additional information.
FIND OUT MORE ABOUT SOME OF THE PEOPLE AND PLACES ASSOCIATED WITH THE KINGS AND QUEENS OF SCOTLAND
---