One of Edinburgh's top free visitor attractions
---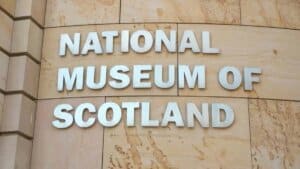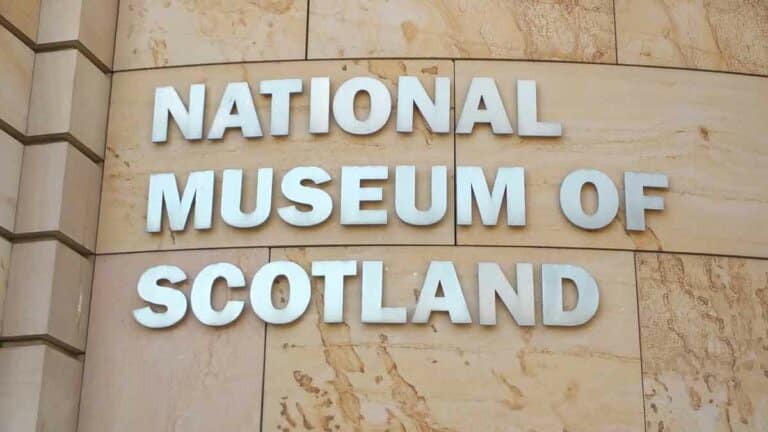 The National Museum of Scotland (NMS) stands just a short distance from the Royal Mile. Packed with treasures from around the world, it's one of these special places to visit in Edinburgh, and not just on a rainy day.
Entry is free, other than a few special exhibitions, and there are a range of benefits if you become a paying member of the museum.
History of the National Museum of Scotland
The museum has been a fixture of Edinburgh life in one guise or another for over a century and a half.
The early seeds were planted by the Society of Antiquaries of Scotland and their collection of Scotland's archaeology. Founded in 1780, "in the spirit of the Scottish Enlightenment", the Society was in many ways the inspiration for what we see today.
in 1851, the archaeological collection passed to the new National Museum of Antiquities of Scotland which in 1985 merged with the Royal Scottish Museum, which in turn had emerged from the Industrial Museum of Scotland.
Discover other museums in Edinburgh
To cut a long and fascinating story short, the National Museum of Scotland reopened its doors in 2011, as one united museum, after a multimillion-pound transformation.
See the NMS website for an in-depth look at its history.
National Museum of Scotland galleries
The museum is a wonderfully exciting place to visit, packed with all manner of objects. This brief overview of the galleries will give you an idea of what to expect: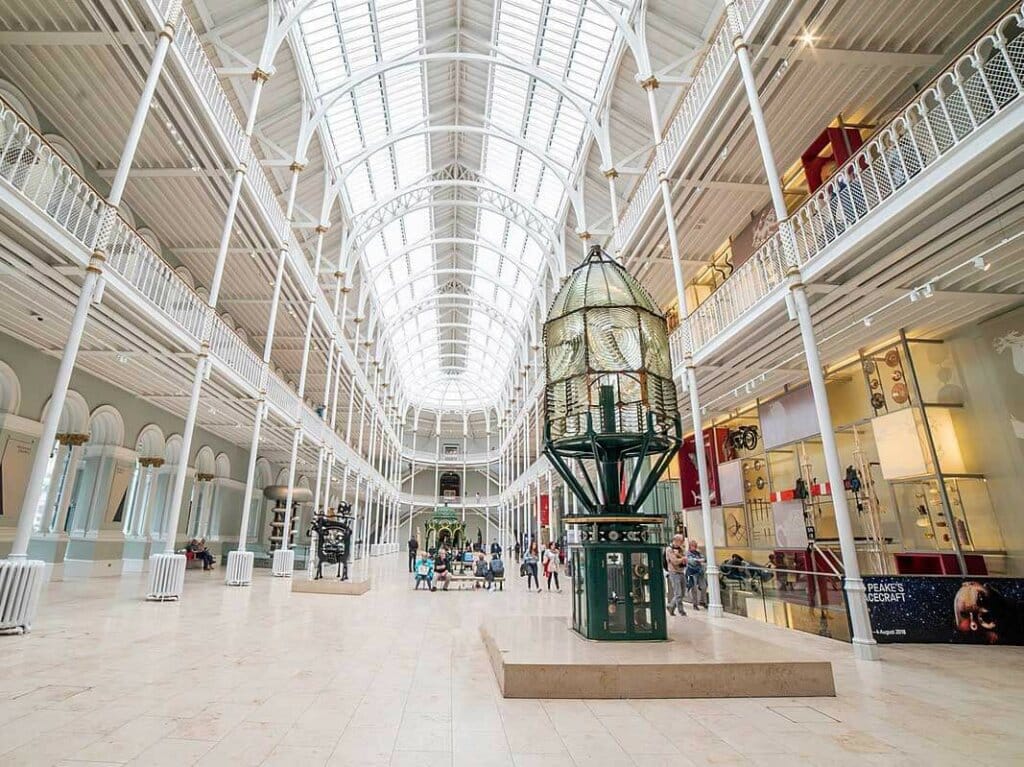 The Grand Gallery, Discoveries and Window on the World – the most impressive part of the museum.
Art, Design and Fashion galleries – a cornucopia of creativity
Natural World galleries – from T-rex to the Scottish wildcat and so much more
Science and Technology galleries – interactive displays and the history of invention
Scottish History and Archaeology galleries – from the earliest days to the present day, it's the story of a nation
World Culture galleries – people, culture and objects from around the globe
Ancient Egypt and East Asia galleries – from the sands of Egypt to the shores of Japan, a beautifully evocative collection with interactive elements
While an organisation's website will never be as exciting as the 'real thing' a look around the NMS site reveals some excellent material including:
Highlights of previous projects
More information about featured projects
Current research
National Museum of Scotland at home
If the museum is closed or you're unable to come to Edinburgh, you can explore the collections online. There are resources for families and teachers.
Using Google technology, you can now look at a range of exhibits. Google's Street View technology will take you to the Grand Gallery, Exploring East Asia and Ancient Egypt Rediscovered galleries.
There are free guided tours and lots of interactive activities for children of all ages to try. If you're feeling peckish there is a café and brasserie, also a gift shop. From the rooftop terrace there is a magnificent view over Edinburgh.
As a group the National Museums Scotland include:
The National Museum of flight at East Fortune Airfield
The National Museum of Rural Life in East Kilbride
The National War Museum in Edinburgh Castle
Note
The museum's home in Chambers Street was named after former Lord Provost and social reformer William Chambers, a man with an impressive pedigree.
You can read more about William Chambers and his brother Robert on Truly Edinburgh.
Further reading
NMS Visitor information
For information on opening hours, cost of entry and other tips to help you plan your visit, go to the NMS official website.
---