---
John Casper Leyden was born in Denholm in the Scottish Borders, on 8 September 1775, the son of a tenant farmer.
At thirteen, he enrolled in secondary school and as history now shows it was the precursor to a life as a writer, poet, minister, doctor and brilliant Oriental linguist.
Two years later he registered at the University of Edinburgh.
However, as he spoke, his tormentors were silenced, the class was captivated by his eloquence and when he had finished, they applauded. The professor knew immediately that there was something special about his young student.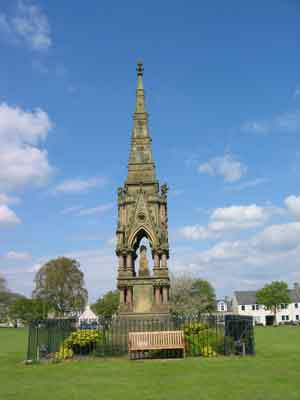 In his first Greek class, the professor asked him to translate a passage but when he stood to read he was mocked.
His broad Borders accent, rough manners and unfashionable dress made him a laughing stock.
John Leyden spent nearly ten years at university studying a bewildering array of subjects which included Greek, Latin, chemistry, physics and others.
Ordained as a minister in 1795, he preached in and around Edinburgh.
His love of poetry led him to publish The Compliant of Scotland, an old tract dealing with poetry, art and music.
The next time it was published, the editor was Dr James Murray a fellow citizen of Denholm and the man responsible for the Oxford English Dictionary.
Sir Walter Scott
It was perhaps inevitable that Leyden should meet his Borders neighbour Sir Walter Scott who introduced him to James Hogg, the 'Ettrick Shepherd' and both contributed to Scott's first publication The Minstrelsy of the Scottish Border.
With Scott's help, Leyden found a job as an assistant surgeon in India although he needed a degree in medicine before he could take up his post.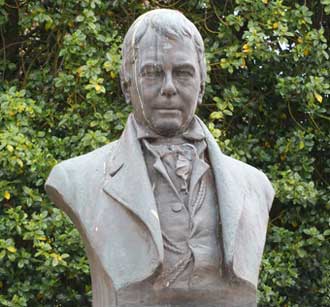 Building on the foundations of previous study Leyden returned to university, this time to the University of St Andrews, to complete his training. With immense application, he passed the necessary exams.
Before departing for India John Leyden published The Scenes of Infancy, the poem he is best remembered for.
He sailed from Portsmouth on 7 April 1803, on a voyage lasting 134 days. On arrival, he travelled to Madras to take up his post at the local hospital.
As well as his medical duties on the sub-continent he found time to research the customs of the natives of Mysore and drove himself to learn new languages.
He studied Hindustani, Tamil, Sanskrit, Malay and others. Walter Scot said of Leyden, "Perhaps he was the first British traveller that ever sought India, moved neither by the love of wealth nor of power…"
Stamford Raffles
At the end of 1805, he left India and sailed for Malaysia where he befriended (Sir) Stamford Raffles a young Englishman who secured his place in history some years later when he became the founder of the British colony of Singapore.
Leyden spent three months with Raffles and his wife Olivia, and during that time he found himself falling in love. He later expressed his feelings for Olivia in a poem, The Dirge of the Departed Year.
Governor General of India
Returning to Calcutta he met Lord Minto, the Governor General of India. Minto who became a friend and mentor to his fellow Borderer.
He said of him, "That his knowledge of languages resembled more the ancient gift of tongues, than the slow acquisitions of ordinary men."
In 1811, Leyden joined Minto's naval expedition to Java and accompanied by Raffles they landed at the capital Batavia.
After the island surrendered, Leyden went in search of rare books and manuscripts housed in a disused library. The building, closed for many years was dank and fetid, a breeding ground for germs.
It wasn't surprising when he became very ill with "sickness and shivering." He died three days later.
John Leyden was buried by his friends Lord Minto and Stamford Raffles.
More Scottish Biographies
There are various estimates of the number of languages he knew, it's thought he was 'acquainted' with 34 and knew 21 well. Minto said, "If he had been at Babel, he would infallibly have learned all the languages there."
Leyden however had once said to a friend that there was one language he refused to attempt. "Learn English, never," it was trying to learn that language that spoiled my Scots."
---
---