The Real Mary King's Close, a 5-star visitor attraction, lies hidden beneath the City Chambers on Edinburgh's Royal Mile.
The City Chambers, today the meeting place for the City of Edinburgh Council, began life as the John and Robert Adam designed Royal Exchange opened by Lord Provost George Drummond in 1760. Intended as a forum for the city's merchants, it never proved popular.
mary King's Close"…a disreputable relic of old Edinburgh"
Author of Capital of the Mind, James Buchan, describing the building of the Royal Exchange, said "Part of the site was occupied by a disreputable relic of old Edinburgh, the grim and gousty Mary King's Close…"
As a terrible outbreak of plague swept through Scotland's capital city in 1645, the close and its maze of passageways and homes were largely abandoned.
Today, Continuum Attractions owns this popular Edinburgh visitor attraction.
Tours of Mary King's Close, Edinburgh
The frequently run tours, which last around an hour, offer visitors an experience brought to life by historical reenactors playing characters who once lived in the close. And there is quite a tale to tell. While there are some spooky elements, it's much more of a history tour than a ghostly experience.
Visitors are introduced to the foul clenger and the plague doctor. Also putting in an appearance is poet Robert Fergusson, a friend of Robert Burns and resident of nearby Craig's Close.
The story of Annie's doll and the Japanese psychic, Aiko Gibo might well be the most poignant part of the Mary King experience.
A tour of this strangely unsettling building is a wonderful mix of four centuries of Edinburgh history and just a little poetic licence which makes it even more fun. It paints an evocative, if depressing, picture of life for the people who lived and died there.
HISTORY OF Mary King's Close
Did Mary King live at Mary King's Close?
There's no clear answer to that question because it depends on who you ask.
Historic Environment Scotland (HES) looks at some of the history and archaeology of the close. Their records show that the close was known in 1530 as John Towris Close after Touris of Inverleith also Livingstoun's Close after burgess Henry Livingstoun.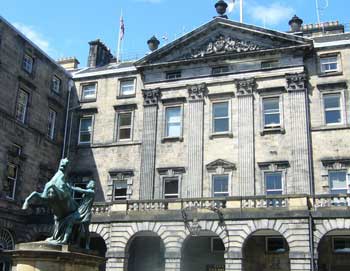 In the 17th century it became Alexander King's Close, then King's Close and finally Mary King's Close. Just how it got the name remains a matter of speculation.
However, HES is quite clear that although there was a Mary King living nearby, there is no record of anybody of that name living in the close.
Others including the Royal Commission on the Ancient and Historical Monuments Scotland (RCHAMS) will beg to differ, suggesting that Mary King was Alexander King's daughter and did live in the close.
Just to confuse matters, yet another school of thought is that Mary King, a widow, moved into the close with her children at some point before 1635 which seems to tie in more closely with the story told by this popular Royal Mile attraction.
Who was Mary King?
Putting aside the debate over whether she lived in the close, Mary King was a remarkable woman. Successful in business she had her own stall selling clothes later becoming became a burgess with a seat on the town council after her husband's death.
Edinburgh plague doctors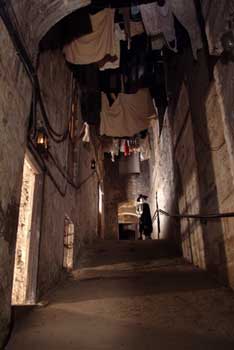 Even before the plague of 1645, Scotland's capital was no stranger to the disease. The city and the nearby port of Leith suffered intermittently for centuries.
John Paulitious was Edinburgh's first plague doctor but sadly he didn't last long in the job. Within weeks of working with the sick and dying, he also succumbed to the 'pest.'
His successor George Rae, who by all accounts was promised he would be well paid for his work, was easily recognisable wearing a beaked masked filled with juniper or other sweet-smelling herbs.
With a long cloak, made from a waxed material, leather trousers, wide brimmed hat and gloves, he must have been a bizarre and frightening sight.
Nearby attractions
Although treatments were limited, George Rae tried hard to save his patients. Alerted by a white sheet hung from a window he would call at the house and do what he could. He would lance their boils, and clean and cauterise their wounds.
But still many thousands died in a plague which spread throughout many parts of Scotland including the nearby port of Leith, not yet an integrated part of the City of Edinburgh.
Foul clenger
It seems likely that the paths of the plague doctor and the foul clenger would often cross. The foul clenger was the unfortunate individual tasked with cleaning the houses affected by the plague and moving and burying the dead, many of whom ended up in mass graves on the Burgh Muir, Leith Links and other open spaces.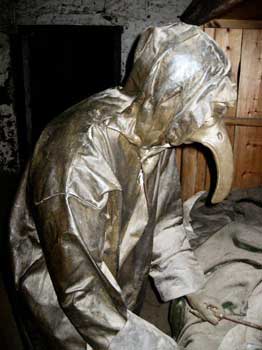 Robert Louis Stevenson in his Edinburgh: Picturesque Notes spoke of the clengers as officials dressed in grey clothes with a white cross punishing those who concealed their symptoms.
Spread by rats
While the medical profession of the day believed the Bubonic Plague (Black Death) was spread through 'bad' air – a miasma – it was actually spread by flea bites which came from the city's large population of rats which thrived in the filthy overcrowded conditions.
In Leith, recognising the dangers of the filthy conditions, the council issued a notice to residents telling them to remove, "their middens of mucke and dead swine affe the streete."
George Rae survived the plague but it took many years before he was paid for his dangerous work.
Oliver Cromwell captures Edinburgh Castle
There was little time for the city to recover as Oliver Cromwell invaded Scotland, capturing Edinburgh Castle and occupying the city in 1650 only a year after the plague finally petered out.
It was over a century later before the building of Edinburgh's New Town began. Life in the Old Town remained, on the whole, dirty and overcrowded, the perfect environment for disease to spread.
Related content
Accessibility
If you are visiting Mary King's Close take care as some of the areas are dimly lit with an uneven surface.
There are 58 steps to be descended and 38 ascended during the tour. There is no access by lift.
Children must be at least five years old.
Children under 16 must be accompanied by an adult.
Sturdy footwear is recommended.
Visitor information for Mary King's Close
For information on opening hours, cost of entry and other tips to help you plan your visit, go to the Mary King website.
---