Culen (Cuilén mac Illuilb), son of Indulf, was King of Alba (Scotland) c. 966 -971. Sometimes referred to as 'Culen the Whelp' he had two brothers, Eochaid (d. 971) and Olaf (d. 977) and was probably responsible for the death of his predecessor King Dubh.
Culen and his brother Eochaid were both killed in 971, by Rhydderch, son of King Donald of Strathclyde.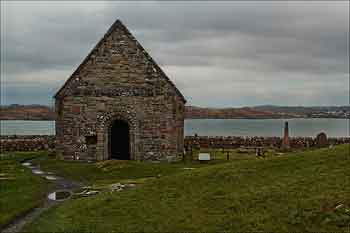 There are suggestions that his death (perhaps somewhere in Lothian) was linked to an incident over Rhydderch's daughter.
Culen who had one son, later Constantine III, was succeeded by Kenneth II in 971.
May be buried on Iona
Although there is no direct evidence, Culen may have been buried on the island of Iona.
---
---
The British Royal Family – more information
If your interest in British royalty goes beyond Scotland's earliest kings and queens, see the official British Monarchy website for lots of additional information.
FIND OUT MORE ABOUT SOME OF THE PEOPLE AND PLACES ASSOCIATED WITH THE KINGS AND QUEENS OF SCOTLAND
---