Kenneth II (Cináed Maíl Choluim), the son of Malcolm I, was King of Alba, and reigned from 971 to 995.
---
Kenneth killed Olaf, brother of King Cullen in 977, an act which seemingly brought a lull in the hostilities between the two branches of the royal dynasty – the descendants of Constantine I the branch to which Kenneth belonged and the descendants of Aed to which Kenneth's predecessor Culen had belonged.
Edgar of England
He may have bowed to King Edgar of England who in C.975 acknowledged Kenneth's rule over Lothian, a territory which, says Glasgow University's Professor Dauvit Broun, "may have been annexed to the Scottish kingdom when Edinburgh fell to King Indulf at some time between 954 and 962…"
monastery FOUNDED at Brechin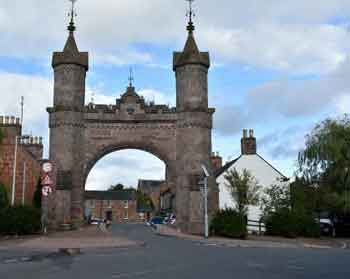 Kenneth II founded the monastery at Brechin, possibly as a Céli Dé community.
Dauvit Broun makes the point that the monastery lay in disputed territory and was founded for strategic reasons as much as for religious reasons.
The manner of Kenneth's death was a rather tangled affair and a number of different versions of the story exist.
He may, for example, have killed the son of Finguala (Finella) daughter of Conchobar, Earl of Angus. In an act of revenge for the death of her son Finguala arranged for Kenneth's assassination in 995 at Fettercairn only a dozen miles from his monastery at Brechin.
He was succeeded by Constantine III.
Note: Kingdom of Alba
"Generally the 'Kingdom of Alba' refers to what would become Scotland between 900 (the death of Constantin II) and 1286 (Alexander III's death); immediately before the Scottish Wars of Independence.
In that period the geographical spread of the kingdom expanded to include the Lothians, Strathclyde and Moray."
This brief explanation is taken from Education Scotland.
---
The British Royal Family – more information
If your interest in British royalty goes beyond Scotland's earliest kings and queens, see the official British Monarchy website for lots of additional information.
FIND OUT MORE ABOUT SOME OF THE PEOPLE AND PLACES ASSOCIATED WITH THE KINGS AND QUEENS OF SCOTLAND