Dubh (Duff) mac Mael Coluim (son of Malcolm I) lived c. 930-966 and was King of Alba (Scotland) from 962 – 966. He succeeded Indulf son of Constantine II.
---
Throughout his reign Dubh was constantly challenged by Culen, son of King Indulf. However, it was Dubh who claimed victory over his rival at the Battle of Duncrub in Strathearn (modern Perthshire).
Dubh killed
The following year Dubh was killed by the men of Moray at Forres, quite possibly on the instruction of Cullen. Professor Dauvit Broun of Glasgow University described it as an event that, "coincided with an eclipse of the sun on 20 July 966."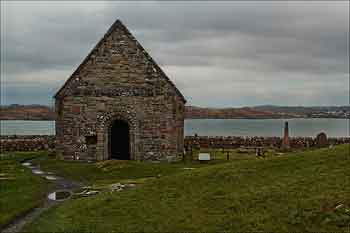 Broun also notes that "it has been argued cogently that the vivid depiction of a battle and its aftermath on the huge stone monument at Forres (Sueno's Stone) represents Dubh's defeat and death."
Inevitably there are some scholars who dispute this.
Buried on island of Iona
According to a source, regarded by some as questionable, Dubh may be buried on the Island of Iona.
He was succeeded in 966 by Cullen.
---
The British Royal Family – more information
If your interest in British royalty goes beyond Scotland's earliest kings and queens, see the official British Monarchy website for lots of additional information.
FIND OUT MORE ABOUT SOME OF THE PEOPLE AND PLACES ASSOCIATED WITH THE KINGS AND QUEENS OF SCOTLAND
---