Cambuskenneth Abbey, near Stirling, was founded by King David I about 1140 and was the main supply base for the Battle of Bannockburn.
---
Today visitors come to explore a site where apart from the bell tower, a freestanding campanile, the tomb of King James III and Queen Margaret, and a collection of architectural fragments, little else remains.
Despite its lack of physical presence, this quiet corner of Stirling is crammed with evocative memories of a time when Scotland was forced to adjust to the ebb and flow of violent religious and political change.
Like many other Catholic houses, it fell victim to the upheavals of the Scottish Reformation.
Founding of Cambuskenneth Abbey
The founding of Cambuskenneth Abbey originally known as the Abbey of St Mary of Stirling, the daughter house of Saint Nicholas of Arrouaise in northern France, while an important event, is best viewed as part of a wider proliferation of the new reformed orders in Scotland.
Cambuskenneth Abbey nestles in a bend of the River Forth surrounded on three sides by its waters. Although the evidence is sketchy, its name may be defined as the creek, field or haven of Kenneth (King Kenneth II) site of a battle with the Picts.
Links with Stirling Castle
The Augustinian monks maintained close links with Stirling Castle, one of David's favourite residences.
It brought royal patronage and wealth but later attracted the unwelcome attention of English monarchs as they sought to impose their will on the Scots.
Referring to a site excavation carried out by Stirling Town Architect William Makison in 1864, RCAHMS, while acknowledging that Makison had restored the freestanding bell tower, said, "The measures taken to preserve the site have substantially changed their character."
In contrast to the rather meagre architectural offerings, a number of surviving texts give the historical sleuth a clearer insight into cloistered life.
German Marcus Wagner for example, in his description of Scottish monastic libraries, said in 1533 that they held books of unusual age and beauty. Further commenting 40 years later he said that Germany, Italy nor Denmark could boast of such manuscripts as were to be found in Scone, Cambuskenneth, Edinburgh and St Andrews.
Local minister William Nimmo, writing in 1777 noted that from the beginning of the 15th century, "we find abbots of this place [Cambuskenneth] frequently employed in important national transactions or advanced to the highest civil office."
Its abbots, while men of God, were educated men of authority unafraid to leave the abbey confines to mix politics with their spiritual duties.
In 1423 for example the incumbent Patrick de Callendar, present at a meeting of the Scottish Parliament in Linlithgow (1404), was dispatched by Murdoch, Duke of Albany to England as part of the negotiating team for the release of King James I, a prisoner, albeit one with relatively comfortable confinement, at the Lancastrian court of Henry IV and Henry V for 18 years.
Others of particular note are Patrick Panther (Pantar), abbot during the reign of James IV and Ambassador at the French court, also long-serving abbot Henry Arnot who became High Treasurer of Scotland in 1493.
Abbot Alexander Mylne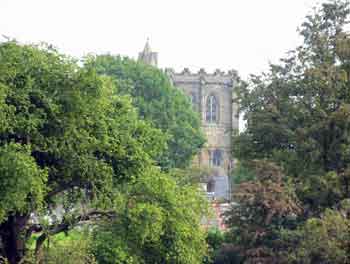 In 1532 Abbot Alexander Mylne was appointed President of the Court of Session during the reign of James V.
His inauguration ceremony is captured in stained glass in Parliament Hall Edinburgh, where he is shown kneeling before his king.
Following his legal appointment in 1535, Mylne only two years after Wagner's observation regarding the condition of Scottish manuscripts, transcribed the original Cartulary of Cambuskenneth, "substantially bound and embellished with various illuminations and provided with a great seal," because of decay caused by damp and neglect.
Victory at Bannockburn
Following Robert I's (Bruce) victory at Bannockburn when Cambuskenneth was used as the main Scottish supply base, the abbey played host, in July 1326, to a parliament where matters of succession were discussed along with the king's financial affairs, restored to his satisfaction by the granting of a tenth penny of all rents.
English Civil War
The 1650s in Scotland were indeed times of trouble with the English Civil War and the rise of Oliver Cromwell.
In July 1650 Cromwell came north to Scotland to defeat a Covenanting army at Dunbar, the Scottish Parliament was abolished and the Commonwealth of England, Scotland and Ireland was born. Cromwell took many of the Scottish Parliament records to London, including ones concerning Cambuskenneth.
Dunfermline Abbey
While Cambuskenneth's founder is buried in Dunfermline Abbey, James III, King of Scotland from 1460 to 1488 and his wife Queen Margaret of Denmark lie by the River Forth.
Like most royal marriages of the period their marriage in 1469 was one of convenience, one that brought an unexpected benefit to Scotland.
As part of Margaret's dowry, her father King Christian I of Denmark and Norway had pledged 60,000 florins with the agreement if he failed to raise the full amount the islands of Orkney and Shetland would become Scottish possessions.
More Scottish history articles
Although James and Margaret now lie at peace, the manner of the king's death gives rise, say the National Archives of Scotland to, "one of the earliest recorded conspiracy theories."
It is known that the king had made himself very unpopular, promoting his own favourites over his senior nobles. Attempts to engage in military campaigns in France and the pursuit of a closer relationship with England were part of a deeply hated political strategy creating resentment and anger among the Scottish nobility.
Did James die at Sauchieburn?
Did James die on the battlefield of Sauchieburn, an internal rebellion where he faced his nobles and his own 15 year-old son, the future James IV?
An enduring story tells of the king fleeing the battlefield and taking refuge in a small cottage near the field of Bannockburn. Wounded or injured in some way he asked for a priest to be brought to him. It wasn't a man of the cloth who came to tend to the king's spiritual needs but an assassin dressed as a priest.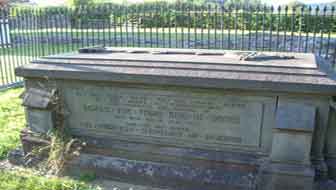 The royal couple's burial at Cambuskenneth raises an interesting point of ethics.
Coulton's exploration of the main sources of the monastic endowment – how the abbot raised money for the running of the abbey, is an avenue worth following.
It seems that the custom "corpse-present" allowed the priest of a dying person to receive some form of payment for his services, therefore the necessity of 'attracting' the wealthiest corpses was essential for any abbey that wished to maintain income levels.
King James and Queen Margaret lay undisturbed until 1864 when on the instructions of Queen Victoria; the royal couple was re-interred under a stone memorial in the abbey choir.
It is this tomb that greets visitors to Cambuskenneth today, a rather lonely almost forlorn sight among the remains of a once thriving place of worship.
Scottish Reformation
Cambuskenneth Abbey did not escape the upheavals of the Scottish Reformation when Lutheran doctrines, which first emerged in the German town of Wittenberg, attracted growing support in a Scotland more used to the teachings of Rome.
While Luther had no idea of the effect of his protest on one small country on the periphery of Europe his words of 1520 clearly showed that peaceful change was unlikely. He said, "If you think properly of the Gospel, please don't imagine that its cause can be advanced without tumult, offence and sedition." Among those who joined this crusade was one John Knox.
Excavations at Cambuskenneth Abbey
E. Alexander's An Account of the Excavations at Cambuskenneth Abbey (1864) noted that "So complete had been the destruction of the church of Saint Mary of Cambuskenneth by the disciples of John Knox in 1559 that its site was now found to be quite covered with greensward, where cows grazed…
"Wherever they appeared (Protestant mob) the churches were thoroughly purged of images and mass altars and the monasteries were levelled with the ground in a tempest of indignation and disgust. The work of demolition and purgation which was begun in a frenzy of popular rage at Perth was continued in a more deliberate manner in St Andrews, Cupar, Cambuskenneth, Linlithgow and Edinburgh."
Cambuskenneth Abbey, now a Historic Environment Scotland property, is today a more peaceful place, content to play host to an increasing number of visitors.
The threatening tones of Edward Longshanks, the reassuring words of Robert the Bruce and the resonant voices of the Augustinian brothers are but a distant memory from a medieval world.
Cambuskenneth Abbey Visitor Information
For information on opening hours, cost of entry and other tips to help you plan your visit, go to the Abbey website.
---