---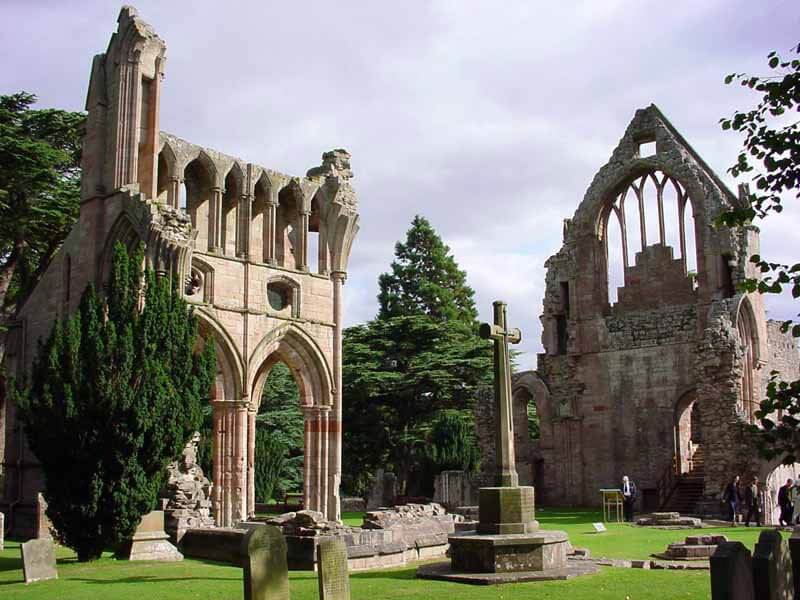 Dryburgh Abbey, or at least what remains of it, lies a short distance from the Scottish Borders village of St Boswells.
Although the abbey, surrounded on three sides by the River Tweed, dates from 1150, it's believed that St Modan, an early Christian missionary, had settled in the area over 600 years before.
Over the centuries the Scottish Borders had a number of great working abbeys, parts of which remain today at Melrose, Jedburgh and Kelso.
However, Dryburgh is unusual in so much as what remains are the domestic quarters rather than the church itself, giving us a valuable insight into the lives of the monks who lived and worshipped there.
Premonstratensian monks
The white robed monks were Premonstratensians, originally from northern France but probably came to Scotland from what is now Northumberland in northern England.
The Chapter House is remarkably well preserved and the status of the room is obvious to the visitor. The grand entrance and size demonstrate its importance to the order. Second, only to the church, it was the room where the business of the day was carried out, tasks were allocated, sins confessed and matters of discipline were attended to.
---
Related articles
---
The Warming House or calefactory was well named, it was the only place where the canons were allowed the luxury of a fire.
There were a number of architectural changes made to the building over the years; for example, in the fourteenth century, the windows on the ground floor were enlarged causing the fireplace to be moved to the opposite wall.
No further major alterations were made and the room retains its appearance to this day.
A short walk through a barrel-vaulted passage takes you to the novices' day room where the novice master would give instructions to the new members of the order.
Parts of the South Range still exist allowing us a look at where the monks would eat and drink, a magnificent rose-window similar to the one at Jedburgh Abbey also survives high up in the west gable.
One part of the abbey holds a surprise for many, who during the exploration of the site find the tombs of two of Scotland's best-known figures.
Sir Walter Scott buried at Dryburgh Abbey
Sir Walter Scott of Abbotsford a great literary genius and Field Marshall Earl Haig, the commander in chief of the British Expeditionary Force in France during World War I lie close to each other in the North Transept Chapel.
For those who make the journey to this quiet corner of the world, there is much more to see but it's easy to appreciate the attraction of a life of contemplation, even today. The location and solitude make it a special place.
---
Dryburgh Abbey Visitor Information
For information on opening hours, cost of entry and other tips to help you plan your visit, go to the Abbey website.
---