The highlight of Princes Street Gardens
---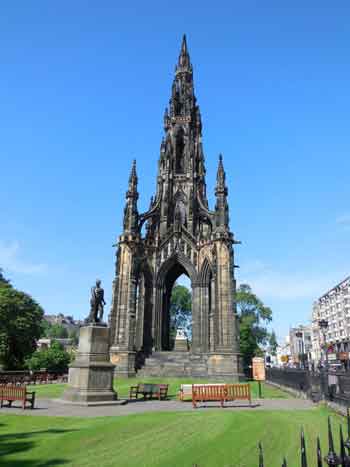 The Scott Monument in Edinburgh's Princes Street Gardens takes its name from writer and poet Sir Walter Scott who was born in Edinburgh on 15 August 1771.
Managed by Edinburgh Museums it is the largest monument to a writer in the world.
Following Scott's death in 1832 the people of Edinburgh decided that a monument should be built in memory of one of Scotland's best-loved literary figures and to that end, a competition to choose a design for the project was organised.
The winner was George Meikle Kemp (1795-1844) a carpenter, draughtsman and self-taught architect from Midlothian.
Scott Monument: inaugurated 1846
This soaring Gothic edifice is 200 feet high, with 287 steps and was built between 1840 and 1844 although not inaugurated until 1846. At the top, there is a commanding view over the city.
Characters from Scott's Novels
Included in the memorial are 64 smaller statues, mostly characters taken from Scott's novels with some figures from Scottish history. Also part of the monument is a larger statue of Sir Walter sculpted from Italian marble by Sir John Steell.
Almost inevitably views on the Scott Monument were mixed. Charles Dickens said, "I am sorry to report the Scott Monument is a failure. It is like the spire of a Gothic church taken off and stuck in the ground."
Professor David Masson took a different view. He said, "The finest…which has been raised anywhere on earth to the memory of a man of letters."
---
Scott Monument Visitor Information
For information on opening hours, cost of entry and other tips to help you plan your visit, go to the Edinburgh Museums website.


---