The division between Edinburgh's Old and New Towns.
---
Princes Street Gardens lies at the heart of Edinburgh's World Heritage Site.
It's a lovely place to walk particularly in the spring and summer when the flowerbeds are in full-bloom and there are cafes and food stalls that let you stop, enjoy a coffee and soak up the great atmosphere.
The view of Edinburgh Castle sitting high on top of an extinct volcano is not to be missed.
Hogmanay celebrations
During the many Edinburgh summer festivals, the gardens are the venue for many of the musical events staged. It's a fun place to be. But over the Christmas and New Year period it's busy with the ever-popular Christmas market and the New Year concert, a part of Edinburgh's Hogmanay celebrations.
Divided by the Mound, the historic site of the Bank of Scotland, the gardens on the east side cover an area of around 8.5 acres to Waverley Bridge and on the west side an area of 29 acres stretching to St John's Church on the corner of Lothian Road, close to the city's five star Caledonian Hotel.
While St John's is a thriving Episcopal church it is also the site of one of Edinburgh's best-loved vegetarian restaurants. Add the bookshop, the One World Shop and at festival time some great live music and you have one of Edinburgh's most popular visitor sites.
Site of the Nor Loch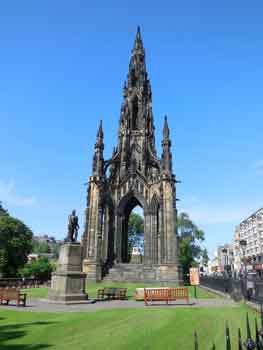 The gardens occupy what was the original bed of the Nor Loch created in the middle of the 15th century to add to the defences of Edinburgh. Over the following centuries, it was used as the city's waste ground and as a result became foul smelling, contributing to the city's reputation as "Auld Reekie". It was drained in 1759 to allow the building of North Bridge the connection between the Old and New Towns.
Scott Monument

Pride of place in the gardens goes to the Scott Monument, built in 1844 to commemorate the writer Sir Walter Scott but the area is also dotted with statues commemorating a number of other Scottish worthies, including explorer David Livingston, publisher Adam Black and medical pioneer James Young Simpson.
Discover more about Edinburgh parks and gardens.