Aed (Aed mac Cinaeda), also known as Aed the Furious or Whitefoot, was the second son of Kenneth mac Alpin (Kenneth I). He succeeded his brother of Constantine I, as king of the Scots and the Picts and reigned between 877 and 878.
---
As little is to be gleaned from the traditional sources almost nothing is known about Aed's short reign.
The Chronicles of the Kings of Alba, for example, says, "Edus held the same for one year. The shortness of his reign has bequeathed nothing memorable to history. He was slain in the civitas of Nruim" [unidentified].
King Giric & King Eochaid (r. 878-889)
The Annals of Ulster say simply that, "Aed mac Cinaeda, King of the Picts was killed by his associates."
Battle of Strathallan
Professor Dauvit Broun of Glasgow University says in the Oxford Dictionary of Biography, that Aed's death, at the Battle of Strathallan, may be attributed to Giric who, "may not have been of royal lineage."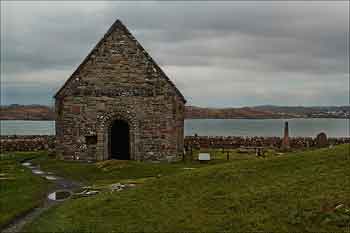 St Oran's Chapel, Island of Iona
Aed's final resting place is also a matter of debate, although some traditional sources list his place of burial as Inverurie in modern Aberdeenshire.
Others cite the burial ground at St Oran's Chapel on the Island of Iona.
Aed was succeeded by Giric mac Dungal who may have ruled with Eochaid, son of Rhun, King of Dumbarton.
---
The British Royal Family – more information
If your interest in British royalty goes beyond Scotland's earliest kings and queens, see the official British Monarchy website for lots of additional information.
FIND OUT MORE ABOUT SOME OF THE PEOPLE AND PLACES ASSOCIATED WITH THE KINGS AND QUEENS OF SCOTLAND
---