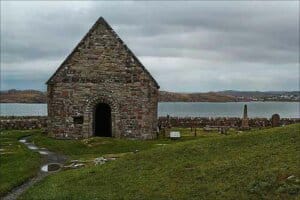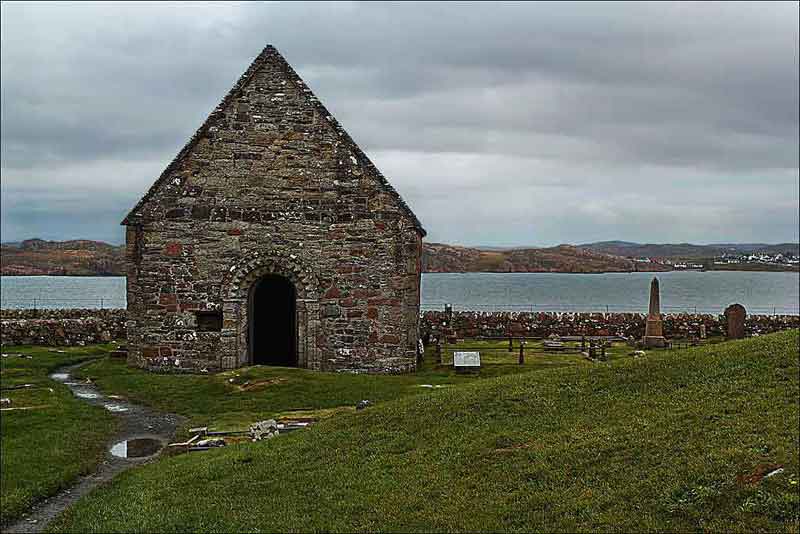 St Oran's Chapel and Reilig Odhrain Burial Ground, Iona
King Kenneth I (Cinaed mac Alpin, Kenneth Mac Alpin) was ruler of Dalriada from 840 and ruler of the Pictish kingdom from 842. Bringing the two nations together he was recognised as the first king of Scotland (Alba) until his death in 858.
---
Although little is known about Kenneth I, we do know his kingdom covered part of what is now modern Argyll, although there is little evidence to show how far it extended. During a period of constant Viking raids, Kenneth led the fight against the Norse invaders, establishing new fortresses at Forteviot, Dunkeld and Scone.
A short entry in the 17th century Annals of the Four Masters (chronicles of medieval Irish history) gives some detail.
A more significant source of information (not all substantiated) is the Scottish Chronicle which tells the story of Scottish rulers from the reign of Kenneth to the late 10th century.
The Scottish Chronicle says, "He held Dalriada for two years (840-42) before he came to Pictavia.
Having destroyed the Picts he reigned over Pictavia for 16 years from 842 to 858." This Chronicle also documents his removal of the relics of St Columba from Iona to keep them safe from Viking raids. He brought them to "a church he had built" most likely at Dunkeld.
Dunkeld Church
Interestingly later Pictish sources attribute the building of the Dunkeld church to King Constantine who died in 820. The Scottish Chronicle also allows us some tantalising detail about his reign. It documents a number of invasions of Saxonia (Northumbria, northern England) also the burning of Melrose and Dunbar.
Died at Forteviot
The earlier Irish annals briefly mention Kenneth's death in 858. However, the Scottish Chronicle gives more detail.
It said that he died of a tumour at Forteviot, perhaps in the February of that year. However modern scholars have cast doubt on this claim. Other sources have his death some years later in 862 at an unidentified location.
Buried on Iona
King Kenneth I: the first king of Scots, was buried on the Island of Iona leaving two sons Constantine and Aed, both later kings of Scotland, and a number of daughters – possibly two. He was succeeded by his brother Donald I.
---
St Oran's Chapel And Reilig Odhrain Burial Ground
More information from CANMORE, part of Historic Environment Scotland, about St Oran's Chapel And Reilig Odhrain Burial Ground on Iona where many of Scotland's earliest monarchs are thought to have been buried.
REFERENCES: RESEARCH AND DATA
Dauvit Brown, Britain and the Beginning of Scotland. Available from the Journal of the British Academy (accessed January 2019).
Historic Environment Scotland, Iona, St Oran's Chapel And Reilig Odhrain Burial Ground. Available from Camore (Accessed December 2019).
FIND OUT MORE ABOUT SOME OF THE PEOPLE AND PLACES ASSOCIATED WITH THE KINGS AND QUEENS OF SCOTLAND