Giric mac Dungal (Gregory) also labelled Giric the Grim by 14th century chronicler John of Fordun was "king in Scotland" (Picts and Scots).
---
Giric's origins are unclear, Michael Lynch, Scotland a New History suggests that he was the first cousin of Aed, however, others argue that he may not have been of royal lineage.
Professor Dauvit Broun of Glasgow University says Giric is credited (Oxford Dictionary of National Biography), "in later medieval sources as a liberator of the Scottish church from Pictish exactions…"
However, Broun and other scholars cast doubt on the statement's authenticity.
Eochaid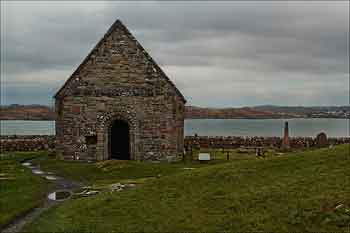 Giric may have ruled jointly with Eochaid, son of Rhun, King of Dumbarton and grandson of Kenneth mac Alpin.
What little we know about Eochaid comes from the Chronicles of the Kings of Alba which said he reigned for 11 years.
However such is the scarcity of information from other sources that this cannot be confirmed.
It may be that rather than a joint kingship, one may have followed the other; this theory is strengthened by the inclusion of Giric, on his own, on a king-list, dated to the late 11th century.
Killed at Dundurn
Giric was killed at Dundurn in Strathearn in 889 and may be buried on the Island of Iona. The fate of Eochaid is not recorded.
Giric and Eochaid were followed by Donald II, son of King Constantine I.
Note
In the Kings and Queens of Scotland index I have listed the reign of Giric and Eochaid (878-889) as a joint one.
---
The British Royal Family – more information
If your interest in British royalty goes beyond Scotland's earliest kings and queens, see the official British Monarchy website for lots of additional information.
FIND OUT MORE ABOUT SOME OF THE PEOPLE AND PLACES ASSOCIATED WITH THE KINGS AND QUEENS OF SCOTLAND
---