Malcolm II (Mael Coluim mac Cinaeda), king in Scotland, ruled between 1005 and 1034. He took the throne after defeating his cousin Kenneth III at the Battle of Monzievaird near Crieff.
---
His father Kenneth II was assassinated at Fettercairn, near Brechin in 995. Less is known about his mother who was possibly a daughter of a king of Leinster."
Battle at Carham
There are some suggestions that because he killed many of his potential rivals his reign allowed a period of dynastic stability however reliable records are scarce.
Known to medieval chroniclers as, "the most victorious", Malcolm won a notable victory over Uhtred, Earl of Northumbria at Carham, a small settlement on the River Tweed, in 1018 which gave him control of Lothian.
The victory at Carham followed an earlier crushing defeat by Uhtred at Durham in 1006.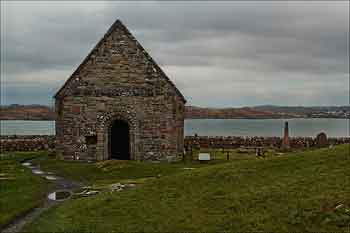 Defeated By King Cnut
He was, towards the end of his reign, defeated by Cnut, king of England, Denmark and Norway. The Anglo-Saxon Chronicles tell us that in 1031 Cnut received the submission of three kings including Malcolm II.
There are no records of Malcolm having any sons however he did have a number of daughters. The name of only one is known, she was Bethóc, who married Crínán, the abbot of Dunkeld. Their son Duncan I became king after Malcolm's death.
King Macbeth
Another daughter married Sigurd, a Norse earl of Orkney and a third may have married Fíndlaech mac Ruaidrí, Mormaer of Moray, whose son was Macbeth came to the throne in 1040.
Malcolm died, perhaps assassinated, at Glamis in November 1034. Some sources suggest his body was taken to the Island of Iona for burial.
The British Royal Family – more information
If your interest in British royalty goes beyond Scotland's earliest kings and queens, see the official British Monarchy website for lots of additional information.
FIND OUT MORE ABOUT SOME OF THE PEOPLE AND PLACES ASSOCIATED WITH THE KINGS AND QUEENS OF SCOTLAND
---
---