Lauriston Castle in Edinburgh is a wonderful combination of 16th century tower house and 19th century luxury mansion.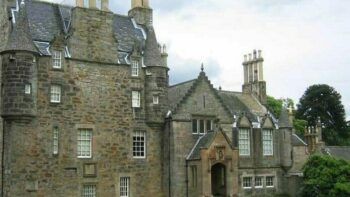 Set only a short distance from the centre of Edinburgh and close to the Firth of Forth, the building is set within 37 acres of beautiful parkland and forest walks. Cramond Village and Cramond Island lie a short distance to the north.
History of Lauriston Castle
Historic Environment Scotland (HES), which gives some insight into the area's earliest documents, tells us that a castle existed here since the 13th century. The surrounding estate belonged to the Crown.
However, in 1544, during the Rough Wooing period – Henry VIII's campaign designed to force the marriage between his son and Mary Queen of Scots – an English army, led by the Earl of Hertford arrived in Edinburgh.
Hertford's soldiers destroyed that earlier castle which stood adjacent to the current building.
By the end of the 15th century, the land belonged to the Forresters of Corstorphine who in turn sold it to Sir Archibald Napier c. 1589.
Lauriston Castle: architects
Inevitable over the years many designers and architects worked on Lauriston.
However, It's worth pausing to consider William Burn, a specialist country house architect who worked on the castle's conversion between 1824 and 1827.
Among his many projects was the restoration of St Giles' Cathedral, a commission he received from Edinburgh Lord Provost William Chambers.
Although generally a highly regarded Edinburgh architect and Fellow of the Royal Society of Edinburgh, it's fair to say that Chambers was not entirely happy with the work.
Lauriston Castle: Owners
The castle has had a number of owners over the centuries. Some of them merit particular mention.
Sir Archibald Napier
It was originally built as a tower house for Sir Archibald Napier of Merchiton, a structure which now sits at the heart of the present building.
The Gazetteer for Scotland describes Napier as a "minor noble and civil servant part of a family who gave service to a succession of Scotland's kings."
Archibald's son was John Napier, a scholar and mathematician credited with the invention of logarithms.
Following Sir Archibald's death in 1608, Lauriston Castle passed to his son, Sir Alexander Napier who died c.1629
Following his death, a series of owners took control of Lauriston Castle and made alterations to the building.
William Law
William Law, a prominent Edinburgh goldsmith, bought Lauriston in 1683 but died the following year.
John Law
William's son John Law was a mathematician, economist and financial speculator perhaps best known for his involvement in the Mississippi Company.
As the name might suggest Law established the business to develop French Louisiana in the southern United States in the early years of the 18th century.
By all accounts, he was also a prolific gambler who lost vast sums in the Paris casinos.
His father's death meant he inherited Lauriston Castle. But in order to settle his gambling debts he sold his share to his mother to raise some much-needed money.
However, after his mother died he inherited the property, while out of the country, for a second time in 1707.
Other owners include:
Margaret Gordon MacPherson Grant
Thomas Allen
This blog post from Edinburgh Museums says more about the owners listed above.
Mr and Mrs William Reid
In December 1902, William Robert Reid and his wife Margaret Johnson Reid bought Lauriston Castle.
After his father died in 1895, William, a quiet reserved man, with an architectural background, took control of Morison & Co, one of Edinburgh's leading cabinet makers and upholsterers. His love of antique furniture and beautiful furnishings was obvious at this stage.
By all accounts, Margaret was another of Edinburgh's remarkable, if unheralded women.
With a love of Scotland's history and a knowledge of several languages, she was determined to further her education.
She studied physiology with the Edinburgh Ladies Education Association, an organisation dedicated to campaigning for university education for women.
The University of Edinburgh says more about the Association.
The house required extensive remedial work before being fit to live in. This included the installation of modern plumbing, lighting and central heating, work carried out by William's brother-in-law William Barton
the Reids moved into their new home in June 1903.
Researching a book about Lauriston
Although his health was deteriorating, William, working with a friend and neighbour, James Fairley researched a book about Lauriston, its history and its owners.
Sadly, before the project was finalised, William Reid died at Lauriston in April 1919.
After his death, Fairley, with the approval of Mrs Reid, continued the research. A limited edition book was finally published in 1924.
In September 1926, Margaret Reid, the last private owner, gifted Lauriston Castle to the City of Edinburgh. This was also the wish of her late husband.
What to see at Lauriston Castle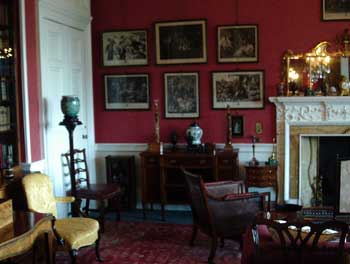 While it now operates as a museum, it's also used as a venue for weddings, corporate events, and other special occasions.
in the first half of the 19th century William Henry Playfair designed the castle's extensive grounds and woodland walk. They are free to enter and enjoy.
Lauriston Castle Collections
Among the exciting and eclectic collections are Italian furniture, Sheffield Plate, Crossley wool Mosaics and Blue John ornaments some of it collected on the couple's European travels.
Today's visitors to the castle will find a wonderfully unique example of late Victorian and Edwardian style, a reflection of William and Margaret's love for elegant furniture, wall coverings and other fascinating objet d'art .
Japanese Garden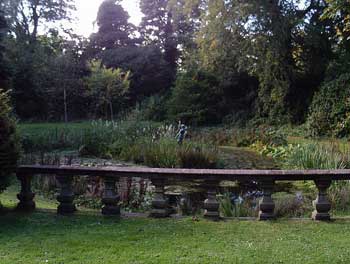 The Japanese garden (Kyoto Friendship Garden is an important part of the Lauriston Castle experience, a tranquil place for contemplation.
The garden was created to celebrate the twinning of the towns of Edinburgh and the prefecture of Kyoto in Japan and was opened in 2002.
Its official name is the rather lovely 'Castle Garden to Water'.
It offers visitors a wonderfully tranquil green space away from the city to enjoy.
More information about Lauriston Castle
Cramond Village and Cramond Island
While you're at Lauriston Castle why not travel the short distance to Cramond.
Cramond is situated on the banks of the River Almond and was originally a fishing village. Today it's a popular residential area known for its historic sites, scenic walks, and picturesque surroundings.
Cramond Island can be reached by a causeway during low tide. The island has a sandy beach, ruined chapel and military fortifications from the Second World War.