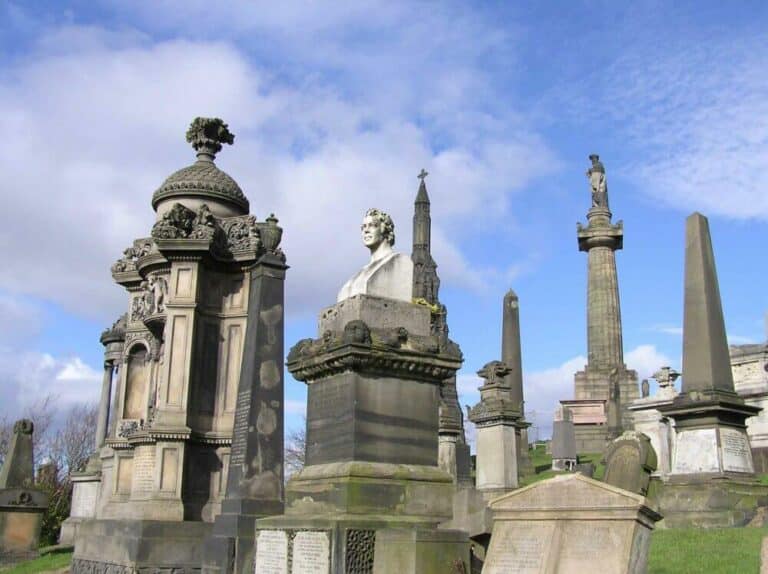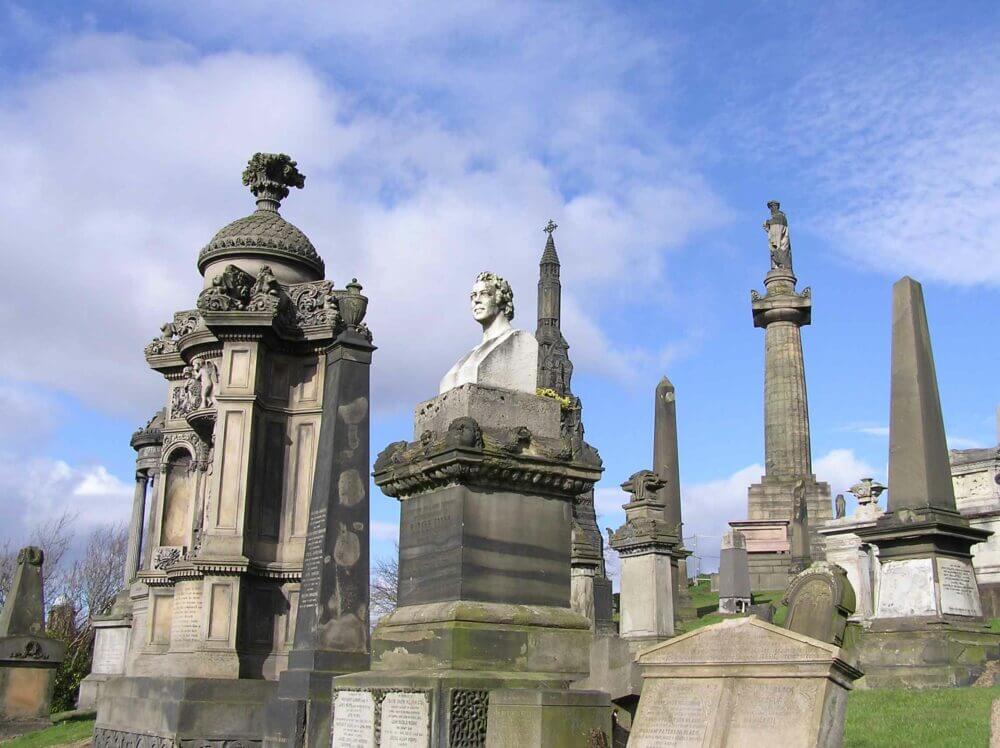 Just a few of the many monuments
Glasgow Necropolis, a 37-acre garden cemetery, is a memorial to the great and good of Victorian Glasgow and one of the city's most atmospheric visitor attractions. It lies on the elevated ground close to Glasgow Cathedral.
Glasgow Necropolis was described as a "unique representation of Victorian Glasgow, built when Glasgow was the second city of the empire. It reflects the feeling of confidence and wealth and security of the time."
Merchants House of Glasgow
The land was originally purchased in 1650 by the influential Merchants House of Glasgow and was used for farming. During the 1770s it was planted with fir trees and the area was known as Fir Park.
In the early years of the 19th century, the area was replanted with elm and willow and became a park and arboretum. However, within a quarter of a century (around 1831) the Merchants House, inspired by the Pere Lachaise cemetery in Paris, decided to transform their land into a garden cemetery.
What followed was a competition for the conversion and 16 entries were received. Following a competition to decide who would supervise the conversion, the Merchants House appointed George Mylne as Superintendent and Head Gardner. He began work on the new cemetery.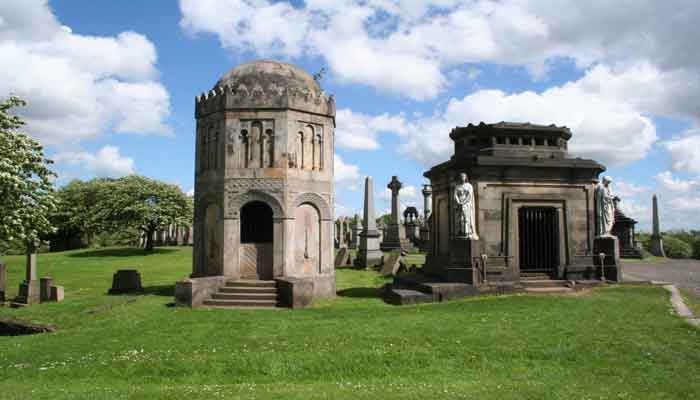 Glasgow Necropolis: Bridge of Sighs
The Merchants House bought more land in order to provide a bridge to cross the Molindinar Burn allowing funerals access from Glasgow Cathedral to the cemetery. The bridge became known as the Bridge of Sighs, named after the bridge in Venice.
The cemetery was designed to be interdenominational, the first burial was Joseph Levi, a Jewish jeweller and the first Christian interment was Elizabeth Miles, the stepmother of George Mylne.
Around 50,000 burials have taken place at the Necropolis and many of the 3,500 tombs were built up to 14 feet in depth. Many of the ornate tombs hold complete families but other edifices on the site are monuments to those who died elsewhere, many of them overseas.
There are a number of particularly striking monuments; the tallest for example is the 58 ft Doric column plus statue, a memorial to John Knox, who may be buried in an ancient cemetery, now covered over, near St Giles' Cathedral in Edinburgh.
Other equally impressive monuments to less well-known citizens dot the hillside.
Today a visitor can simply make their own way through the cemetery; there are guide books available from the nearby St Mungo Museum of Religious Life and Art which also has a café and toilet facilities. Organised walking tours are available and leave from the museum. Park wardens patrol the site and are happy to answer any questions or give advice.
---
FRIENDS OF GLASGOW NECROPOLIS – VISITOR INFORMATION
For information on opening hours, cost of entry and other tips to help you plan your visit, go to the Necropolis website.
---