---
Dunbar's Close Garden, a wonderful oasis of peace, lies just a few steps from the busy Canongate on Edinburgh's Royal Mile.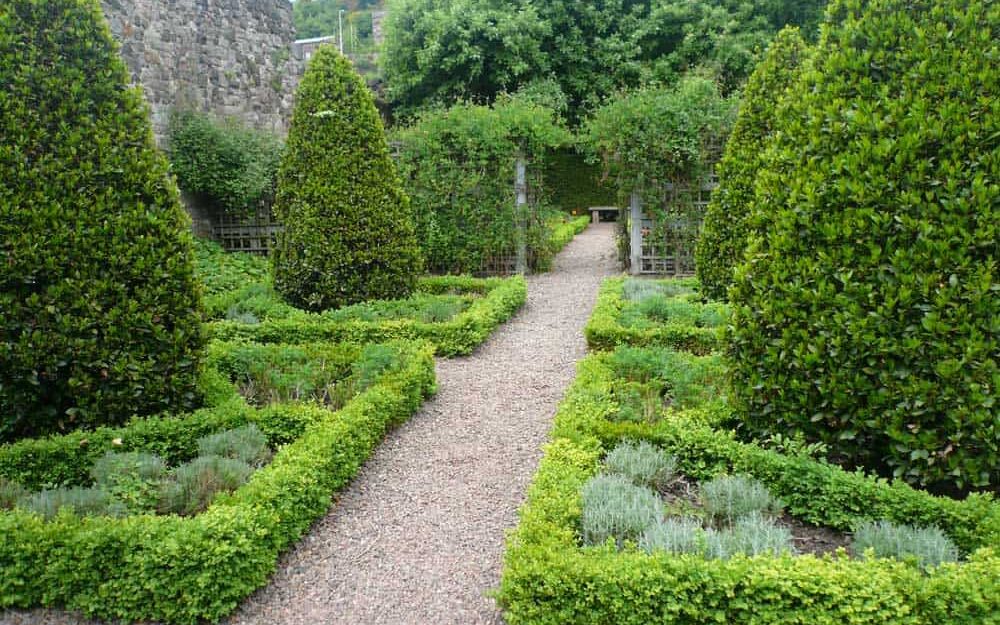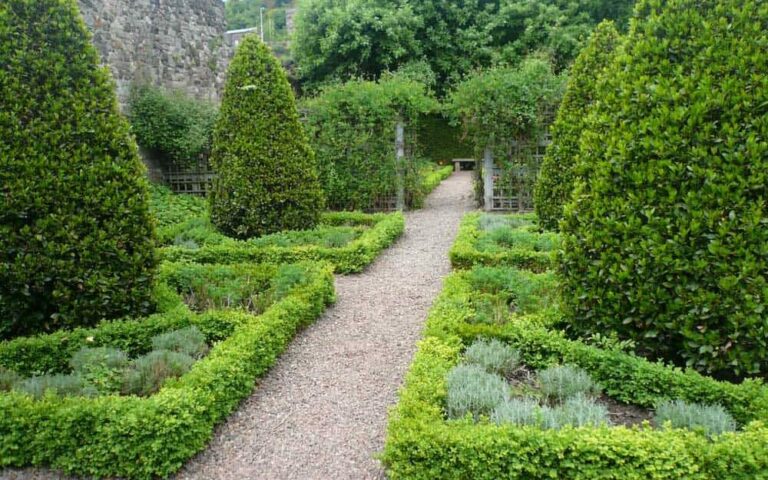 Although not laid out until the 1970s, this lovely place has the design and character of a 17th century garden.
A number of benches provide the perfect place to sit, relax and draw breath.
Entrance to Dunbar's Close Garden is Free
Just a few steps through Dunbar Close (entrance to the garden) will take you to this delightful walled garden, which many visitors to Edinburgh, not knowing of its existence, will simply walk past.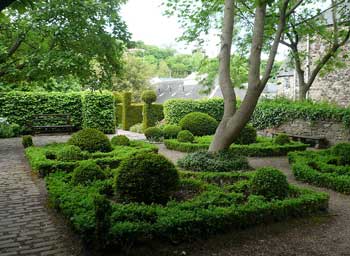 Designed by landscape architect Seamus Filor, the garden was gifted to the City of Edinburgh in 1978 and is now maintained by the Parks Department.
Dunbar Close Garden is divided, by neat gravel paths, into eight separate areas, or garden rooms separated by hedges and trellises, and filled with plants.
To ensure 17th century authenticity, as much as possible, the vast majority of the plants and shrubbery would have been available in the 17th century. Among them: are lavender, fig, rosemary, tulip trees and other herbs and fruit trees.
Named after Edinburgh writer David Dunbar
Probably named after Edinburgh writer David Dunbar who, in 1773, owned nearby properties, the designer Seamus Filor was influenced by a number of factors including:
The formal gardens shown on the mid- 17th century map of the Canongate and High Street drawn by Gordon of Rothiemay.
The work of the remarkable and internationally influential Patrick Geddes (1854-1932). Geddes was a lecturer at the University of Edinburgh but much better known as a town planner, a man who did much to improve the slums of Edinburgh.
The Mushroom Trust
Dunbar Close Garden is managed by the Mushroom Trust, a Scottish charity that supports the creation and development of green spaces and city environments.
The trust said, "it wished to create a 'pocket garden' where passers-by could escape for a time the strains and pressures of their busy urban lives…
Digressing just a little, a number of writers note that Dunbar's Close stood near Mrs Love's Oyster Cellar an establishment that Robert Burns was known to visit.
Oysters were apparently very popular in 17th century Edinburgh. Testament to that was the discovery, by workmen, of an entire wall of oyster shells in what is now Gladstone's land, a visitor attraction also on the Royal Mile.
What are closes in Edinburgh?
Edinburgh's Old Town closes are described by Edinburgh World Heritage as, "steep, narrow alleyways." Today there are dozens of them scattered around the Royal Mile and nearby streets.
However, turn the clock back and you'll discover that some had an unsavoury history, particularly during the 16th and 17th centuries when decay and overcrowding were the norm.
For history enthusiasts the story of Edinburgh's closes is fascinating. A few examples are:
Bakehouse Close was used as one of the filming locations for the Outlander series
Riddell's Close and Court where James VI held a banquet for visiting dignitaries
Mary King's Close is today one of Edinburgh's most popular visitor attractions
Anchor Close which has associations with Robert Burns and the Crochallan Fencibles
How to find Dunbar's Close Garden
The entrance to the close is just a few yards past Canongate Kirk on the left-hand side of the Royal Mile heading for the Palace of Holyroodhouse.
Address:
137 Canongate
Edinburgh
EH8 8BW
Other things to do on the Royal Mile
---