---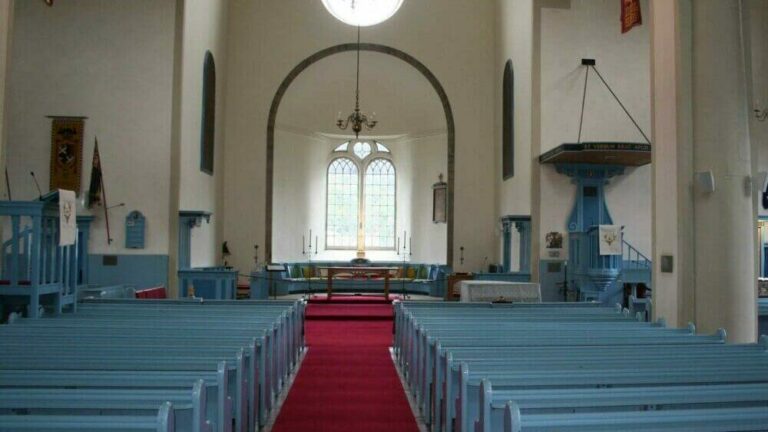 Canongate Kirk
Canongate Kirk in Edinburgh Old Town was completed in 1691 during the reign of William and Mary, has a Church of Scotland congregation and is part of the parish that includes Edinburgh Castle, Palace of Holyroodhouse and the nearby Scottish Parliament.
Consequently, you will occasionally see members of the royal family and Members of the Scottish Parliament at worship. The Castle governor also has a pew in the Kirk.
Edinburgh's Canongate, an ancient thoroughfare, is one of a number of streets that make up the city's Royal Mile which runs from Edinburgh Castle to the Palace of Holyroodhouse, the official residence of the Royal family. It takes its name from the Augustinian canons of Holyrood Abbey, established by King David I, in 1128.
Canongate Kirk Royal wedding
The Canongate Kirk, described by the current minister the Rev Neil Gardner as, one of the simplest buildings in Edinburgh." was the venue for the wedding between Princess Anne's daughter Zara Phillips and England rugby player Mike Tindall in 2011. It was the first royal wedding held in Scotland for almost two decades.
Statue of Robert Fergusson
The Kirk has a Dutch-style end gable with a small Doric-columned portico over the entrance. The interior has a cruciform layout, an unusual feature for a post-Reformation, pre-Victorian Church of Scotland building. At the church gate stands a statue of poet Robert Fergusson who is buried in the Kirkyard.
The interior colour of the Canongate Kirk is perhaps its most striking feature. In an effort to rid the church of its dark and gloomy appearance the pews were painted a light (baby) blue with the pulpit in a darker blue. The walls in white are decorated with the colours from, the Royal Scots, Kings Own Scottish Borderers and others to highlight the relationship between church and military.
Canongate Kirkyard is the final resting place for a number of notable people including:
Adam Smith, political economist and author of the Wealth of Nations
Robert Fergusson, poet and inspiration for Robert Burns
Sir William Fettes, founder of Fettes College
David Rizzio private secretary, perhaps a lover to Mary Queen of Scots (there is no visible gravestone but tradition dictates that he is buried here)
---
Canongate Kirk Visitor Information
For information on opening hours, cost of entry and other tips to help you plan your visit, go to the official Kirk website.