List of Castle Wedding Venues in Edinburgh and nearby
This list of castle wedding venues in Edinburgh and nearby is a good starting point if you're planning something extra special for your big day (wedding ceremony and reception).
Whether you're after a traditional Scottish wedding or a modern celebration, Edinburgh's castle wedding venues have something to suit every taste and style.
They offer a unique and unforgettable experience that you and your guests will cherish for years to come.
Also included on the list are some grand houses and stately homes that are known for their luxury and elegance, and offer a memorable setting for a wedding in Edinburgh.
Each entry has a link to the official website where you can find more information.
Edinburgh Castle
Yes, you can get married in Edinburgh Castle, a venue managed by Historic Environment Scotland.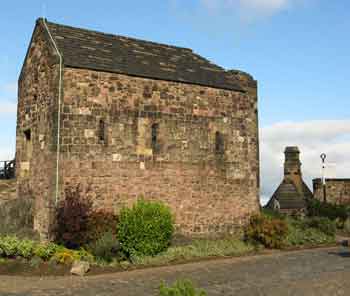 This iconic fortress has several event spaces, including the Queen Anne Room and the Jacobite Room.
Both rooms can accommodate up to 120, guests and can be transformed into beautiful wedding venues.
For somewhere completely different for the ceremony, the tiny St Margaret's Chapel (room for about 20 people) is an option.
It was built by David I around 1130 and stands on the castle's upper level.
The adjacent Mons Meg cannon is a great place for photographs.
Dundas Castle
Located near South Queensferry, just outside Edinburgh, Dundas Castle, with some parts of the building dating to the 15th century, offers exclusive use for weddings and other events.
With its grand interiors, manicured grounds, and dedicated wedding team, it provides a luxurious setting for your special day.
The majestic Great Hall, accessed through the medieval Auld Keep, can accommodate up to 110 guests.
The more expansive Pavilion Marquee and the intimate Croquet Room and Stag Chamber are among the other options.
If the sun shines you could also hold the ceremony outdoors in the courtyard and gardens.
Visit the Dundas Castle website for more information.
Dalhousie Castle
Situated on the outskirts of the city, Dalhousie Castle Hotel is another picturesque castle wedding venue in Edinburgh with a rich history.
It features elegant rooms, a beautiful chapel, and 11 acres of parkland beside the River Esk providing a romantic backdrop for a luxury wedding.
Originally built in the 13th century, the castle has a fascinating, yet sometimes bloody history. It may be Scotland's oldest inhabited castle.
For that exclusive wedding occasion, whatever your number of guests, there is a range of event spaces to accommodate you.
You might choose the atmospheric Dungeon Gateside for intimate dining, the traditionally Scottish Sir Alexander Suite, or the elegant Ramsay Suite, the largest of the function rooms.
Dalhousie Castle has its own private chapel, perfect for the ceremony.
Melville Castle
Nestled within a 50-acre estate, Melville Castle is a magnificent 18th-century castle and luxury hotel located in Lasswade, Edinburgh.
With its opulent interiors, manicured gardens, and a variety of event spaces, this deluxe hotel and restaurant offer a truly luxurious wedding experience whether you're planning a large event or a much more intimate affair.
For those interested in the building and surrounding estate's history sadly the current website says little.
However, Historic Environment Scotland notes that Melville or originally Male-ville belonged to an Anglo-Norman baron who was governor of Edinburgh Castle in the reign of Malcolm IV, one of Scotland's earliest monarchs.
Carberry Tower
Carberry Tower, only a few miles from central Edinburgh, stands within over 40 acres of private parkland. It has a history stretching back centuries.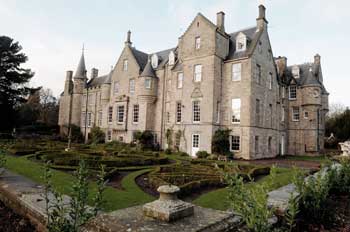 While the estate was first mentioned in the 12th century, some of Scotland's most important figures, including Mary Queen of Scots, have passed this way.
Today the mansion provides a wonderful venue, on an exclusive use basis, for any wedding celebration.
It has its own unusual glass-fronted private chapel, with room for 150 people along with several other formal indoor and outdoor spaces.
These include the Banqueting Pavilion, the Rose Garden Rooms and the Champagne Terrace.
Borthwick Castle
Borthwick Castle which stands around 17 miles from Edinburgh has a fascinating history worthy of further research.
These snippets mentioned here allow a glimpse into the castle's place in Scotland's turbulent past.
Mary Queen of Scots took refuge in Borthwick Castle after the murder of her second husband Lord Darnley.
This historic 15th-century fortress, (built as a traditional Scottish keep) was badly damaged By Oliver Cromwell's soldiers as they marched toward Edinburgh.
Today this remarkable building exudes luxury and sophistication. Its regal interiors, spiral staircases, and beautiful grounds make it an enchanting setting for a fairytale Scottish Castle wedding.
Prestonfield House
Prestonfield House is a 5 star luxury hotel and event venue located in the heart of Edinburgh.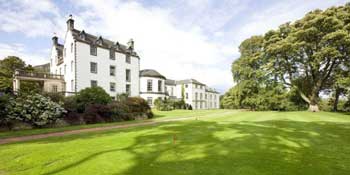 With its lavish décor, lush gardens, and elegant reception spaces, it offers a refined and opulent setting for any wedding.
Known for its beautiful surroundings and historic charm makes it a popular choice for weddings in Edinburgh.
As a wedding venue, Prestonfield House offers a range of options to suit different preferences and party sizes.
The house features several elegant event spaces, including the fabulous Stables Ballroom, which can accommodate up to 220 guests. There are also smaller rooms available for smaller celebrations.
In addition to the indoor spaces, the house boasts beautiful gardens, providing a picturesque backdrop for outdoor ceremonies and photographs. The views of Arthur's Seat create a romantic and enchanting atmosphere.
Arniston House
Arniston House, approximately 10 miles south of Edinburgh. is another exquisite luxury wedding venue.
The house is located near the village of Temple, which took its name from the Knights Templar who chose it as their headquarters in Scotland.
Built in 1726, This exquisite Palladian-style mansion is nestled within a private estate and surrounded by beautiful gardens.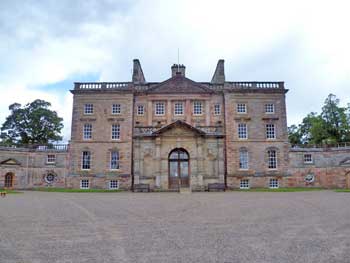 The house boasts impressive architecture, and elegant interiors offering a grand and luxurious setting for weddings.
The manicured gardens and scenic surroundings provide ample opportunities for outdoor ceremonies and breathtaking wedding photographs.
If you're planning a dream wedding in one of Edinburgh's castles or stately homes, Arniston House offers exclusive use of the venue.
This ensures privacy and exclusivity for your wedding day.
You and your guests will have full access to the mansion, gardens, and grounds, creating an intimate and personalised experience.
The house has various rooms available for wedding ceremonies, receptions, and other celebrations.
The grand reception rooms can accommodate larger parties, while smaller rooms are available too.
Additionally, marquees can be set up on the grounds to accommodate larger guest lists.
Interestingly, for whisky lovers, Arniston House is the venue occasionally used by the Edinburgh Whisky Academy.
Winton Castle
Winton Castle is a beautiful venue located near the village of Pencaitland about 15 miles east of Edinburgh making it easily accessible for guests coming from the city.
The castle is nestled within a picturesque estate and surrounded by lovely countryside, providing a romantic and exclusive atmosphere.
The castle itself is a magnificent 15th-century fortress with a rich history and elegant architecture. It offers a range of indoor and outdoor spaces for wedding ceremonies, receptions, and celebrations.
The venue has beautifully manicured gardens, including a walled garden and a lake, providing scenic backdrops for wedding photographs.
Winton Castle is available for exclusive use, meaning that you and your guests will have the entire venue to yourselves. This ensures privacy and allows you to create a truly personalised experience for your wedding day.
The castle can accommodate various wedding party sizes, from intimate gatherings to larger celebrations.
The main dining room can seat up to 84 guests, and a marquee can be set up on the grounds to accommodate larger parties.
Hopetoun House
Hopetoun House, designed by William Bruce with later alterations by William Adam is a spectacular stately home near Edinburgh.
Set in over 6,000 acres of parkland, it offers a historic and sophisticated setting for weddings on an exclusive use basis.
With elegant interiors and magnificent Georgian architecture, there are a number of event spaces for the ceremony and reception.
They include the State Dining Room, Grand Ballroom and the elegant Red Drawing Room. (Part of the State Apartments within the main house).
Fans of Diana Gabaldon's work will know that Hopetown was one of the filming venues for the Outlander series.
Carlowrie Castle
The magnificent Carlowrie Castle is set within 32 acres of well-tended grounds and is located in KIrkliston which is around 10 miles from Edinburgh.
Built in 1852, the castle's beautiful gardens and picturesque landscapes provide a romantic backdrop for wedding photographs.
Not only does the castle have a rich history the various families who have lived there have also left a lasting memory.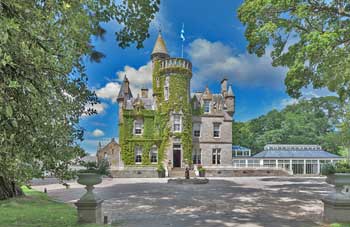 If asked to pick one person from a list of those who have called Carlowrie Castle home it's difficult not to pick Isobel Wylie Hutchison.
Isobel, who was born in the castle in 1889, became a renowned Arctic explorer and botanist.
This remarkable woman is remembered as one of the great 19th century plant hunters.
When it comes to weddings, Carlowrie Castle provides a range of services to ensure a memorable experience.
The castle has a dedicated team of wedding planners who will work with the couple.
Among the elegant spaces available for weddings (ceremony and reception) are the very cool Piano Room, Library Bar and the Marble Room, home to the Champagne Bar.
Additionally, the Orangery has a capacity for up to 100 guests, and the Marquee which can hold up to 450 people.
The beautiful gardens and picturesque landscapes provide a romantic backdrop for wedding photographs.
Neidpath Castle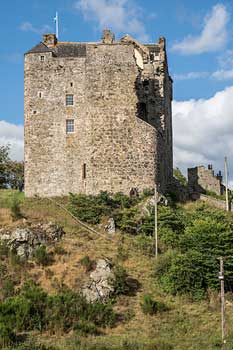 Neidpath Castle, around 25 miles from Edinburgh in the beautiful Scottish Borders, is a great choice for a romantic exclusive-use wedding venue.
Set on the banks of the River Tweed, this ancient fortress has a fascinating history.
The connections to Mary Queen of Scots. and Sir Walter Scott are definitely worthy of more research.
The castle offers couples the opportunity to plan their own wedding.
But, if required, there is an expert team of wedding planners available to provide support.
Traquair House
Traquair House is Scotland's oldest inhabited house and is located in the Scottish Borders around 30 miles from Edinburgh.
With such a pedigree comes a fascinating history that dates to the 12th century.
Today this wonderful place offers couples the opportunity to get married inside the house or outdoors on the Wine Glass Lawn.
For those interested in the history of Traquair House please read my article on Truly Edinburgh.
Thirlestane Castle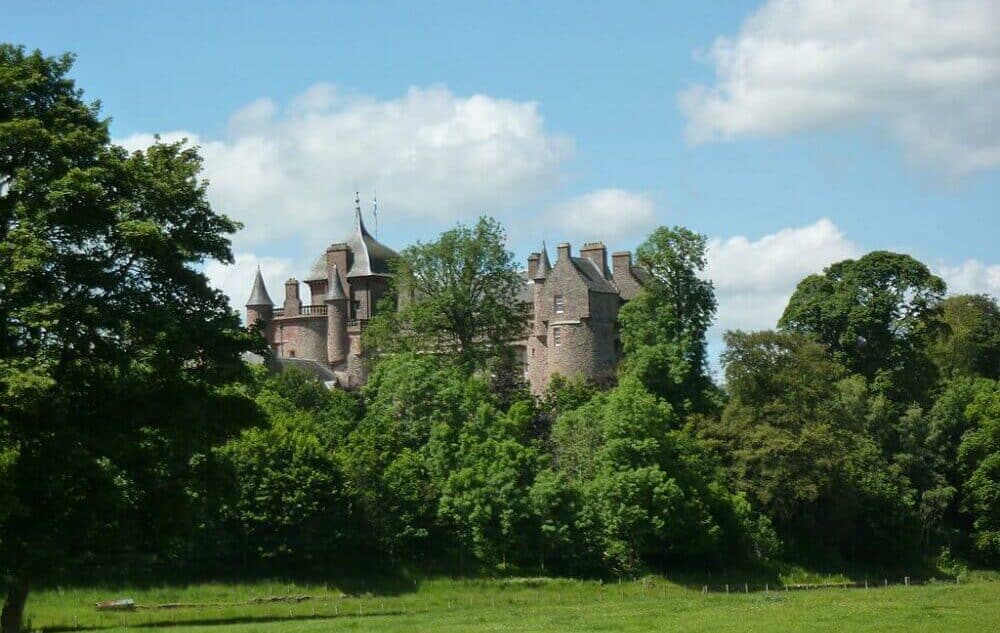 Thirlestane Castle is another Scottish Borders castle wedding venue.
Located in Lauder, around 30 miles from Edinburgh, it offers a number of wedding packages.
With an ancient connection to the Maitland family, the castle has a history stretching back more than four centuries,
It's a lovely setting for that special day.
It could be an intimate occasion or something much larger (up to 1000 guests).
If you would like to know more about the castle's history see the feature article about Thirlestane Castle on Truly Edinburgh.
Historic Environment Scotland (HES): CASTLE WEDDING VENUES
Edinburgh Castle, a Historic Environment Scotland is the first venue on this list.
However, HES also offers many of its other properties as potential wedding venues.
Some of the rules around Getting married in Scotland
To get married in Scotland, you need to comply with the legal requirements set out by the Scottish Government.
This page from the Scottish Government, Marriage in Scotland has lots of helpful advice.