Arthur Conan Doyle was born on May 22, 1859, in Picardy Place Edinburgh.
For the vast majority of people, he will be remembered for the creation of Sherlock Holmes.
---
Ironically it was the success of his inquisitive hero, who he described as a "monstrous growth from a comparatively small seed." that Conan Doyle blamed for damaging his reputation as a serious literary figure.
There was of course much more to him than Sherlock Holmes. Biographer Russell Miller commented that he was an, "amazingly industrious correspondent" writing thousands of letters to family and friends.
Arthur, born into an Irish Catholic family, was one of ten children of which only seven survived into maturity. His father Charles, a low-rank civil servant and unfulfilled artist was given to bouts of prolonged depression, fuelled in no small measure by more than the occasional glass of Burgundy.
With his father rarely able to contribute, it fell to his beloved mother Mary, who always thought of Arthur as the favourite. She made sure the children had food on the table and shoes on their feet. It was Arthur's uncle, who described her as having, "Fighting damn-your eyes spirit."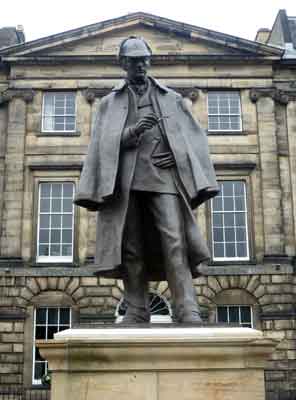 Austrian Jesuit college
The young Arthur was dispatched at the age of seven to his local school although his later education was completed south of the border
With examinations taken and passed in style Arthur spent a year at Stella Matutina, a well-known Jesuit college in Austria.
Towards the end of 1876, his year in Austria over, he made plans to enrol at London University.
At home, things were, if anything, worse than before. His father's drinking had continued unabated and the five children still at home ensured his mother had to struggle hard to survive.
He was shocked to find she had taken a lodger into the family home; he was Bryan Charles Waller a twenty-two year old medical student registered at Edinburgh University.
Waller could easily have afforded his own place but chose instead to live in the cramped and noisy conditions provided by Mary Doyle.
There has been considerable speculation over the years as to the relationship between Arthur's mother and Waller, although never totally discounted, a sexual relationship seemed unlikely between the young doctor to be and a rather care worn forty year old.
However eyebrows were again raised in the spring of 1877 when Mary Doyle gave birth to another child, a girl christened Bryan Mary Julia Josephine, Julia was Waller's mother's name. Whatever the truth, their close relationship was to continue for over thirty years.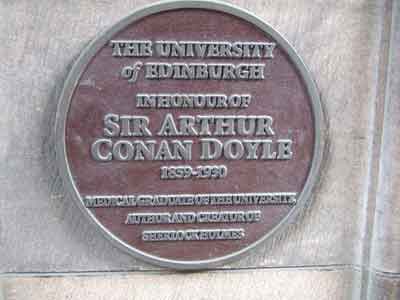 Encouraged by Waller, the young Conan Doyle decided to abandon the idea of studying in London and instead applied to study medicine at Edinburgh University.
In October 1876 he began what he was later to describe as the, "Long weary grind at botany, chemistry, anatomy and physiology."
Medical school was life changing in many ways, although almost certainly not realised at the time his introduction to one man was to shape much of the rest of his life.
Dr Joseph Bell
Dr Joseph Bell, one of the university's most eminent lecturers, was a tall angular man of thirty-nine years, his beak like nose and a prominent square jaw somehow adding to his air of calm authority.
He was a man of some determination; capable of quick and reasoned diagnosis, the man that Arthur Conan Doyle would later model his most famous fictional creation on.
Although Edinburgh couldn't compare, in terms of facilities, with Oxford and Cambridge it attracted some of the most talented medical men of the day.
Working alongside Joseph Bell were Dr James Young Simpson who pioneered the use of chloroform and Joseph Lister, Professor of Clinical Surgery, the founder of the use of antiseptics in medicine.
By 1879, he had his first few pieces published first in Chamber's Journal in Edinburgh, then the London Society magazine.
The editor of London Society was so impressed with Arthur's writing he told him to give up medicine and earn his living as a writer.
Greenland Icefield
However the young student continued with his studies, that was until he was asked to take a friend's place as a surgeon aboard a whaler bound for the Arctic.
Within a couple of weeks he had put the crowded streets of the Old Town behind him, joining the SS Hope at Peterhead.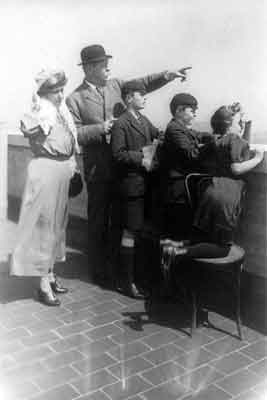 By all accounts, he seems to have spent more time working with the men in the grisly business of harpooning whales and shooting seals than tending to the sick.
His few months among the wild Greenland icefields turned him from a boy to a man.
At the age of 22, he was finally qualified and looking for work.
After a number of attempts to find a hospital job he gave up and signed on as ship's surgeon onboard the rather weary looking cargo ship Mayumba bound from Liverpool to West Africa.
His trip was memorable in many ways, he saw the horror of ports like Freetown in Sierra Leone and was appalled by some of the hard drinking habits of the expats who 'existed' in some of the backwater West African ports.
His less than pleasant experiences in Africa made him determined to give up the seafaring life but he still had to earn a living and so he went to work as a doctor's assistant in Birmingham while continuing to write.
"Come at once "
Birmingham was soon forgotten after Arthur received a telegram from an old friend, which read, "Come at once, I have urgent need of you, Budd."
In any narrative about the life of Arthur Conan Doyle it's impossible not to mention his relationship with one George Turnavine Budd a fellow medical student from his university days.
Budd, is described by Russell Miller as, "ugly, unpredictable, aggressive, mercurial, brilliant, mad and if inclined enormously good company.
Suffice to say the time Arthur spent with Budd, who had developed a successful medical practice, in the town of Plymouth on the south coast of England, was at the very least, explosive.
However, in due course Arthur left to set up his own practice, moving further along the coast to the town of Southsea.
Very slowly the business began to expand although, for 1882, his first year tax return only totalled £134, barely enough to live on.
Portsmouth Literary and Scientific Society
He became a member of Portsmouth Literary and Scientific Society whose president was Major General Alfred Drayson, author of a number of works but more importantly for Conan Doyle a man with a deep interest in spiritualism.
He may not have realised at the time but spiritualism would later become the focus of his life.
Conan Doyle worked long hours, during the day as a doctor and in the long evenings he wrote.
His first major success came with the publication of J Habakuk Jephson's Statement in the prestigious Cornhill Magazine.
He married, for the first time, in August 1885 to Louisa, better known as Touie, it seemed to suit him and he settled down to his writing. They had two children, Mary and Kingsley.
A Study of Scarlet
Sherlock Holmes first arrived on the scene in "A Study of Scarlet" published in Beeton's Christmas Annual in 1887. Conan Doyle was paid £25 for his efforts.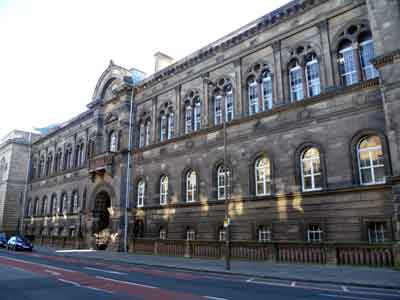 By 1891 Conan Doyle was a full time writer during the Boer War, where he served once more as a doctor, the only interruption in that process.
His final letter, before returning home from Pretoria, to his mother in July 1900 said, "There are only two things for which I wish to return to England. One of them is to kiss my dear mother once more…"
He didn't say what the second reason was but despite his wife's ill health, it was almost certainly to see Jean Leckie once again.
He had first been introduced to Jean Leckie some three years before and was by all accounts a beautiful and intelligent woman, a Scot like Arthur but 16 years younger.

Victorian Gentleman
Conan Doyle was in many ways the typical Victorian gentleman; acutely aware that a relationship outside marriage, even one that he argued was platonic was frowned upon.
The couple never denied their mutual attraction but Arthur always felt that his wife never knew what was going on. Certainly, there was never any talk of divorce.
Touie, who had been a semi-invalid for many years, died of tuberculosis in the spring of 1906.
Barely waiting for the then customary 12-month period of mourning, he married Jean at St Margaret's Church in Westminster. They had three children together.
More Scottish biographies
At the start of the Great War Conan Doyle enlisted in his local reserve militia, his later application to 'join up' was rejected by the War Office.
His family, like many others, was affected by the war. His nephew was killed at Ypres and his brother-in-law died only three weeks later. His beloved son Kingsley and his brother Innes also died, not in the fighting but casualties of the Spanish flu pandemic that swept the world in the months following the end of the war.
Although after the war, Sherlock Holmes stories continued to be important financially, he revealed to a surprised literary world that he had embraced spiritualism wholeheartedly.
He wrote a number of books and published countless articles on the subject and he travelled widely both in Britain and America expounding his beliefs to audiences who packed rooms and halls wherever he went.
His obituary in the New York Times carried a previously made declaration. It said, "I [Arthur Conan Doyle] pledge my honour that spiritism is true and I know that spiritism is infinitely more important than literature, art, and politics or in fact anything in the world."
---
---