Diageo's flagship home and visitor attraction in Edinburgh's New Town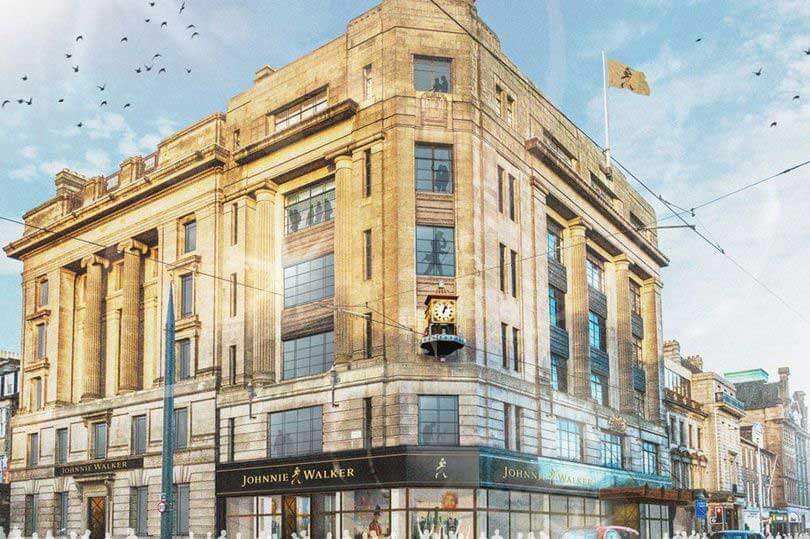 After four years of remodelling what was once a department store, the new, much anticipated, Johnnie Walker, Edinburgh Scotch whisky experience opened in September 2021 in Edinburgh New Town.
Edinburgh's latest visitor attraction, all eight floors of it, designed by Los Angeles-based BRC Imagination is definitely more Holywood than traditional Scottish. It offers:
an introduction to the history of whisky
modern sensory tasting rooms,
bespoke tour and tasting experiences,
live performance areas,
a range of bar and dining experiences including a rooftop bar with great views to Edinburgh Castle,
wide range of Diageo's best-known brands along with a number of rare and very special limited cask editions,
a number of creative event spaces available for private hire.
Diageo's Global Retail Director, Greg Klingaman said, "At Johnnie Walker Princes Street, we want our visitors to begin their immersive storytelling experience from the moment they walk through our doors… This is whisky retail like you've never seen it before."
Johnnie Walker Edinburgh tours & experiences
---
Using audio-visuals, 3D projections, special effects and theatre-quality sound, the main Journey of Flavour Tour tells the remarkable brand story of Johnnie Walker – from its humble origins in Kilmarnock to today's multi-national company producing the world's most popular whisky. It's a full sensory experience.
Visitors are then invited into what is a modern interpretation of the original Johnnie Walker's grocery shop, described by one commentator as a "Grocer's Sensorium." There they can build and enjoy the perfect highball, tailored to their own flavour profile.
Whisky Maker's Cellar
Created for whisky connoisseurs, this tour allows visitors to enjoy whisky straight from the cask along with an exclusive Johnnie Walker Princes Street expression specially created by one of Diageo's master blenders.
The cellar, designed to resemble the original Johnnie Walker bond in Kilmarnock, is home to over 20 hogsheads of maturing Johnnie Walker Princess Street blend.
Four Corners of Scotland
There are also bottlings from Johnnie Walker's Four Corners of Scotland distilleries – Glenkinchie (Lowland), Cardhu (Speyside), Caol Ila (Islay) and Clynelish (Highland).
Alongside the new Princes Street experience, these distilleries have also received substantial new funding.
As part of the investment, whisky from the Four Corners distilleries will be linked directly to the Johnnie Walker Edinburgh venue. Together, says Diageo "This will create a unique Johnnie Walker tour of Scotland, encouraging visitors to the capital city to also travel to the country's extraordinary rural communities."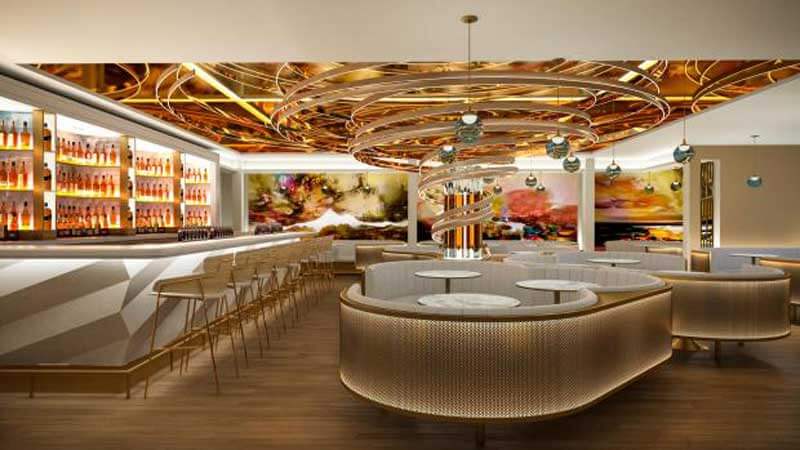 ©Diageo
Explorers' Bothy Bar
The Bothy Bar, decorated with artwork from Scottish landscape artist Scott Naismith, offers visitors an unrivalled range of over 150 whiskies and rare cask editions, each matured at least 12 years.
1820 rooftop Bar
With fantastic views over the Old Town, the 1820 Rooftop Bar is the perfect place to relax whether you're dining or enjoying a cocktail at the end of your visit. The 1820 date is a nod to the opening of Johnnie Walker's grocery store in Kilmarnock.
whisky Vault
The discreet whisky vault is luxuriously designed for guests with the deepest pockets. This former bank vault now stores over 500 of Diageo's rarest whiskies drawn from 37 distilleries. Among this exceptional range are malts from long-closed distilleries and experimental expressions which have never been offered for sale.
Although nothing is for sale, the opportunity for once in a lifetime tastings is sure to tempt those high rollers looking for that special ' whisky experience'.
Whisky gifts
Unsurprisingly there is a range of exceptional gifts to take home as a reminder of your visit including branded apparel and accessories. Of course, the shop has an extensive range Diageo whiskies, some of which, at the upper end, have eye-watering price tags.
A nice touch is that you can add your own personalised label to the bottle – a great idea if it's for a gift.
But this is just the tip of the iceberg, there are lots of other whisky-related goodies to choose from.
About Johnnie Walker
Although Johnnie Walker is one of the many brand names owned by Diageo, the story of the man who gave his name to one of the world's best-loved whiskies takes us to Kilmarnock, Scotland.
Johnnie Walker, a farmer's son, began his working life as a grocer in his hometown in the 1820s. At that early stage, his shop stocked a number of single malts of 'doubtful' quality. It was motivation enough for Johnnie to move into the blending business and produce something much better.
When Johnnie died in 1857, the business went to his son Alexander who took control of the company.
The Industrial Revolution and the wider introduction of the railway allowed exciting new opportunities for Alexander and his business. Not only did the railway take their whisky to markets around Britain, it gave better access to ports, allowing transport across the world.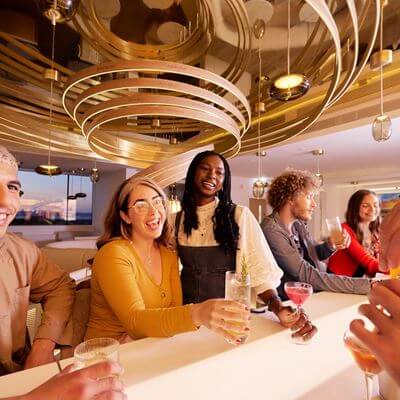 In 1867, Alexander created Old Highland Whisky, later rebranded as Johnnie Walker Black Label, today only one of many products in the range.
As the designer of the distinctive square bottle and slanted label, Alexander was a man of many talents. Later in 1908, his sons commissioned the famous 'Striding Man' from artist Tom Browne.
Today, owners Diageo will argue that Johnnie Walker is the biggest whisky brand in the world.
Sadly, all bottling and blending operations in Kilmarnock ended in 2012.
How to find Johnnie Walker Edinburgh
This new Edinburgh this visitor attraction is located in the former House of Fraser department store at the west end of Princes Street.
---