Although Edinburgh's whisky distilleries are few in number, they are an important part of the Lowland Scotch Whisky Region.
Edinburgh whisky distilleries
Following a long period when there were no malt whisky distilleries in Edinburgh, the opening of the Holyrood Distillery and the Bonnington Distillery, along with the ongoing construction of the Port of Leith Distillery (opening in 2023) has, quite literally, changed the city's landscape.
The Holyrood Distillery
---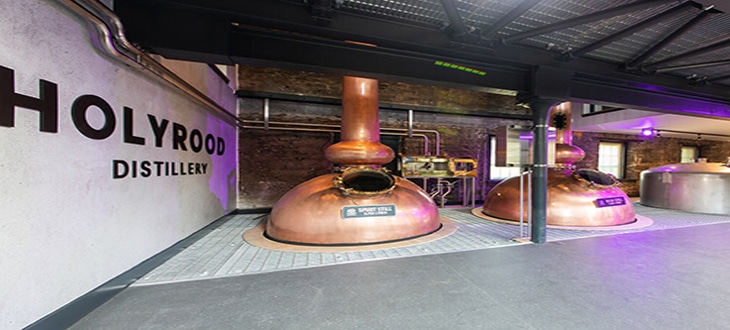 The Holyrood Distillery was the first single malt whisky distillery in Edinburgh for nearly a century.
Opening for business in July 2019, it lies close to Holyrood Park, the Scottish Parliament buildings and only a short walk from the Royal Mile.
Complete with Courtyard Bar, with a great view of Arthur's Seat, the distillery has a very impressive award-winning visitor centre and offers a range of guided distillery tours, masterclasses and whisky tastings.
A spokesperson said, "We are creating a historically inspired, yet totally new style of whisky. Local malts, Edinburgh yeast. And very special casks."
While waiting for the new range of Holyrood malt whiskies to mature in Spanish oak sherry casks, the distillery has created a range of special cask offerings for investors.
Visiting: for a full range of visitor information go to the official Holyrood Distillery website.
The Bonnington Distillery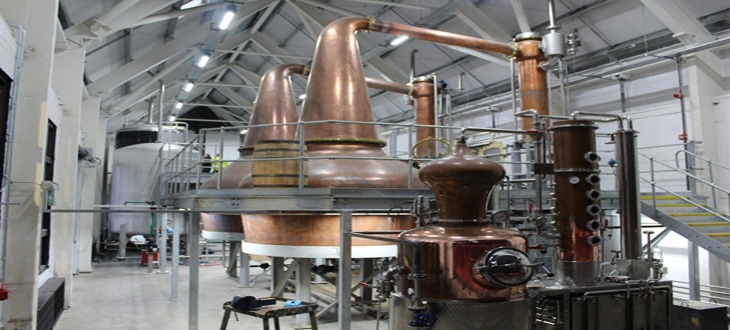 The Bonnington Distillery filled its first casks in its new Leith, Edinburgh distillery in March 2020.
The company markets its single malt Scotch whisky under the Crabbie brand, now owned by Halewood Artisanal Spirits.
The venerable Crabbie & Co, a heritage brand – a well-known name in the Leith based whisky business – has a history dating to the early days of the 19th century.
Today Crabbie's Green Ginger Wine is the company's most recognisable product although that will undoubtedly change over time.
Currently, the Bonnington Distillery has no visitor centre or distillery tours.
Crabbie's has released several independent bottlings from different Scotch Whisky Regions which are available to buy from a number of stockists. They include:
Yardhead single malt
Crabbie 12 year old – Speyside Edition
Crabbie 15 year old Highland Single Malt
Crabbie 8 year old
Crabbie 12 year old – Island Edition
Port of Leith Distillery
The Port of Leith Distillery is currently under construction in Leith, Edinburgh and is located next to the Royal Yacht Britannia, one of Edinburgh's most popular visitor attractions.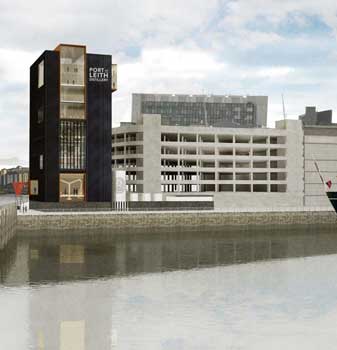 After what seemed like a long process of planning, construction began at the end of 2019 on this new vertical distillery.
Starting at the top with grain milling and mashing, moving down through fermentation to distillation at the bottom.
Also on the top level is the all-important bar.
With space at a premium, the design offers a very practical solution.
The co-founders Patrick Fletcher and Ian Stirling look forward to welcoming people to the visitor centre, shop and bar.
A range of tours is also planned. In addition, there will be dedicated space for exhibitions and events.
As we all look forward to opening day in 2023, the distillery has promised us a…
North British Distillery
A group of independent blenders including Andrew Usher and John Crabbie founded Edinburgh's North British Distillery in 1885.
However, perhaps inevitably, both World Wars and other 'difficulties' affected production in the early years.
Turn the clock forward and today's joint owners are the multinational Edrington Group and Diageo owner of the Johnnie Walker brand, amongst many other well-known names.
North British is a grain distiller and maturation business which means that although they do not bottle under their own name, their product is used in the production of some of Scotland's best-known blended whisky.
It means that if you are a fan of blended whisky you may have tried North British grain whisky without realising it.
North British Distillery's story is a fascinating one, an important part of Edinburgh's Scotch whisky heritage.
While there are no distillery tours, you can find out more about the business on the company's official website.
Glenkinchie: whisky distillery near Edinburgh
Glenkinchie Distillery sits within a beautifully landscaped garden and is 15 miles from Edinburgh in Pencaitland, East Lothian. This Diageo owned distillery is the Lowland home of Johnnie Walker.
The original distillery founded in 1825 by brothers John and George Rate was renamed Glenkinchie in 1837.
In 1914 Glenkinchie established Scottish Malt distillers with four other Lowland distilleries.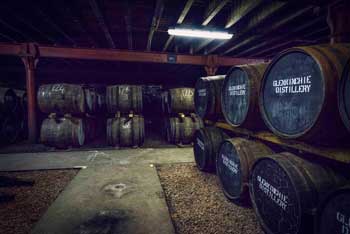 In 1988, Glenkinchie 10 year old was chosen as one of six in the Classic Malt series
The water source is the Lammermuir Hills Spring
Capacity is 2.5m LPA (2020)
Maturation – mainly ex-bourbon casks some on site
Floor malting until 1968 – now lightly peated malt from various sources.
Visiting: for a full range of current information go to the official Port of Leith Distillery website.
Glenkinchie Visitor Centre
In 2020, a new multi-million-pound visitor centre opened at Glenkinchie, which is just a few miles outside Edinburgh, offering an innovative, interactive and sensory experience for visitors.
With a bar area overlooking the garden, visitors can enjoy local specialities served with a dram, in beautiful surroundings.
The core range includes a Distillers Edition, and 12-year-old, and 16-year-old from the Four Corners of Scotland Collection.
Visiting: for a full range of visitor information go to the official Glenkinchie Distillery website.
Other Lowland whisky distilleries within travelling distance of Edinburgh.
Bladnoch Distillery
Auchentoshan Distillery
Kingsbarns Distillery
Borders Distillery
For more information on these whisky distilleries please see this post on Truly Edinburgh which also gives an introduction to the Lowland Scotch Whisky Region.
Gin distilleries in Edinburgh
There are a number of gin distilleries in Edinburgh including some of the city's whisky distilleries which also produce gin and other spirits. Truly Edinburgh's Gin Page has a list.
Gin bars in Edinburgh
---