---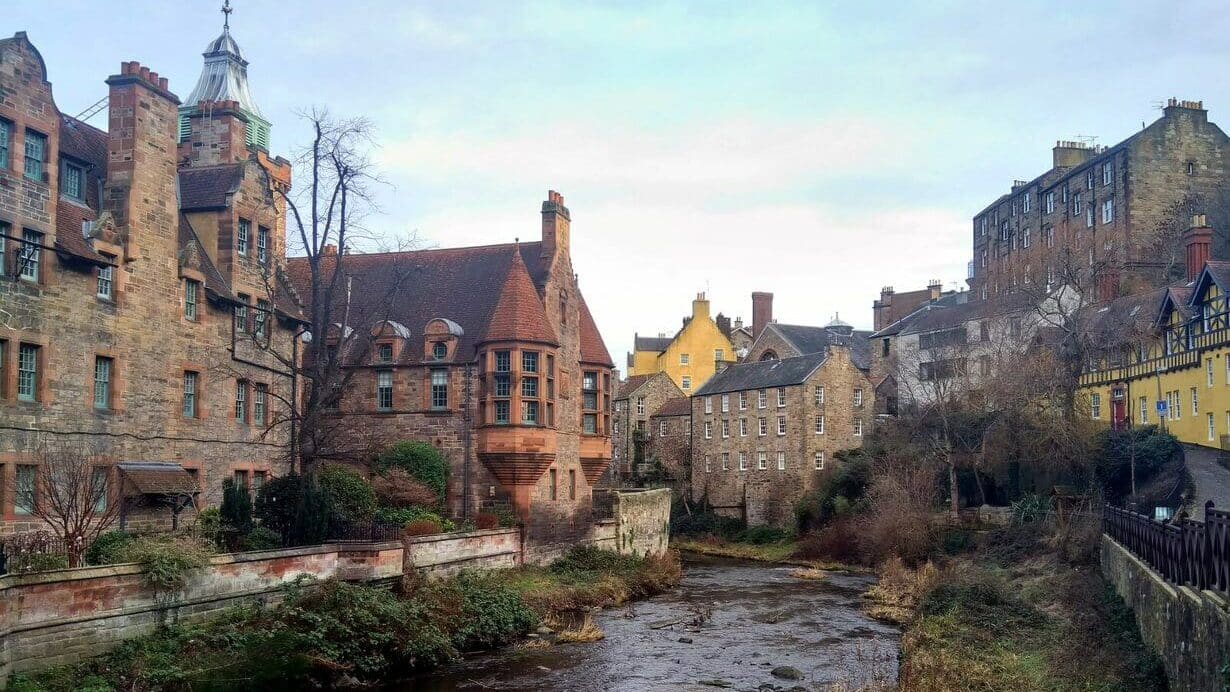 If you're looking for somewhere just that little bit different to visit in Edinburgh then it has to be Dean Village (from dene meaning deep valley) which lies only a few minutes from the west end of Princes Street.
So, if you are visiting Edinburgh and have seen the castle, walked along the Royal Mile and been overwhelmed by the festival activities then head along to explore Dean Village and its myriad of little streets, for some peace and quiet. It is one of the great joys of the city.
Dean Village history
Dean village is by no means a new creation. It was, for example, mentioned in a royal charter as early as early as the 12th century when David I awarded income from a number of water mills to Holyrood Abbey.
Another reminder of the village came in the 17th century when surveyor and mapmaker John Slezer, who played such an important part in documenting Scotland's history, created a beautiful engraving called the Prospect of Edinburgh from ye Dean.
Part of his Engravings of Scotland Series, it's now held at the National Library of Scotland.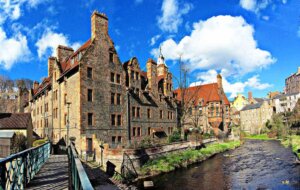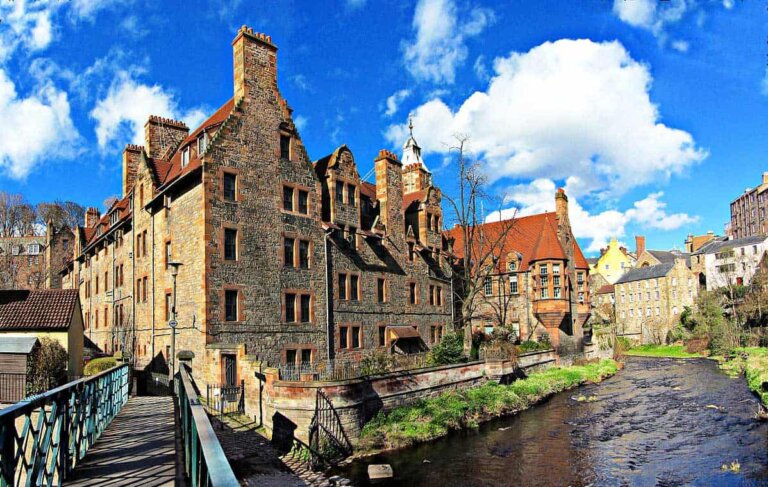 © Scott Marshland Wikipedia Commons
Later, Dean Village was a grain milling area of the city and had, at one stage, 11 working mills driven by the Water of Leith which runs over 20 miles from its source in the Pentland hills to the Firth of Forth. In addition, during the 19th century, textile mills were established alongside a growing number of tanning businesses.
Although the mills have long since disappeared there are still some signs of their existence. Keep an eye open for millstones and other stone plaques displaying baked bread and pies.
The water of Leith walkway
The well-signposted walkway which runs alongside the Water of Leith will take you past Colinton Village, Murrayfield Stadium, the Scottish Gallery of Modern Art, Stockbridge, the Royal Botanic Gardens and Leith.
St Bernard's Well
Pride of place on the river bank goes to the 18th century St Bernard's Well and its statue of Greek Goddess of Health Hygieia.
The structure we see today was designed as a pump room by celebrated Edinburgh artist Alexander Nasmyth in 1789. Sadly, other than one of Edinburgh's Doors Open Days, it is rarely open to the public.
A little to the north of the village is the remarkable four-arched Dean Bridge. Built in 1831 by Thomas Telford, it crosses the river at a height of over 100 feet.
Well Court
Perhaps the most impressive building in Dean Village is Well Court, commissioned in the late 19th century by Sir John Findlay, owner of the Scotsman, Edinburgh's best-known newspaper.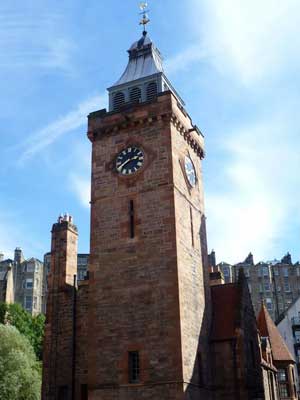 The homes in Well Court were designed by architect Sydney Mitchell as model housing for local workers.
An advert of the time said that the area provided, "homes of two and three rooms with conveniences, let to a respectable class of working men at rentals of £7 to £12 per annum."
The valuation rolls showed that among the tenants were a: baker, joiner, painter, coachman and a gentleman's servant.
While there is no doubt that residents considered themselves fortunate to find such good accommodation, there were conditions attached to their tenancy. These included a night curfew and the attendance of religious meetings in the community hall.
In 2007, Edinburgh World Heritage together with the property owners carried out a major programme of restoration in Well Court.
How to find Dean Village
Admittedly it can be a little hard to find if you don't have precise directions. A good way is, from Princes Street turn into Queensferry Street, then on to Bell's Brae which leads to a small bridge over the Water of Leith, you are not far at this stage. Just keep walking west along the river until you come to another bridge and you are there.
---
.