The Lowland Scotch Whisky Region is one of the five Scotch Whisky Regions recognised by the Scotch Whisky Association.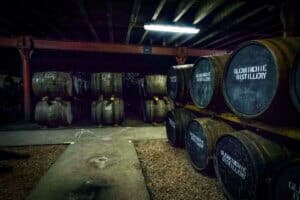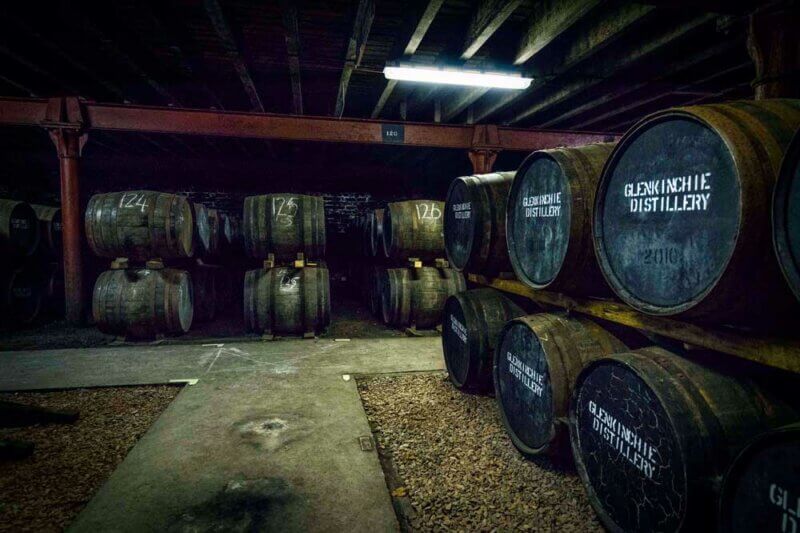 There are more than a dozen malt whisky distilleries in the Lowland Scotch Whisky Region.
The ones listed here are among the most popular with visitors perhaps because the ones that do offer distillery tours are either in or are easily accessible from Edinburgh.
Where is the Lowland Whisky Region?
The Lowlands cover large parts of southern Scotland from Greenock on the Firth of Clyde in the west to the Firth of Tay on the east coast.
For whisky connoisseurs, there are over a dozen distilleries and other whisky-related attractions to visit. But there is so much else to explore, including large areas often missed by visitors who keep to the well-worn trail between Scotland's capital city and the Highlands.
Scotland's two biggest cities, Glasgow and Edinburgh which lie at the heart of the region offer an eclectic mix of ancient and modern – castles and festivals – museums and vibrant entertainment venues.
Historians, amateur or professional will love Stirling, St Andrews, Melrose and Wigtown, for sporting types there are the golf courses of East Lothian.
For those looking for a quieter life, the small towns, villages and beautiful countryside of Ayrshire, the Scottish Borders and south west Scotland could be the perfect place to enjoy a dram, the perfect antidote to a hectic schedule.
Scotch Whisky distilleries in Edinburgh
There are several distilleries in Edinburgh. You can find details of these on this Truly Edinburgh page:
Also included on this page is an entry for Glenkinchie Distillery which is around 15 miles from Edinburgh
Lowland distilleries you might like to visit
Auchentoshan
Auchentoshan (meaning corner of the field) Distillery, owned by Beam Suntory, is located near Dalmuir, between Glasgow and Loch Lomond.
It's an area that gives visitors the best of both worlds. A vibrant city with an international airport, museums, galleries, restaurants and theatre.
Also one of Scotland's most beautiful lochs which sits at the heart of Loch Lomond and The Trossachs National Park.
Originally founded in 1823, the distillery has since seen a number of new owners walk through its doors.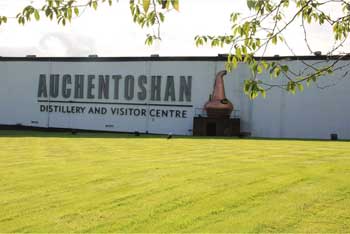 In 1941, A German bomber targeting the nearby shipyards at Clydebank, hit the distillery, severely damaging a number of warehouses and destroying a large quantity of maturing spirit.
The water source for Auchentoshan is Cochna Loch in the Kilpatrick Hills overlooking the Clyde and unpeated malt comes from a number of maltsters.
Auchentoshan visitor centre
In 2004, a new visitors' centre was opened. The distillery offers a number of tours, tastings and 'experiences'.
Among the core range is American Oak Single Malt – matured in bourbon casks, 12-year-old Single Malt and Three Wood Single Malt – matured in three different casks – bourbon, Oloroso Sherry and Pedro Ximenez Sherry. From
time-to-time new expressions and limited editions are also offered.
The company's proud boast is that "we're the only Scottish single alt distillery to insist on triple distillation for every last drop."
Visiting: for a full range of visitor information go to the official Auchentoshan Distillery website.
Bladnoch Distillery
Bladnoch Distillery, owned by Bladnoch Distillery Ltd (David Prior), stands in the small village of Bladnoch just a mile from Wigtown which makes it the most southerly distillery in Scotland.
Wigtown is perhaps best-known as the home of the annual, much-loved literary festival. But it's also the gateway to the delightfully peaceful Machars Peninsula, with great views of the Galloway Hills and the Solway Firth.
At its southern point lies the village of Whithorn often considered the cradle of Christianity in Scotland. It's a wonderfully evocative part of Scotland which was once the haunt of smugglers. Among the excise officers who patrolled the area was Robert Burns.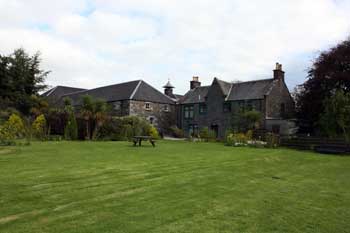 Bladnoch was established in 1818 by brothers John and Thomas McClelland. In the ensuing years, the distillery had a series of owners but there were also periods when production stopped.
With the business in voluntary liquidation, Australian entrepreneur David Prior took control in 2015, anxious not only to bring the distillery back into production but for it to become an integral part of the community.
The key water source is the River Bladnoch, mainly unpeated malt comes from independent sources and maturation takes place on-site.
The new visitor centre, with a well-stocked shop and café, opened in 2019 and a number of tours and tastings are available.
Bladnoch's range of single malts includes a 10 year old, Talia 25 year old and Samsara, a combination with no age statement but matured in first fill ex-bourbon casks and first fill ex Californian red wine casks.
Visiting: for a full range of visitor information go to the official Bladnoch Distillery website.
Kingsbarns Distillery
Kingsbarns Distillery, which lies a few miles from golf mad and historic Andrews, was converted from a farm steading belonging to Sir Peter Erskine.
The early driving force behind the venture was local golf caddie Doug Clement who secured finance from private and government sources.
In 2014 Wemyss family acquired the distillery.
The family is also the owner of, among other things, independent bottlers Wemyss Malts of Edinburgh.
Distilling began in 2015.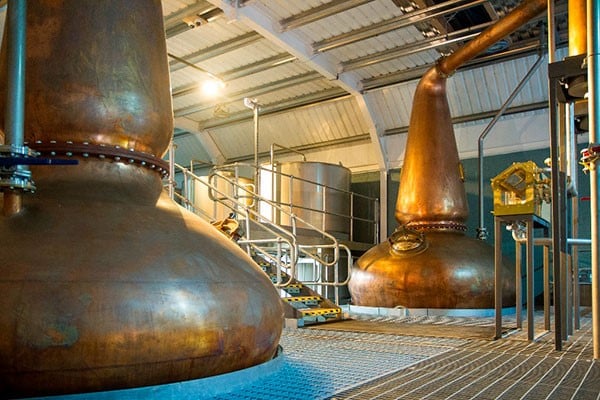 Its water source is a bore hole beneath the distillery, barley is grown locally, and maturation also happens locally (off-site).
Bourbon casks come from Kentucky, while others come from a variety of sources
Like a number of other Scotch whisky distilleries, Kingsbarns also has a gin distillery. –Darnley's Gin (London Dry style).
More information from the official Kingsbarns Distillery website.
Distillery tours
There are several distillery tours including:
Dream to Dram Tour
19th Hole Tour
A café and shop that sells a range of Kingsbarns and Wemyss malts complete the experience.
There is also a Darnley's Gin Tour.
The Borders Distillery
The Borders Distillery, the first in the region since 1837 opened in 2018.
Owned by the three Stills company, the distillery is sited in Hawick in the Scottish Borders.
They make malt whisky in "their own style, not conforming to any preconceived notions about what a Lowland 'style' actually is.
At the time of writing the Borders Distillery single malt is not ready for release.
Barley comes from local farms and water comes from underground sources. Maturation takes place off-site.
The company also produces blended malts. vodka and gin.
There is a shop and small visitor centre with a distillery tour, recognised by Visit Scotland as a five-star attraction.
Clydeside Distillery
The Clydeside Distillery is a relatively new kid on the block opening in 2017 and launching its first single malt in 2021.
The owners are Morrisons Glasgow Distillers.
Located, not surprisingly given its name, on Glasgow's historic Queens's Dock
The water source is Loch Katrine, where much of Glasgow's water comes from. Barley comes from Lowland farms.
The distillery has a visitor centre, shop and a range of distillery tours.
You can find more information from the official Clydeside Distillery website
Daftmill Distillery
Daftmill Distillery, one of Scotland's smaller distilleries, is an essential part of the Cuthbert family farm.
Sited near Cupar, only a handful of miles from St Andrews, the distillery occupies what were once old mill buildings.
Whisky distillation began in 2005 and there have been a number of releases since then.
Barley comes from the family farm, water from an artisan well and maturation happens in dunnage style warehousing on-site.
As a working farm, distilling fits into the annual work cycle.
There are no visitor facilities or distillery tours.
Glasgow Distillery
The Glasgow Distillery "a contemporary urban distiller," owned by the Glasgow Distillery Company, occupies a site in the Hillington district of the city.
The company, founded in 2012, produces a range of spirits:
Single malt whisky
Blended malt whisky
Spiced rum
Vodka
Gin.
In the Scottish Whisky Awards 2021 the 'Single Malt No Age Statement Peated' category, the distillery picked up a gold medal
Unfortunately, at the time of writing, the distillery is not offering public tours. However, a bespoke virtual whisky tasting experience can be arranged.
All the products are available from its online shop.
You can find more information on the official Glasgow Distillery website.