The Edinburgh Vaults is one of Edinburgh's most exciting Old Town visitor attractions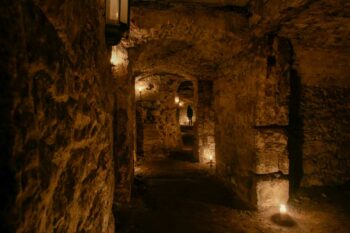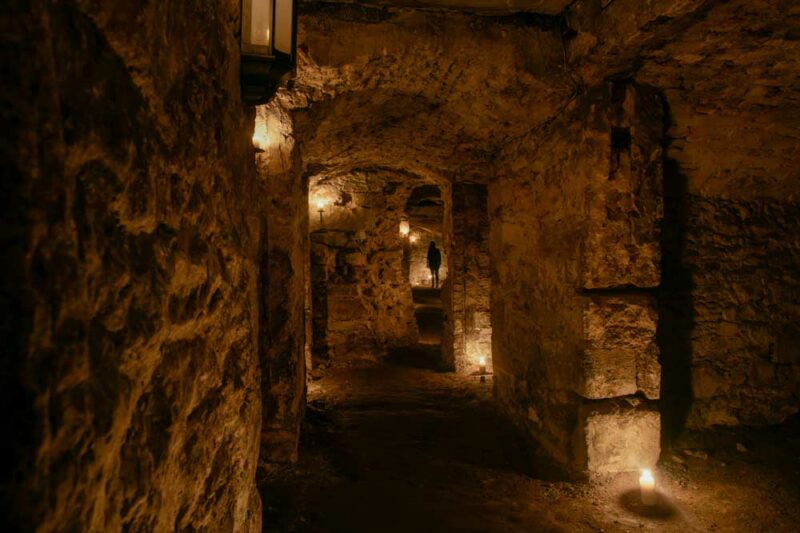 ©Mercat Marketing
Sometimes called the Blair Street Underground Vaults, this wonderfully atmospheric space, under Edinburgh's South Bridge, is the venue for something a little out of the ordinary.
Mercat Tours
Today Mercat Tours, which has exclusive rights to the vaults, runs a number of popular underground tours including:
Ghostly Underground
Hidden & Haunted
Doomed, Dead & Buried
Historic Underground
The company also have Outlander and Old Town tours.
Are Edinburgh Vaults really haunted?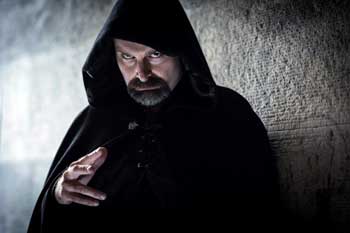 Several TV shows, Ghost Adventures and Most Haunted among them have tried to prove that there is paranormal activity in the South Bridge vaults. Some visitors have also claimed to hear voices and feel something brushing against them. Gusts of cold air and unexpected shadows have also been reported.
Over the years many people have lived and died here but is its ghostly reputation just marketing, or are the Edinburgh Vaults really haunted?
One of the reasons for Mercat's success is undoubtedly their storytelling guides who bring Edinburgh's history – underground and overground – to life. Similar tours in Mary King's Close on the Royal Mile have also proved to be popular.
The History of Edinburgh South Bridge and what might have been.
Today South Bridge is a fairly nondescript street, certainly not one of Edinburgh's finest avenues but had Robert Adam had his way it could have been different.
Following the completion of Edinburgh's North Bridge, designed to connect Old and New Towns, in 1772, a further bridge which would cross the Cowgate valley, to the south of the Old Town ridge was needed.
Robert Adam
As Scotland's most celebrated architect, Robert Adam the designer of large parts of Edinburgh's New Town was asked to submit plans for this new bridge.
The idea of a second bridge was first mentioned in the pamphlet, Proposals for carrying on certain public works in the city of Edinburgh published in 1752.
His vision for the project was not just for a bridge but for a grand route into Edinburgh from the south. Adam proposed impressive homes and rows of shops behind a collonaded portico. It would be one of the most beautiful streets in Europe, one befitting a great city of the Enlightenment.
In February 1786, many months after Adam's plans were submitted, Edinburgh Lord Provost James Hunter Blair wrote to him rejecting his designs. It may well be that the provost never had any intention of commissioning Adam's designs which were notoriously expensive to build.
Eventually, it was designer Robert Kay and James Brown described as an architect-contractor who completed the South Bridge.
To support the bridge, 19 arches were created to cross a chasm of over 1,000 feet in length.
The bridge was finally completed in 1788 and the authorities decided that the first person to cross it would be a well-respected judge's wife. Sadly only a few days before her crossing she died.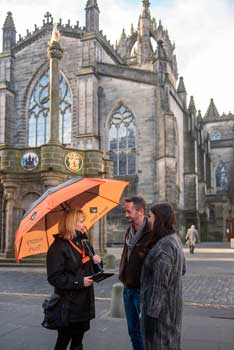 Feeling obliged to honour their agreement, the lady was transported across the bridge in her coffin. In the eyes of many of the good folk of Edinburgh, the bridge was cursed.
The arches provided the perfect storage space for the shops that lined the bridge. With tenement homes built along both sides of the arches, only the Cowgate arch remained visible – as it is today.
A variety of tradesmen were also soon using the space under the arches to run their businesses. Evidence of smelters, cobblers, milliners and others has been found.
Illegal whisky distillers and body snatchers
However, with increasing levels of dampness, conditions became too difficult for businesses to continue. But as they moved out, the poorest members of Edinburgh society moved in.
With them came a variety of the city's less 'savoury' elements including, illegal whisky distillers and according to tradition, the body snatchers. With the nearby medical school and Canongate graveyard, it would have been the perfect place to ply their trade.
Eventually, the vaults were abandoned and filled with rubble to stop people from returning. Over the years they were simply forgotten about.
Rediscovery of the Edinburgh Vaults
It was businessman and ex-Scotland rugby international Norrie Rowan, the owner of the Tron Tavern who discovered a tunnel leading from his pub to the vaults in the 1980s.
Although Rowan and others subsequently made good use of the space, it's the story of a Romanian rugby player that is best remembered.
Following a rugby international between Scotland and Romania at Murrayfield Stadium, Norrie Rowan smuggled Romanian player Christian Raducanu, through the newly discovered passage and away from his secret police 'minders' allowing him to ask for political asylum in Britain.
Eventually, Norrie Rowan, and his family, cleared enough space to open The Caves, The Rowantree and Marlins Wynd, three of the most unusual wedding venues you are ever likely to find.
Mercat Tours – still a family business – takes its name from the Mercat Cross which stands in Parliament Square adjacent to St Giles' Cathedral on Edinburgh's Royal Mile. Their tours of the Edinburgh Vaults, not occupied by wedding guests, begin on this historic spot.
---