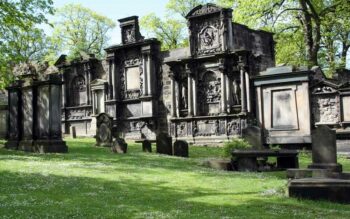 Edinburgh (and beyond) churches
Edinburgh has churches of all religious denominations. Among them are kirks, abbeys, cathedrals, chapels and more.
Each has played its part in the story of Scotland's capital city as it unfolded over the centuries. Some remain intact and open to visitors, open for worship. Others lie in ruins, a reminder of Edinburgh's turbulent past.
Edinburgh historic graveyards
Edinburgh has five historic graveyards where some of Scotland's best-known and most influential citizens are buried. Other less desirable characters are also to be found.
Edinburgh World Heritage (EWH) has a number of graveyard trails. In many ways, they chart the development of Edinburgh from medieval burgh to the neo-classical city it became. It's a great way of learning more about the city.
Together they document some of the major events in Scotland's history. Among them are the Reformation and the Scottish Enlightenment.
EWH say, "The trails form part of the Edinburgh Graveyards Project which "aims to promote and conserve the five historic graveyards within the World Heritage Site."
The EWH official website has more details.