Holyrood Park, a large public park in Edinburgh, is located near the Palace of Holyroodhouse and the Scottish Parliament building.
Set close to the busy eastern end of the Royal Mile, Holyrood Park covers an area of about 640 acres and has hills, lochs, and woodlands to explore.
Arthur's Seat
The park is dominated by Arthur's Seat, an ancient volcano and a prominent feature of the Edinburgh skyline.
It stands 251 meters (823 feet) high and is known for its diverse flora and fauna, as well as its geological and archaeological significance.
Many people enjoy hiking to the summit of Arthur's Seat to take in the wonderful views of Edinburgh and the surrounding area.
Salisbury Crags
Salisbury Crags, another highpoint of the park are a series of cliffs that form part of the same geological formation as Arthur's Seat. The crags are composed of basalt rock and provide a dramatic backdrop to Scotland's capital city.
They are a popular spot for rock climbing and also offer beautiful views of Edinburgh, the Firth of Forth, and beyond.
Care should be taken when walking on Salisbury Crags, particularly on the 'Radical Road' path where there are some nasty drops to avoid.
Unfortunately, this path is often closed because of falling rocks so it's important to check conditions before setting out.
For those wondering where the name Radical Road came from it's linked to the 'Radical Rising' or 'Radical War' of 1820. The National Library of Scotland says a little more about this volatile period of social unrest.
In addition, a little historical research will reveal Sir Walter Scott's involvement in proceedings.
Other notable natural features of the park include the small man-made St. Margaret's Loch where watching the geese, swans and ducks is a popular way to spend some time
The larger Duddingston Loch, at the southern end of the park, is the only example of a freshwater loch in the City of Edinburgh.
The Scottish Wildlife Trust said it "is an important site for breeding and wintering wildfowl."
Within easy walking distance of the loch is the pretty Duddingston Village site of the Sheep Heid Inn, perhaps the oldest surviving pub in Scotland.
Legend tells us that the inn was popular with Mary Queen of Scots who would sometimes stop for a game of skittles on the journey between Holyrood Palace and Craigmillar Castle.
Also in Duddingston is the wonderfully tranquil Dr Neil's Garden. The image link at the bottom of this page will take you to an article on Truly Edinburgh which has more information.
History of Holyrood Park
Holyrood Park has a rich history, dating to the 12th century when it was a royal hunting ground.
It has also been the site of many important events over the centuries, including battles and public ceremonies.
Today managed by Historic Environment Scotland (HES), Holyrood Park (with all its monuments and historic sites )is designated, a Scheduled Ancient Monument.
Because of its diverse flora and geology, it is also a Site of Special Scientific Interest.
Add to that some of the significant archaeological finds which include: stone and flint tools from the 5th millennium BC and Bronze Age weapons and you have a very special place.
All this lies at the heart of the Scottish capital.
Palace of Holyroodhouse
However, for many today Holyrood Park is a place of recreation as it was for centuries before. Thanks to its proximity to the Palace of Holyroodhouse, kings and queens have used the park as a "royal pleasure ground."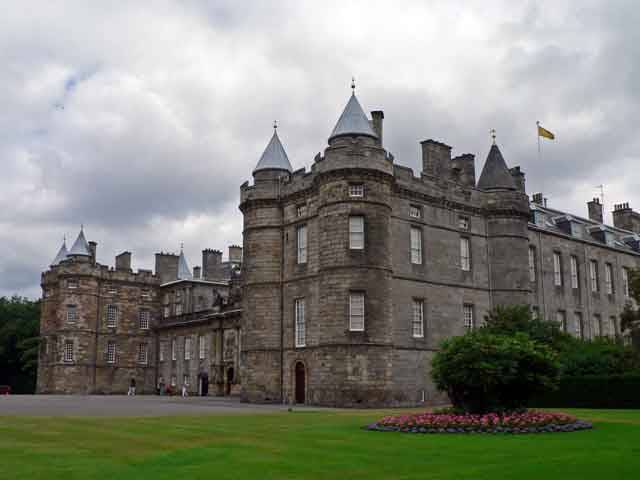 David I, James IV, James V and Mary Queen of Scots all took advantage of this unique space.
King David I is associated with the intriguing story of the 'Holy Rood'. When hunting in the park he was thrown from his horse when he met a large stag.
As he fell he grabbed a cross (Holy Rood) said to have appeared between the stag's antlers.
His experience prompted him in 1128 to set up an Augustinian monastery (Holyrood Abbey) on the site.
Queen Victoria and her husband Prince Albert were especially fond of the park and helped shape the landscape that we see today.
They were, for example, responsible for the drainage projects which created both St Margaret's Loch and Dunsapie Loch.
Holyrood Park: St Anthony's Chapel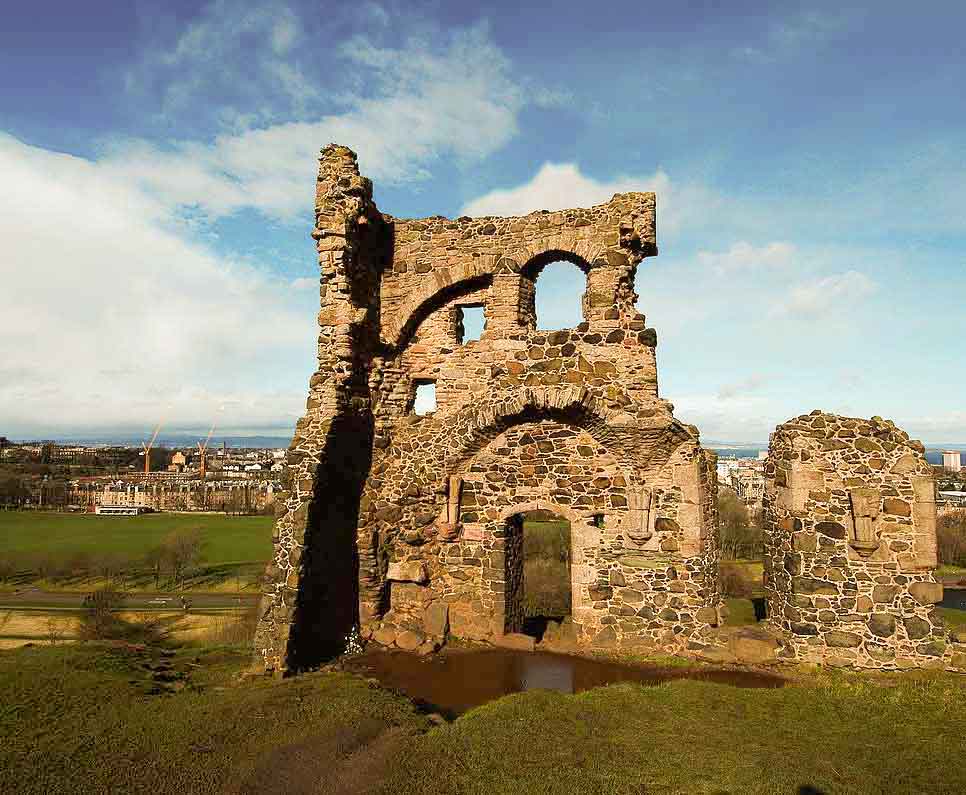 Although details are sketchy, St Anthony's Chapel, still visible in the park's central area, was probably associated with the monks of Kelso Abbey.
However, there are some records that suggest that in 1426, the Pope gave money for repairs to the chapel.
Like Holyrood Abbey, the chapel fell into disrepair during the Reformation of 1560.
Park ranger service: Holyrood Park tours
Today, Holyrood Park is a popular destination for locals and tourists alike, offering a peaceful escape from the hustle and bustle of the city.
Visitors can enjoy walking, running, cycling, and picnicking in the park, as well as exploring its many natural and historic landmarks.
This beautiful open space is used for a variety of sporting and Edinburgh Festival-related events along with other public ceremonial occasions.
Holyrood Park offers ranger-led guided tours that provide insights into the park's history, geology, and wildlife. These tours are led by knowledgeable guides who can share interesting anecdotes and information about the park's landmarks and natural features.
The tours typically cover Arthur's Seat, Salisbury Crags, St. Anthony's Chapel, and other significant points of interest within the park.
If you prefer to explore at your own pace, you can embark on a self-guided tour of Holyrood Park. The park provides informational leaflets and maps that highlight key sites and provide background information.
The park rangers are knowledgeable about the park's history, ecology, and conservation efforts.
They can provide assistance, answer questions, and offer recommendations on the best routes and viewpoints within the park
More Information about Holyrood Park.
It's always a good idea to check the park's official website or contact the ranger service in advance to inquire about guided tours, availability, and any specific requirements or restrictions.
Quick Links to Nearby Historic Sites