Holyrood Park, a large public park in Edinburgh, is located near the Palace of Holyroodhouse and the Scottish Parliament building.
Although close to the eastern end of the Royal Mile, the park covers an area of about 640 acres and with hills, lochs, and forests it has a variety of landscapes.
Arthur's Seat
One of the main attractions in Holyrood Park is Arthur's Seat, which is the highest point in Edinburgh and offers stunning views of the city.
Other notable features of the park include St. Margaret's Loch, Duddingston Loch, and the Salisbury Crags.
Holyrood Park has a rich history, dating to the 12th century when it was a royal hunting ground.
It has also been the site of many important events over the centuries, including battles and public ceremonies.
Today managed by Historic Environment Scotland (HES), Holyrood Park (with all its monuments and historic sites )is designated, a Scheduled Ancient Monument.
Because of its diverse flora and geology, it is also a Site of Special Scientific Interest.
Add to that some of the significant archaeological finds which include: stone and flint tools from the 5th millennium BC and Bronze Age weapons and you have a very special place.
All this lies at the heart of the Scottish capital.
What to see and do in Holyrood Park
Visit the free exhibition at the Holyrood Lodge Information Centre and learn more about the park's history.
Climb Arthur's Seat for great views of Edinburgh and the Lothians.
Take to Sir Walter Scott's Radical Road beneath the Salisbury Crags
Discover Iron Age forts.
Visit St Anthony's Chapel, a picturesque medieval ruin

---
Palace of Holyroodhouse
However, for many today Holyrood Park is a place of recreation as it was for centuries before. Thanks to its proximity to the Palace of Holyroodhouse, kings and queens have used the park as a "royal pleasure ground."
David I, James IV, James V and Mary Queen of Scots all took advantage of this unique space.
King David I is associated with the intriguing story of the 'Holy Rood'. When hunting in the park he was thrown from his horse when he met a large stag.
As he fell he grabbed a cross (Holy Rood) said to have appeared between the stag's antlers. His experience prompted him in 1128 to set up an Augustinian monastery (Holyrood Abbey) on the site.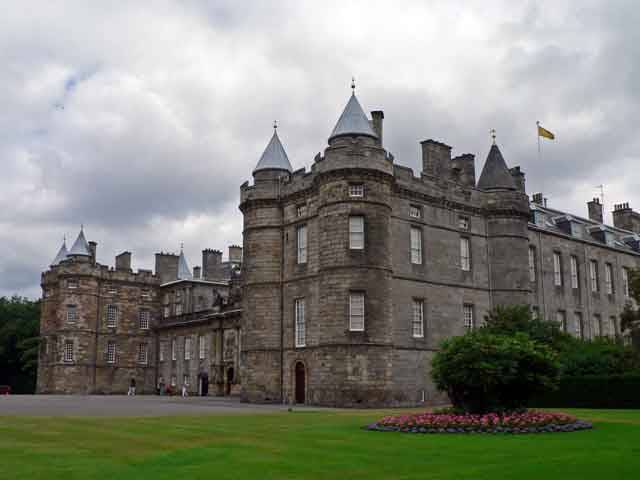 Queen Victoria and her husband Prince Albert were especially fond of the park and helped shape the landscape that we see today.
They were, for example, responsible for the drainage projects which created both St Margaret's Loch and Dunsapie Loch.
Holyrood Park: St Anthony's Chapel
Although details are sketchy, St Anthony's Chapel, still visible in the park's central area, was probably associated with the monks of Kelso Abbey. 
However, there are some records that suggest that in 1426, the Pope gave money for repairs to the chapel.  Like Holyrood Abbey, the chapel fell into disrepair during the Reformation of 1560.
Surrounding the park are Salisbury Crags and Arthur's Seat, which rises to over 800 feet. Both are popular places for walkers which allow amazing views over the city. Care should be taken when walking on Salisbury Crags, there are some nasty drops to avoid.
Park ranger service
Today, Holyrood Park is a popular destination for locals and tourists alike, offering a peaceful escape from the hustle and bustle of the city.
Visitors can enjoy walking, running, cycling, and picnicking in the park, as well as exploring its many natural and historic landmarks.
This beautiful open space is used for a variety of sporting and Edinburgh Festival-related events along with other public ceremonial occasions.
A ranger service offers walks, tours and other visitor services.