Old Calton Burial Ground has great views over Edinburgh. it's a really interesting place to explore although it can be a little spooky on a dull winter afternoon.
---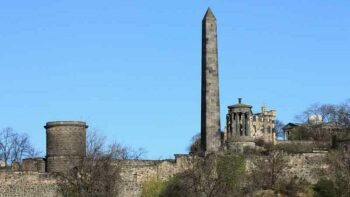 If you're planning a trip to Edinburgh and have a little extra time to spare, the Old Calton Burial Ground is definitely worth a place on your 'things to do in Edinburgh list'.
Old Calton is one of Edinburgh World Heritage's Graveyard Walking Trails.
With Edinburgh's main burial ground at Greyfriars Kirkyard already overcrowded and thought too far away from the New Town, Old Calton opened in 1718 for the internment of local tradesmen and merchants. The Incorporated Trades of Calton managed the burial ground and with burial charges earned some income from it.
The cemetery was enlarged at the beginning of the 19th century with some of the graves being moved to the New Calton Burial Ground around half a mile away.
Oldest remaining monument in Old Calton Burial Ground
The oldest remaining monument is that of Thomas Robertson a shoemaker (cordiner) who died in 1720.
Other monuments to tradesmen include one to brewer William Fleming who died in 1733 and John Morton a heelmaker who died in 1728.
One particularly fascinating gravestone is that of Thomas Gray a carpenter who died in 1752. Decorated on one side with Masonic symbols and on the other with what Edinburgh City Council describes as, "a fine relief of a full-masted galleon, its sails filled with wind riding across high seas with two grotesque heads and symbols of mortality below."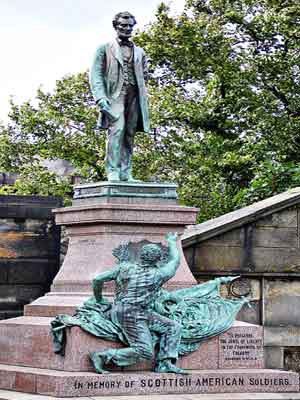 Two well-known Edinburgh publishers lie in Old Calton Burial Ground. Archibald Constable publisher of Sir Walter Scott's novels and poems and owner of Scot's Magazine.
Also, William Blackwood the publisher of the Blackwood Magazine, a publication filled with critical essays and reviews, often with personal attacks on public figures.
The gravestones and monuments found throughout the cemetery display some wonderful examples of funeral art, some reflecting Edinburgh trades and some much more macabre in nature
It's Abraham Lincoln who gazes out from the top of the Scottish-American Soldiers Monument (Emancipation Monument).
It was erected to commemorate the Scottish American soldiers who fought in the American Civil War. It is the only monument outside the USA dedicated to the Civil War.
Close to Lincoln is the Robert Adam designed tomb of David Hume, one of the greatest ever philosophers writing in the English language and a leading figure during the Scottish Enlightenment. Almost certainly Roman inspired, perhaps influenced by the mausoleum of Theodoric at Ravenna, Italy built in 520 AD.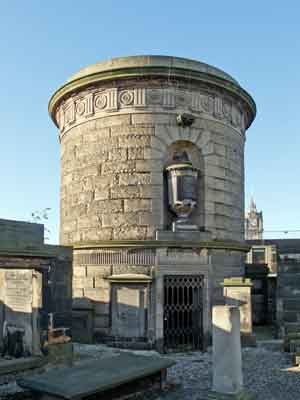 Martyrs Monument
A large obelisk to a group of political martyrs of 1793-4 dominates the highest point of the graveyard.
Erected in memory of Thomas Muir and his four fellow martyrs, Thomas Fyshe Palmer, William Skirving, Maurice Margarot and Joseph Gerald who fought hard for parliamentary reform.
For their pains, they were charged and convicted of sedition and transported to Botany Bay, Australia. Only one of them returned to Scotland.
A little to the east of the burial ground lie the remains of the notorious Calton Jail, which received its first inmates in 1817.
There were mixed reactions over the site of the jail with Lord Henry Cockburn declaring "It has been a piece of undoubted bad taste to give so glorious an eminence to a prison."
On the other hand, French writer Jules Verne, seemingly impressed, described it as resembling a small medieval town.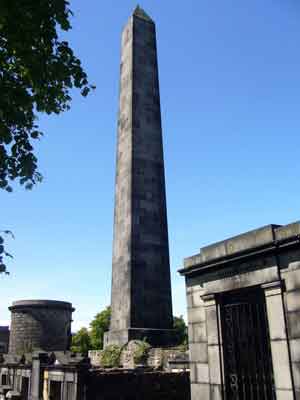 Where is Old Calton Burial Ground?
Old Calton Burial Ground is located on Waterloo Place, in the heart of Edinburgh's city centre.
It's on the opposite side of the road to Calton Hill with its collection of historic and quirky monuments, not to mention the fantastic view along the Firth of Forth. So, you can't really visit one without the other, can you?
The maximum time needed to see the cemetery is only an hour and there is no charge for entry.
The memorials in the Old Calton burial ground are as unexpected as they are evocative but sadly many of them require some renovation.
Nonetheless, an hour spent there is a real eye opener to some of the less well-known aspects of Edinburgh's history.
Further information from Edinburgh World Heritage
Managed by Edinburgh World Heritage, Old Calton Burial Ground is part of the Edinburgh Graveyard Project.
Included are Greyfriars, Canongate, St Cuthbert's Kirkyards, Calton Old and Calton New Burial Grounds.
Edinburgh World Heritage said, "The five graveyards are of international importance, charting the city's development from the medieval burgh to the eighteenth and nineteenth neo-classical city. As a group, they also document some of the major changes in Scottish history, the reformation, the enlightenment and the Industrial revolution…"
Edinburgh World Heritage has a number of downloadable graveyard trail guides – a great resource for all Edinburgh history lovers.
---