---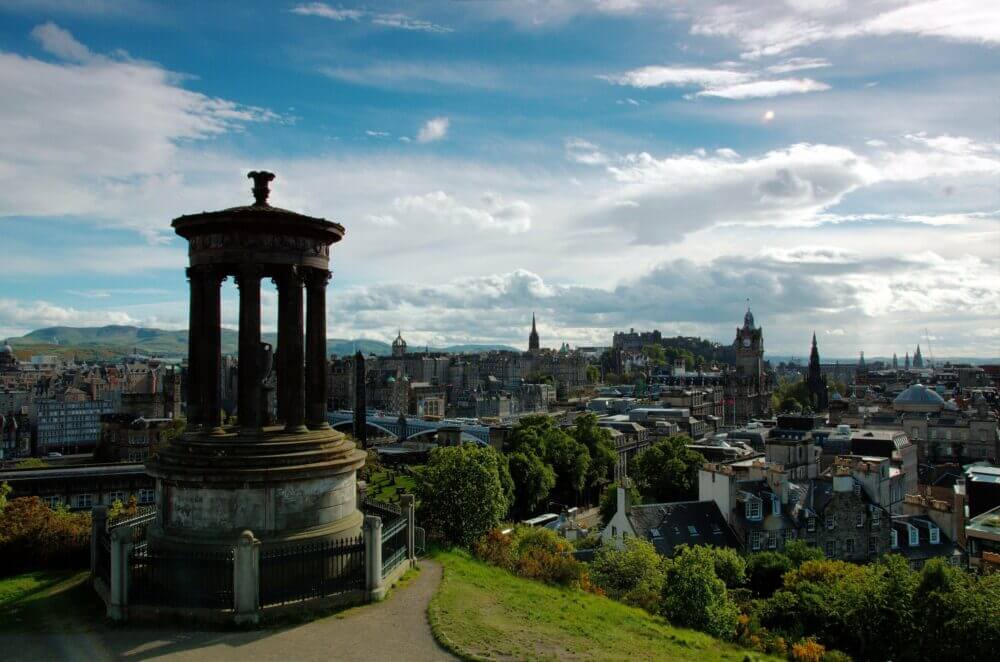 Looking down from Calton Hill
Calton Hill, which is part of Edinburgh's New Town, looks down on the city from the east end of Princes Street and offers visitors a bird's eye view over both the city of Edinburgh and large stretches of the Firth of Forth.
On a clear day you can see Salisbury Crags, Arthur's Seat and further on to North Berwick and the Bass Rock. City landmarks include the Scottish Parliament building, Edinburgh Castle and the Dynamic Earth science building. Access to Calton Hill is from Waterloo Place.
Calton Hill was one of the first recreation spaces created in a very crowded city. It was philosopher David Hume who in 1775 first persuaded the city council to provide a walkway for the benefit of the people of Edinburgh. Hume's tomb can be viewed in Old Calton Cemetery on the other side of Waterloo Place.
On the top of Calton Hill are an unconventional group of monuments many of which can be seen from other parts of the city.
Calton Hill: Nelson Monument
The Nelson Monument celebrates the life and victories of Britain's best-known sailor. It was built in 1807 resembling the shape of his telescope, If you can manage the climb up its 145 spiral stairs the view from the top offers due reward – it's the best in Edinburgh. Entry information from Edinburgh Museums and Galleries.
Calton Hill: Dugald Stewart Monument
This monument, designed by Sir Henry Playfair, is a fitting tribute to Dugald Stewart 1753-1828, one of Scotland's greatest philosophers. Often described as one of the great Scottish Enlightenment thinkers, Stewart was Professor of Moral Philosophy at Edinburgh University.
Calton Hill Cannon
Close to the Dugald Stewart monuments is the Calton Hill Cannon, once kept by a Burmese king it was taken by the British during the invasion of Burma in 1885. It was later presented to the city of Edinburgh.
National Monument
The National Monument begun in 1826 was intended to be a replica of the Pantheon in Athens It was constructed as a memorial to the dead of the Napoleonic Wars but was never completed because the money ran out. This incomplete memorial helped Edinburgh attract the epithet, "Athens of the North".
Old Observatory House
This building was designed and once lived in by James Craig the architect responsible for the building of the New City. The Old Observatory is now in private hands and is not open to the public.
The City Observatory
The neo-classical City Observatory provided the main focus for Edinburgh's astronomers until 1896 when it moved to another part of the city. The building is open by arrangement with Edinburgh City Council.
---