Greyfriars Kirkyard has The best collection of 17th century monuments in Scotland
---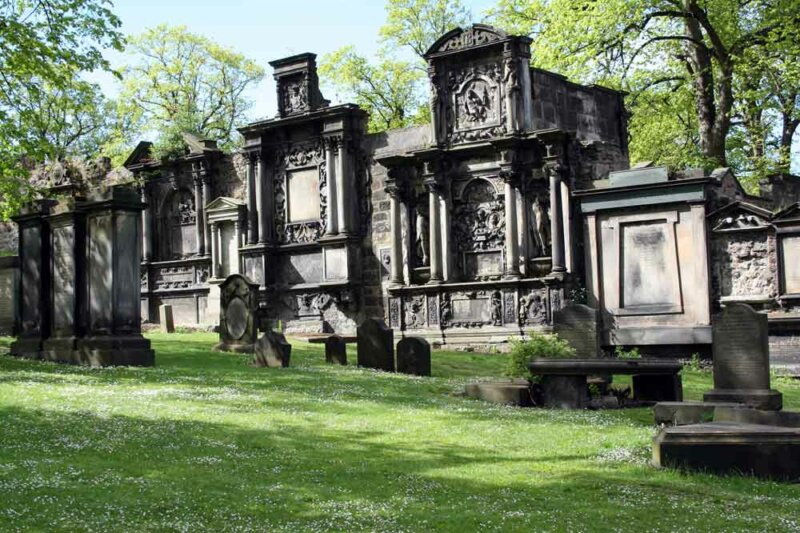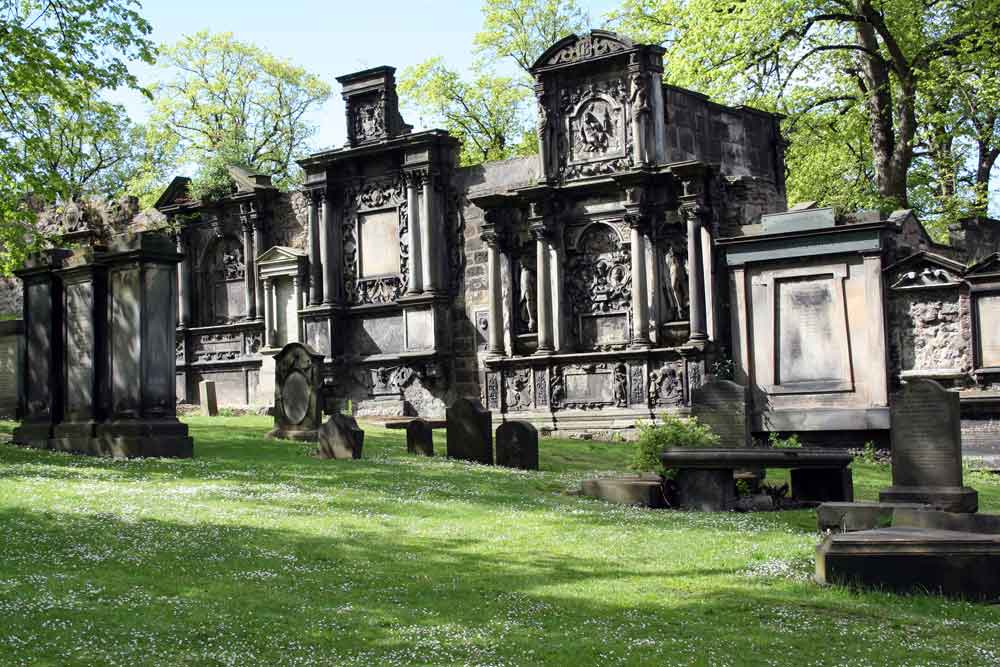 Greyfriars Kirkyard is the graveyard surrounding Greyfriars Kirk in Edinburgh's Old Town.
It stands on land granted to the town council by Mary Queen of Scots in 1562 following a decision that the "burial ground situated on Edinburgh's High Street had become so overcrowded and fetid with burials as to cause unbearable smells to permeate through the Kirk (St Giles) in the summer months…"
Today Greyfriars Kirkyard is owned by the City of Edinburgh Council.
Monuments and tombs in Greyfriars Kirkyard
While it's only an estimate there are thought to be around 238 monuments, 112 tombs and over 300 wall plaques along with numerous other sculpted pieces. The Buildings of Scotland an authoritative architectural guide suggests that Greyfriars "boasts the best collection of 17th century monuments in Scotland."
Who is Buried at Greyfriars Kirkyard?
Among the many burials that took place at Greyfriars are some of Edinburgh's most prominent citizens:
George Mackenzie lawyer and the Lord Advocate during the rule of Charles II. Brutal persecutor of the Covenanters – he was "Bluidy Mackenzie."
Archibald Campbell, 9th Earl of Argyll (1629-1685)
George Buchanan, historian (d.1582)
William McGonagall, poet (1825-1902)
James Craig, designer of Edinburgh's New Town (1739-1795)
Captain John Porteous, soldier (1695-1736
Joseph Black, chemist and eminent Scottish Enlightenment figure (1728-1799)
William Adam (1689-1748) and his son John (1721- 1792, were both notable architects
John Grey the master of the little dog Greyfriars Bobby who is buried nearby.
The Harry Potter graveyard in Edinburgh
This historic kirkyard is also a place of pilgrimage for Potter fans after author JK Rowling said that the gravestones had inspired the names of some of her literary characters.
High on the list of gravestones to see are those of Thomas Riddell, who died in 1806, and his son, also Thomas, who died in 1802.
Their names were used as inspiration for the character of Tom Marvolo Riddle – better known as the scary Lord Voldemort who first put in an appearance in Harry Potter and the Philosopher's Stone in 1997.
William McGonagall, often dubbed Scotland's worst poet also lies in the graveyard. JK Rowling revealed she used his name for Professor Minerva McGonagall, the head of Gryffindor at Hogwarts School for Witchcraft and Wizardry, and as Potter fans will know a half-blood witch.
There are several more which feature in Rowling's work, the fun part, if you can ever have fun in a graveyard, is finding them.
Greyfriars, the most haunted graveyard
Whether this ancient Edinburgh graveyard is really haunted or not is an ongoing debate.
But it's not hard to see why some people might think it was, for even a short walk around the site reveals headless figures rising from the grave, skeletons, skulls and crossbones and other symbols of death. For some visitors, the carvings are a little disconcerting, particularly on a late winter's afternoon as the light starts to fade.
More Edinburgh stories
In Edinburgh Picturesque Notes, Robert Louis Stevenson wrote, "We Scotch stand…highest among nations in the matter of grimly illustrating death. The classic examples of this art are in Greyfriars."
Covenanter prison
The cemetery will be forever associated with the plight of over a thousand Covenanter prisoners housed, following the Battle of Bothwell Bridge in 1679, in terrible conditions on the southern side of the graveyard.
Over a hundred men never left their prison and are buried together in a trench, a site marked by a monument erected in 1771.
Many were executed at the nearby Grassmarket gibbet – some of them were taken to the nearby Magdalen Chapel to be dressed in their grave clothes.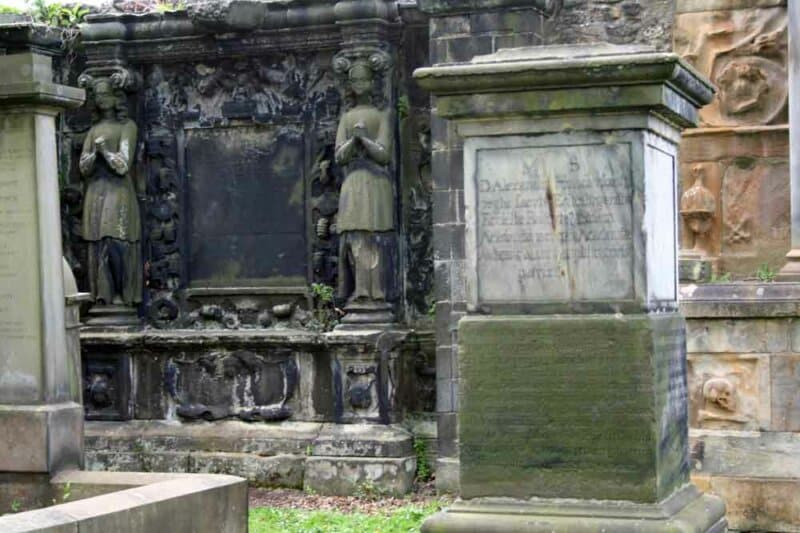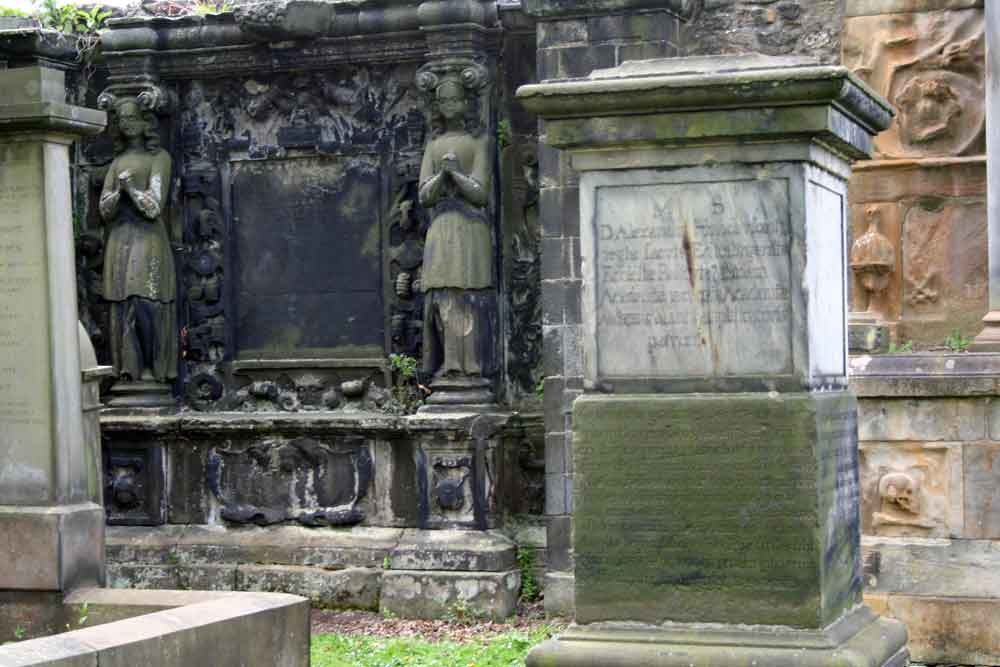 On a practical note the Edinburgh Graveyard Project: Documentary Survey for Greyfriars Kirkyard explains that by the beginning of the 18th century, space in the Kirkyard was becoming harder to find. As Edinburgh expanded and the population grew, records show that by the end of the century there were between 1100 and 1200 interments annually.
George Heriot
These pressures prompted a further expansion to the west of the site, behind Heriot's Hospital, now George Heriot's School. By 1860 such was the overcrowding the town council recommended the Kirkyard's closure. Despite this, a small number of burials continued into the 20th century.
Greyfriars Bobby
Despite the number of luminaries who now rest here, perhaps the best-known resident in the Kirkyard is Greyfriars Bobby the little dog who stood guard over his master's grave for 14 long years. It's an endearing story that Walt Disney turned into a movie in 1961.
Greyfriars Kirk
Greyfriars Kirk was later built on land owned by the Franciscan Convent in the nearby Grassmarket. It was the first church to be built in Edinburgh following the Reformation and opened its doors on Christmas Day 1620. In 1638 the National Covenant was signed in Greyfriars Kirk and today the church has a Church of Scotland congregation who worship in the Presbyterian tradition.
Greyfriars Kirkyard Visitor Information
For further information and help planning your visit, go to the Greyfriars Kirkyard website.
---