St Cuthbert's Parish Church stands, almost hidden by the trees, at the western end of Princes Street Gardens, near the corner of Lothian Road in Edinburgh.
Given its proximity to the castle, this historic building, named after 7th century St Cuthbert is often referred to as the Church beneath the Castle of Edinburgh.
The church, formally known as West Kirk, has played a key role in the religious and cultural life of Edinburgh for centuries.
Who was St Cuthbert?
St Cuthbert (c. 635-687) was a venerated religious figure known for his piety and wisdom partly responsible for the spread of Christianity in the North of England and the South of Scotland.
He was the Prior of Melrose Abbey, later moving, at some point during the 670s, to Lindisfarne, also called Holy Island, one of the most important centres of Christianity where he lived for a number of years.
Lindisfarne has an important and fascinating history. English Heritage tells its story. See the research link below,
History of St Cuthberts Parish Church Edinburgh
While it's believed to be the oldest Christian site in Scotland's capital city, there are almost inevitably other opinions, thanks in the main to a 12th century chronicle.
Symeon (Simeon) of Durham a chronicler and monk at Durham Cathedral in the North of England wrote c. 1130 of a church in Edwin's Burgh in 854. Some believed he was referring to St Cuthbert's others have suggested he meant St Giles' Cathedral.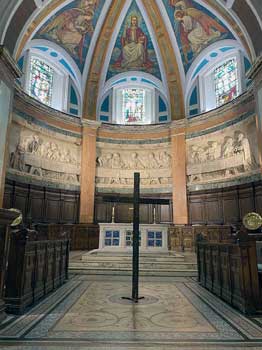 Consequently, the very earliest historical detail relating to St Cuthbert's Parish Church is sketchy to say the least.
However, a reasonable starting point for researchers might be the statement from Edinburgh World Heritage that "It is believed that a church dedicated to St Cuthbert has been on this location since the 8th century"
The University of St Andrews adds some detail. It says that the church …"appears to have originated as the mother church… for an extensive paruchia that stretched west from Edinburgh to the River Almond and south to the Pentland Hills…" (See the research reference link below).
Historic Environment Scotland says that "in all probability, St Cuthbert's Church was founded by Malcolm Canmore (Malcolm III) and Queen Margaret."
However, back on firmer historical ground, it was their youngest son, David I who in 1127 granted a charter giving all the land beneath Edinburgh Castle to St Cuthbert's.
This charter is the oldest document in the Scottish Records Office.
Certainly within a few years, perhaps as early as 1128, The king granted the church, the dependent chapels of Corstorphine and Liberton and the wider parish to Holyrood Abbey in Edinburgh.
Architect Hippolyte J Blanc
The current building was designed by the Edinburgh-born architect, of French parents, Hippolyte J Blanc and built between 1892 and 1894. Interestingly Blanc was also involved in restoration work at Edinburgh Castle and John Knox House on the Royal Mile.
During the construction, workers discovered signs of earlier churches (possibly six). At least two of them were badly damaged by invading English armies– Richard II in 1385 and the Earl of Hertford on behalf of Henry VIII in 1544.
Following his victory at the Battle of Dunbar in 1650, Oliver Cromwell stationed his troops and horses in the church which was subsequently "altogider spoyled…"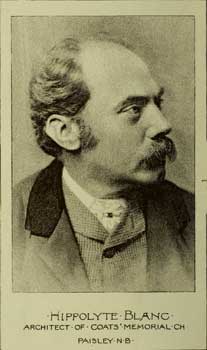 Given Edinburgh's place in the ebb and flow of Scottish religion and politics, there are other examples of trouble that came knocking on St Cuthbert's doors
Given that the church has undergone several modifications and additions over the centuries, it has a unique combination of architectural styles.
While the interior is simple in places, there are clear Italian Renaissance and Baroque influences with hints of Byzantine and contemporary detail to delight visitors
One of the most impressive works of art lies at the eastern end of the building. An alabaster frieze based on Da Vinci's Last supper from Santa Maria delle Grazie, Milan.
Continuing the Italian theme, the font is influenced by the design of Jacopo della Quercia's font in Siena Cathedral. The pulpit designed by Hippolyte Blanc came from San Ambrogio in Verona.
Unsurprisingly it's not hard to find a Biblical theme too. ("A general and harmonious scheme of scriptural subjects…")
The three Apse windows for example show the Nativity, the Crucifixion and the Resurrection.
A Tiffany Glass panel shows David before he slew Goliath, while a mural of Christ in Glory, designed by Robert Hope, is set above the communion table..
Mathew, Mark, Luke and John, the four evangelists, look down from the ceiling to the Chancel.
The Nor' Loch Room, although relatively small in size, has more stained glass – three panels showing scenes from St Cuthbert's life.
While the items mentioned here are among the church's best-known artistic treasures it will take a determined historical sleuth to discover some of the less obvious ones.
Memorial Chapel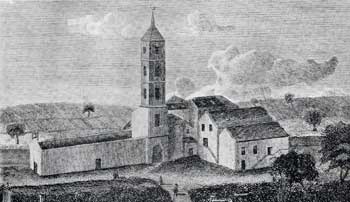 At the opposite end of the church the small, relatively simple Memorial Chapel consecrated as a chapel in 1921 sits in what was part of an earlier church – the base of a tower built in 1775. Its steeple was added in 1789. Both were retained in Hippolyte Blanc's design.
The dedication reads, "To the Glory of God and in memory of the men of St Cuthbert's who fell in the War 1914-1918…"
In a short history, the current church administrators say "It is thought that this [chapel[ is on or near the site on which St Cuthbert built his original hut…"
Rather surprisingly, the chapel was also the venue for the wedding of Agatha Christie and her second husband Max Mallowan in 1930.
St Cuthbert's Parish Church graveyard
Thanks to a grant of land from Mary Queen of Scots, St Cuthbert's churchyard was founded c. 1560 on the site of an earlier Franciscan priory.
The earliest known depiction of the graveyard was on a town map of c. 1647, by James Gordon of Rothiemay.
It holds around 750 headstones, including some of the oldest in Edinburgh. There are also more ornate tombs and a variety of other structures.
The list of those buried at St Cuthbert's is a long one and includes a number of people who made their mark in the city and further afield. among them are:
1606 – Robert Pont – one of the earliest ministers of St Cuthbert's Church.
1617 – John Napier of Merchiston– mathematician and inventor of logarithms.
1840 – Alexander Nasmyth – portrait and landscape painter.
1844 – George Meikle Kemp – designer of the Scott Monument in Princes Street, Edinburgh/
Perhaps the most intriguing is the English Templar knight who fought in the Crusades and may now be buried within the kirkyard.
For those interested in further research some burial records to survive and are housed in the National Archives of Scotland and Edinburgh city archives.
Edinburgh Graveyards Project
The graveyard is one of Edinburgh's five historic graveyards (part of the Edinburgh Graveyards Project managed by Edinburgh World Heritage (EWH).
The list of EWH graveyards includes:
St Cuthberts
Greyfriars Kirkyard
Canongate Kirkyard
Calton Old Burial Ground
Calton New Burial Ground.
The (EWH) research link below says much more about St Cuthbert's graveyard.
St Cuthbert's Parish church today
Today, St Cuthbert's Parish Church is still a much-loved place of worship, with a Church of Scotland congregation.
In addition, the church has an active outreach programme working particularly with Edinburgh's homeless population.
It's also often a venue for concerts and other shows held during the Edinburgh Fringe Festival.
With its elegant, design full of unexpected spaces, artistic treasures and rich historical connections, it's the perfect stopping point for visitors to the city.
Whether you are a fan of architecture, history, or religious art, this church is definitely worth exploring.
References: research and data
University of St Andrews Edinburgh: St Cuthbert's Parish Church [online]. Accessed 10 May 2023
The Parish Church of St Cuthbert : [official online site]. Accessed 8 May 2023.
Dictionary of Scottish architects: Biography Report [online]. Accessed 8 May 2023.
Historic Environment Scotland: Churchyard and Monuments [online]. Accessed 7 May 2023.
Edinburgh World Heritage: St Cuthbert's KIrkyard [online]. Accessed 11 May 2023.
English Heritage: History of Lindisfarne Priory [online[ accessed 14 May 2023.
discover more Edinburgh churches and graveyards.