If gin is your favourite tipple, there are cool and creative Edinburgh gin bars waiting to welcome you.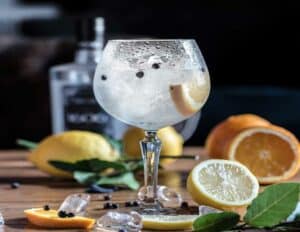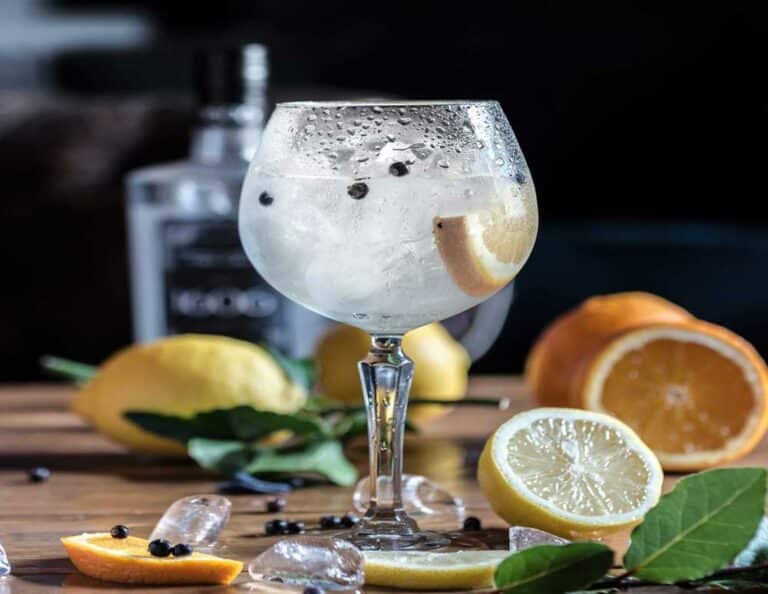 Given the long history of Scotch whisky in Edinburgh, the rise in popularity of gin in Edinburgh and the rest of Scotland for that matter might well be considered a revolution or is it an obsession?
But take a closer look and you'll discover that gin has been around for centuries in Scotland's capital city. We have to thank or blame the Dutch and their Jenever spirit for that.
As the distilling process and the design of venues have become ever more imaginative, good gin bars in Edinburgh are not difficult to find.
There are now some wonderfully atmospheric places to relax and enjoy a gin and tonic, a rhubarb and ginger gin, a pink gin, a raspberry gin or a … well you get the idea.
There are now so many flavours for gin lovers to try. They range from the familiar to the truly exotic and to the truly unexpected for that matter.
We have those clever distillers and herbologists, to thank for that. But let's not forget the skill of the mixologist too.
Gin Bars in Edinburgh
Panda and Sons
It's always hard to know which gin bars to leave out of a list like this. Panda and sons is definitely not one of them.
But if you've just popped into this New Town basement for a haircut, you'll find it's not quite what you think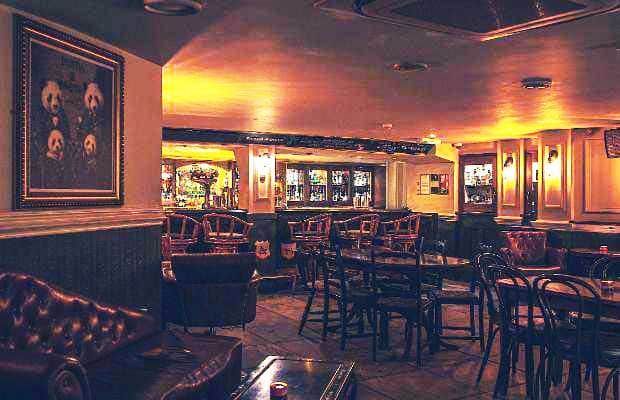 Panda and Sons is a real storybook experience with a 1920s barbershop theme and an edgy speakeasy atmosphere, complete with a hidden bookcase entrance. It's a bar with a real sense of theatre.
While not specifically an Edinburgh gin bar they do have a large stock of gins including their own brand – Gin Gin Panda from the Boutique-y Gin company.
The bar also offers an extensive and occasionally exotic range of cocktails. Who wouldn't fancy a "Ya Dancer" made with Hendricks Orbium.
Where else would you find a fusion bar run by Panda and family – Grandpa Walt, Panda and his sons Rupert and Benson. It's reason enough to head over to Queen Street, Edinburgh.
Check out the Panda and sons Facebook page for more information.
56 North gin bar, distillery & kitchen
56 North is proud to proclaim, "we are Scotland's oldest gin bar."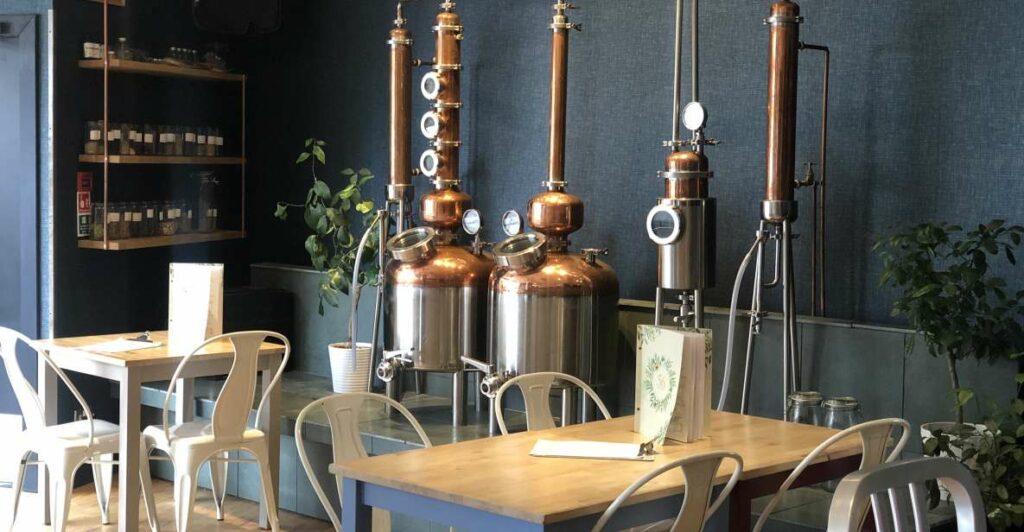 As perpetual innovators, this warm and welcoming bar now distils its own gin from two copper pot stills fitted in the bar. South Loch Gin, a name with a definite nod to local history was launched in 2019.
They offer the discerning gin drinker hundreds to choose from including their own South loch and many others made in Scotland.
But don't worry, if you fancied a pint or something different, there's plenty to choose from.
If you're hungry there's a classic bar menu plus a range of international options. Should you join one of their gin experiences there's a very nice dinner as part of the occasion.
For more information visit the 56 North website.
One Square bar and brasserie at the Sheraton
One Square at the Sheraton Hotel on Festival Square a stylish contemporary Scottish bar and brasserie has all the sophistication you would expect of such a prestigious Edinburgh address.
Set on a terrace with exceptional views of Edinburgh Castle it's perfectly placed just across the road from the Usher Hall and only minutes from the New Town.
One Square has a fabulous range of gins lovingly made in distilleries across the world, including Scotland. If you add to what is an impressive list are a number of gin liqueurs including the perennial favourite Edinburgh Rhubarb and Ginger.
But they also have their own bespoke gin. Made by Edinburgh gin distillery Pickering at Summerhall, it's called quite simply One Square Gin.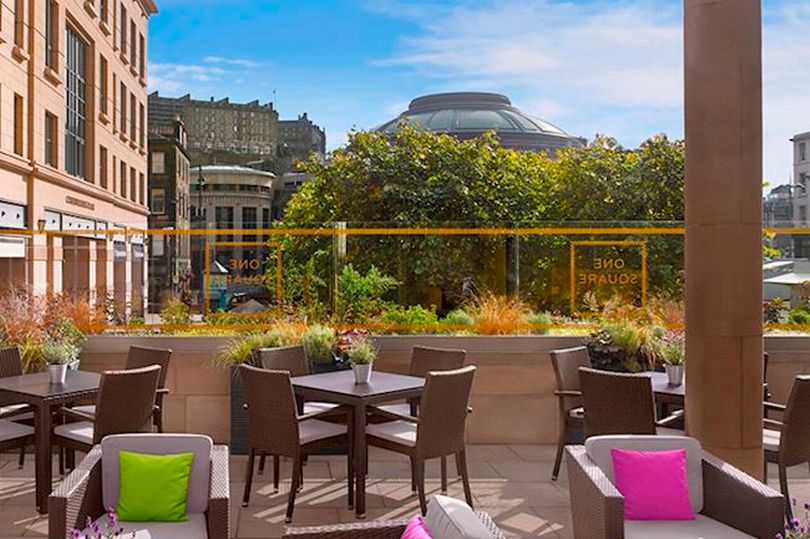 All in all, whatever your preferred tipple, relaxing on the terrace, well protected against the Scottish weather, and watching the world go past is one of life's pleasures.
Of course, the restaurant has a varied menu which includes everything from jerk chicken to the ubiquitous burger, One Square style of course.
The Sunday carvery lunch is always popular.
One Square gin tasting
If you would like to know more about the gin distilling process you can join one of the popular Ginnasium gin tasting experiences which is in their own words, "a chance to indulge your senses and get to know the botanicals and junipers…"
For more information visit the One Square website.
The Jolly Botanist gin bar
You'll find the Jolly Botanist on Morrison Street close to Haymarket Station.
With a mock Victorian style and a warm and friendly atmosphere, this place is definitely quirky.
Their helpful gin menus are packed with information about style, flavour and suggestions for the best tonic and garnishes.
They do have a decent range of gins, around a hundred, which includes Elephant Gin, with African botanicals from Germany, Malfy Gins from Italy and Jinzu from Japan.
There are also some local ones including Pickerings from Summerhall and Lind and Lime, and Electric Spirit both from Leith.
But with plenty of beer, wine and cocktails on offer you don't have to be a gin aficionado to enjoy the Jolly Botanist.
In the dining room, the food menu offers what they call a range of Scottish tapas including a veggie haggis and yummy mac and cheese.
For more information visit the Jolly Botanist website.
Stac Polly gin & wine bAR
Stac Polly, a brasserie, restaurant and gin garden, as if to show off its Scottishness, takes its name from Stac Pollaidh a mountain in Scotland's north west Highlands.
Located in Edinburgh's New Town (Dublin Street) close to the Scottish National Portrait Gallery it's been a much-loved fixture for over 30 years is close to the Scottish National Portrait Gallery.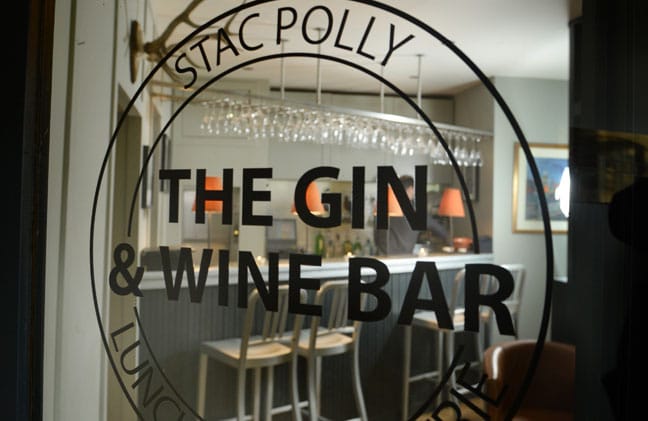 While it has a well-deserved reputation for craft beers there's an extensive range of Scottish gins, including Edinburgh Gin all served "in large glasses."
Their brasserie and fine dining restaurant serve modern Scottish cuisine.
There is a lovely basement level Gin Garden, a "secret gin garden" no less with around 20 seats. It's a wonderfully relaxing place to spend time with family or friends.
For more information visit the Stac Polly website.
Heads and tales Gin Bar
The Heads and Tales Gin Bar is located in the basement of the Rutland Hotel in the New Town. But this place is not your average Edinburgh gin joint,
Heads and Tales is also home to the Edinburgh Gin distillery. (The company has another distillery in Leith).
Yes, it takes most people by surprise. It is a distillery, complete with two shiny and working copper stills – Flora and Caledonia, within a bar.
So, to sum up –during the day heads and Tails is a busy working distillery for Edinburgh Gin which also has a distillery in Leith. By night it's a warm and friendly gin emporium that offers some great food too.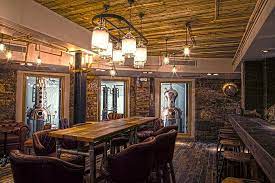 It's an unusual arrangement, to say the least, but definitely quirky and fun.
While quite naturally Edinburgh Gin features on the menu there are plenty of others from around the world to try.
You can also make your own bespoke drink or join one of the Heads and Tales Gin masterclasses
But if for some reason gin is not your thing you might try a Whisky Sour or a Spiced Dark and Stormy, two of a number of Traitor Classics.
If you're feeling peckish there are nibbles and some yummy small pates including garlic king Prawns and Halloumi Fries.
The Heads and Tales website has more information.
Related pages