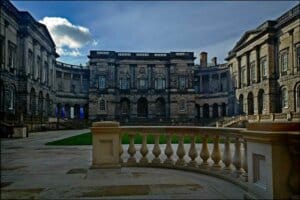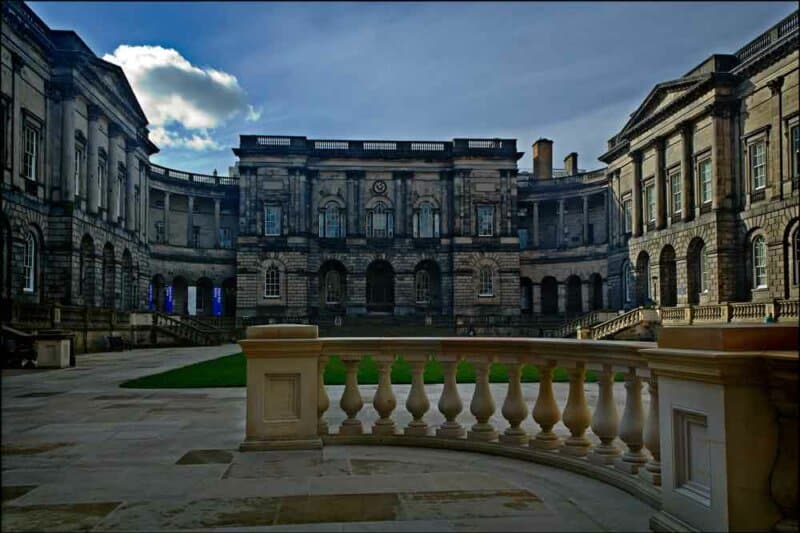 If you mentioned the name William Cullen today it's unlikely that many would recall the career of one of Scotland's greatest Enlightenment figures.
However, during the latter part of the eighteenth-century William Cullen was known in Great Britain, large parts of Europe and the United States as the most prominent physician of his day.
---
Historian David Daiches called Cullen, "the great and influential teacher of clinical medicine" while the Royal College of Physicians of Edinburgh called him, "A giant among giants."
Those generous but deserved epithets, two of many, are an indication of the scale and importance of Cullen's life and work which in this short article can only be captured with the broadest of brushes.
Cullen was born in Hamilton on 15 April 1710, one of seven children. His father was a lawyer and agent for the Duke of Hamilton although details about his mother Elizabeth are sketchy, she surely must have been busy looking after such a large family.
University of Glasgow
Cullen's education began at the local school before going to the University of Glasgow where he studied the arts and mathematics.
Other than he attended the lectures of the distinguished Dr Robert Simson, a one-time acquaintance of astronomer and meteorologist Edmond Halley, details are sparse about this period of his life. At that point, there were no indications of his future brilliance.
He was briefly apprenticed to John Paisley, a Glasgow surgeon, before moving to London in 1729, where he obtained a post as a surgeon on a South Sea Company ship, Prince William, skippered by his cousin William Clelland of Auchinlee.
The ship was bound for the West Indies but made a six-month stopover in Porto-Bello (Portobelo) Panama.
It was during this period that William Cullen took time to study the influence of climate on health. Returning to London, he worked for some months with an apothecary of whom little is known other than his name was Mr Murray. It was a placement, which allowed him to develop his interest in pharmacology.
By early 1732, he was back in Scotland practising medicine in Shotts, near Hamilton. Within two years he enrolled at the University of Edinburgh where he studied medicine.
During that time, he became one of the founders of what was later known as the Royal Medical Society (RMS), a student organisation designed to foster debate and improve medical practice.
Society meetings might well have included the dissection of a cadaver or the preparation of a dissertation. Among future members of this eminent body were Charles Darwin, Sir James Young Simpson, Sir Joseph Lister and Joseph Bell. The RMS remains an important student society today.
Employed by the Duke of Hamilton
After leaving Edinburgh in 1736, William Cullen established himself as a surgeon in Hamilton where the Duke of Hamilton speedily employed him as an "ordinary medical assistant."
Not content with just practising medicine he, as a local magistrate, immersed himself in politics. His period of office coincided with some of the worst 'grain riots' ever seen in Scotland.
Certainly, Hamilton didn't escape the disorder. While as a magistrate his job demanded he dealt with the consequences of the rioting which also meant he developed practical concerns over improvements desperately needed in agriculture.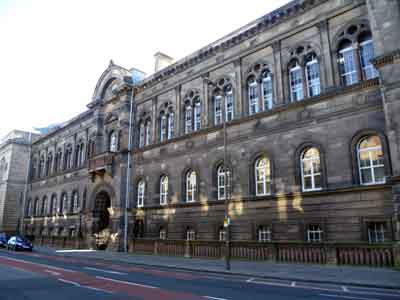 With the death of his father and elder brother he now had the responsibility for the education and welfare of his siblings.
Luckily a small inheritance eased the pressure and allowed him to continue his education.
In 1740, the University of Glasgow awarded him an M.D. and the following year he married Anna Johnstone of Kilbarchan.
They had four daughters and seven sons, one of them, Robert became a well–known judge and essayist who, among his many other appointments, was a member of the Mirror Club, an influential group of Scottish literati.
President of the Faculty of Physicians and Surgeons of Glasgow
He later delivered lectures in Glasgow on chemistry, medicine and botany and by 1746-47, he was President of the Faculty of Physicians and Surgeons of Glasgow, which later became the Royal College of Physicians and Surgeons of Glasgow. In 1751, the University appointed him Professor of Medicine.
When Thomas Craigie, the Professor of Logic at Glasgow died in the same year, Adam Smith who had been Professor of Moral Philosophy took his place.
David Hume & William Cullen
It was his recommendation that David Hume took the vacant philosophy chair although he was well aware that Hume's atheism might well create difficulties for him.
More Scottish biographies
Despite Hume having William Cullen as his principal supporter, the Duke of Argyll, who had the patronage of the post, said simply that he, "cannot be recommended." His intervention brought a swift end to the process.
Writer Roderick Graham noted that Hume's biggest regret was that he was, "deprived of great opportunities of friendship with Cullen" As fate would have it Cullen did later become Hume's friend and personal physician.
During his time at Glasgow, Cullen worked on the first documented use of artificial refrigeration, a process involving the boiling of ethyl ether in a partial vacuum.
In hindsight perhaps this might be considered a missed commercial opportunity for it was into the 19th century before freezing became a common method of preserving food.
While his university career flourished, his private practice in Glasgow did not and perhaps this influenced his move to Edinburgh as Professor of Chemistry and Medicine in 1755.
His former pupil and later firm friend Joseph Black, the man credited with the discovery of carbon dioxide and latent heat, replaced him at Glasgow. Black was a fascinating character who enjoyed the good things in life and was often seen in the company of some of the other great Enlightenment figures.
Among them were Adam Smith, James Hutton and the rather eccentric Lord Monboddo, at one point curator of the Advocates Library and who often presided over his "learned suppers" held in his home on Edinburgh's Canongate.
Black, with the support of Cullen later moved to Edinburgh to take up the Chair of Medicine and Chemistry.
Cullen was continually looking for projects with practical potential and explored a number of possibilities on his small family farm.
At various times he looked at the process of bleaching, the production of salt, the manufacture of coal tar and others.
His endeavours prompted Alexander Fleck (1889-1968), a former director of Imperial Chemical Industries (ICI) to say, "His contributions do not seem to have been effective in causing improvements in practice."
Edinburgh Medical School
In 1768, Cullen had joint responsibility with John Gregory for the Chair in the Institutes (Theory) of Medicine and the more prestigious and financially beneficial Chair in the Practice of Physic.
Over the considerable number of years he taught the Practice of Physic, he amassed enough material to write his own book. He published the first edition of the highly successful First Lines of the Practice of Physic in 1777, and new editions appeared regularly until 1784.
The book enhanced not only Cullen's reputation but also that of the Edinburgh Medical School, which considered it as required reading for students. Other books followed – including the two-volume A Treatise of the Materia Medica, published in 1789.
Board of Police in Scotland
If there was any doubt that his approach to medicine was multi-faceted, his venture into "medical police" as described by Professor Anne Crowther from the University of Glasgow dispelled that doubt.
Lord Cathcart, President of the Board of Police in Scotland had an interest in the work of humane societies in Europe on the matter of the prevention of drowning.
He wrote to Cullen asking him to outline the current method of artificial respiration. In response, Cullen issued a pamphlet, The Recovery of Persons drowned and seemingly dead (1776).
Professor Crowther noted that although the collaboration between Cullen and Cathcart was an encouraging sign of positive state intervention in public health it depended on the generosity of charities to supply the bellows and pipes required for resuscitation.
The Cullen Project, the result of a partnership between the University of Glasgow and the Royal College of Physicians of Edinburgh is an absorbing online archive of several thousand papers – a record of many of the physician's private consultations.
Although there are some real highlights among a large number of cases, they all provide a window into a fascinating period of history.
In 1784, the case (ID:1686) referred to "Dr Samuel Johnson who had asthma and dropsy." It involved an initial approach from James Boswell, author, friend and biographer of Johnson.
Boswell was worried about his friend's health and as well as Cullen he wrote anxiously to a number of other physicians about the problems.
Cullen replied on 10 March, by saying, "It would give me the greatest pleasure to be of any service to a Man the Public properly esteem… I have considered the account… and I am sorry to find there is so little in the power of Physic at least in my power to be done for him…"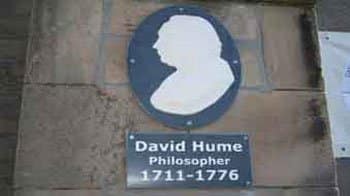 Cullen continues by reminding Boswell that asthma and dropsy are, for somebody at the age of 74, "very insurmountable distempers."
Cullen noted that Laudanum was the only way to make his life tolerable and that the Vinegar of Squills might also be suitable for his condition. Samuel Johnson died in December 1784.
The case (ID:1021) was that of Mrs. Jane Webster who wanted advice on how to lose weight. Other physicians had previously unsuccessfully treated Mrs Webster, who weighed 16 stone, by bleeding, the use of opiates and Squill pills.
Cullen's advice was much more sensible – the lowering of her diet, Shuttlecock, walking for an hour or two and cold bathing.
The case (ID:370) involved an unnamed "American slave with epilepsy at Charleston, South Carolina." Sadly, almost nothing is known about the man, even his name remains a mystery, although it's thought he was probably a "house slave" (domestic servant) rather than a field worker.
Much more is understood about his Scottish born 'owner' Robert Brisbane who had previously consulted Cullen about his own health. On 26 November 1774, Brisbane wrote, "I have a valuable Negro man at 21/22 years of age. He is troubled with Epileptic Fits, these four or more years, he does not struggle nor foam in them…"
Sadly, Cullen's reply is not in the archive but it does show both the scale and diversity of his private work and some of the brutal practices of the 18th century.
While the Cullen Project is an indispensable source of information for all those interested in his life and work, the writing of Jeffrey Woolf, the winner of the Scottish History Society Postgraduate Prize for his work on a previously unpublished primary source in the field of Scottish history, also falls into that category.
Woolf's skillful transcription of Cullen's Treatise on the Preservation of Health (c. 1783-85) adds considerably to the available information on Cullen.
In addition to the Cullen Project and the work of Jeffrey Woolf, the two-volume biography of Cullen by Dr John Thomson (1765-1846) and David Craigie adds a valuable near contemporary view.
In 1783, William Cullen was one of the founding members of the Royal Society of Edinburgh (RSE) an organization created for "the advancement of learning and useful knowledge". The RSE's aim in 2017 is to, "play a leading role in the development of a modern enlightenment…" Cullen, I'm sure would have approved.
Signatory to the American Declaration of Independence
It was John Redman, the first President of the Philadelphia College of Physicians, who urged Benjamin Rush, physician, revolutionary politician and signatory to the American Declaration of Independence to leave America and study with William Cullen at the University of Edinburgh. After a brief visit to Liverpool, Rush arrived in the Scottish capital in November 1766.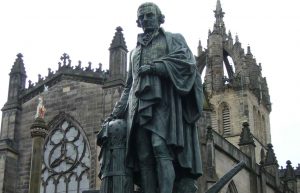 Today's University of Pennsylvania said that during his stay in Edinburgh – "then one of the most renowned medical schools in Europe" – Rush was profoundly influenced by Cullen's theoretical approach to medicine; indeed, he became his, "disciple and friend."
Rush left Edinburgh to work in St Thomas's Hospital in London where he attended the lectures of William Hunter, once a pupil and later almost a partner of Cullen in Edinburgh.
Interestingly Rush met Benjamin Franklin in London and later confessed to a, "paternal friendship" with Franklin, one of America's most influential politicians. Franklin too had a connection with the University of Edinburgh receiving an Honorary Doctorate of Laws.
William Cullen died at his house in Edinburgh on 5 February 1790 and was buried on his small estate at Kirknewton just outside the city.
Some weeks after his death, Dr Benjamin Rush, his old friend and colleague, speaking before the College of Physicians of Philadelphia delivered a eulogium in honour of Dr William Cullen, Professor of the Practice of Physics in the University of Edinburgh.
"By your unanimous vote to honour with an Eulogium, the distinguished character of the late Dr William Cullen, Professor of Medicine in the University of Edinburgh, you have done equal homage to Science and Humanity.
This illustrious physician was the Perceptor of many of us. He was moreover a distinguished citizen of the republic of Medicine and a benefactor to Mankind and although like the sun, he shone in a distant hemisphere, yet many of the rays of his knowledge have fallen upon this quarter of the globe. I rise therefore to mingle your grateful praises of him…"
---
---