An Edinburgh whisky visitor attraction
---
©The Scotch Whisky Experience
The Scotch Whisky Experience, sited on Castlehill at the heart of Edinburgh's Old Town, offers an Edinburgh whisky tour like no other. It's a five star visitor attraction, fully accessible for wheelchair users. This popular Edinburgh visitor attraction is home to the world's largest collection of Scotch whisky.
Originally created by a number of Scotch whisky companies to showcase the industry to overseas visitors, the Scotch Whisky Experience first opened its doors in 1988.
In what is best described as an interactive exhibition, not a distillery, there are tours, masterclasses, tasting sessions and more run by expert members of staff.
It's an exciting place to explore whether you're a whisky aficionado or would just like to know more about Scotland's Uisge Beatha – 'the water of life''.
The Scotch Whisky Experience Tours
While you can visit the shop and the Amber Bar & Restaurant without joining a tour, tours lie at the heart of the experience.
The Scotch Whisky Experience works hard to help its visitors to understand the history and heritage behind Scotland's national drink. They provide an audio commentary, available in 20 languages including British Sign Language (BSL) and American Sign Language (ASL).
Edinburgh whisky tasting
There is a range of tours including, platinum, gold and silver which vary in length and cost. Also, Tasting Tales includes a tutored tasting of Scottish food.
The Silver Tour, for example, includes: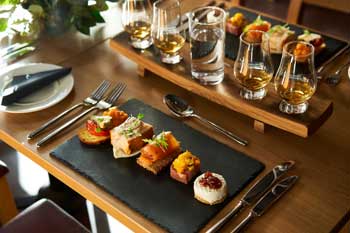 A whisky barrel ride through the production of Scotch whisky.
An introduction to the aromas in whisky.
A dram of Scotch malt whisky (Irn Bru for under 18s).
Viewing of the world's largest collection of Scotch whisky.
A gift of a crystal whisky tasting glass (adults and concessions).
Diageo Claive Vidiz Collection
The highlight of every tour is the chance to marvel at the extraordinary Diageo Claive Vidiz Collection which comprises an impressive 3,384 bottles of Scotch whisky.
Lovingly assembled over many years by Brazilian Claive Vidiz, it was purchased by distiller Diageo and brought, with Vidiz's blessing, to Edinburgh.
Whisky Advocate said, "This public display of nearly 4,000 bottles makes your head spin when first encountered – one of the 7 wonders of the Scotch whisky world."
Amber Restaurant and Whisky Bar
The Amber Restaurant serves traditional cuisine. Often on the menu are haggis, cullen skink, lamb and the humble Scottish raspberry. "It's Scottish food at its best."
The Whisky Bar has nearly 500 whiskies on offer. There are single malts, grains, blends and whisky liqueurs. There are experienced staff on hand to help you make your choice.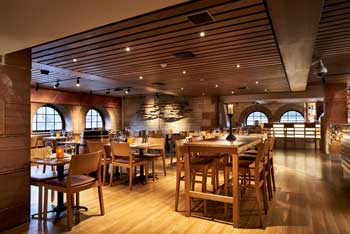 There is also a wide range of whisky flights, grouped by region, that you can match with indulgent chocolate, tasty tapas or a great selection of Scottish artisan cheeses.
Shop
The shop has an extensive range of whisky gifts. You'll find special editions, new releases, gift sets and other whisky-related items.
Whisky and chocolate are the perfect couple so unsurprisingly the shop stocks a wonderful range of chocolate – milk, dark, haggis spice and Iron Bru and popping candy. Don't be surprised if you find a bar or two of tartan chocolate for sale.
While many of the items are available online, exploring the Scotch Whisky Experience shop is one of life's great pleasures.
Private events
Edinburgh's best-known whisky attraction also caters for private events whether that's a corporate meeting or a special family occasion.
The Scotch Whisky Training School
The company has its own training school and the courses are recognised by the Scotch whisky industry. They are not just for people working in the industry but also for those who just want to increase their understanding of the product.
For whisky aficionados, the Scotch Whisky Training School offers full day courses led by knowledgeable staff. On the itinerary are: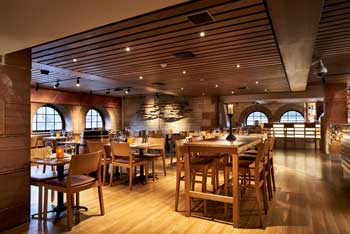 an introduction to malt and grain whisky production
the origins and history of scotch whisky
the art of blending
selling and serving Scotch whisky
tutored tastings
Lunch is held in the Amber restaurant.
At the end of the course, there's a 40-minute exam. For those that pass there's a certificate in the Sales & Service of Scotch Whisky.
A historical gem from the Scotch Whisky Experience
According to J Marshall Robb, in his book Scotch Whisky, "The oldest reference to whisky occurs in the Scottish Exchequer Rolls for 1494, where there is an entry of eight bolls of malt to Friar John Cor wherewith to make aquavitae". A boll was an old Scottish measure of not more than six bushels. (One bushel is equivalent to 25.4 kilograms)
You will find all this whisky magic a short stroll from Edinburgh Castle, St Giles' Cathedral, the Real Mary King's Close and many of the other most popular tourist sites.
Scotch Whisky Experience opening times and other visitor information
For information on opening hours, cost of entry and other tips to help you plan your visit, go to the official whisky experience website.
---
---
---